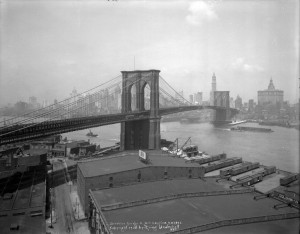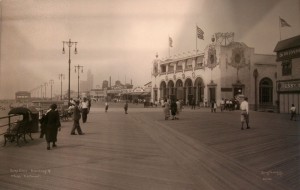 Top: the Brooklyn Bridge in 1925. Bottom: Underhill on the boardwalk: the photographer captures a seemingly meloncholy day in Coney Island, with Childs Restaurant at right
Nobody in New York's early history captures the romance of early city life more than the first photographers — the men and women who wiled away with expensive, limited and time-consuming photographic processes, bulky and decidedly unportable cameras, and a medium that was still struggling to find purpose.
New York's first master photographer Matthew Brady, famous for his Civil War battle images and unappreciated in his time, chose the city for the location of his studio but turned his camera over mostly to intimate subjects. Jacob Riis used his lense to expose social disparity in lower Manhattan. And the social fabric of the city was documented by Alice Austen, who balanced intimate images of neighborhood life with candids of big city bustle.
But the real glamour shots of the city most often came from big studio photographers, working not to present any kind of social illumination but for a profit. One of these was Irving Underhill (1872-1960), a successful photographer who also took pictures to be rendered as colored postcards or "souvenir cards".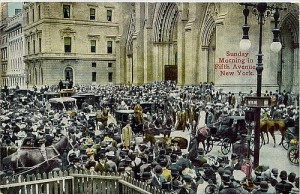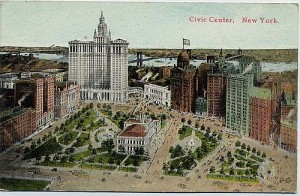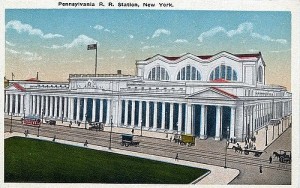 More of his postcards can be found here. They're certainly pretty, with their saturated color turns regular New York scenes into unusual and cartoonish pastel paintings. The real beauty of New York comes alive in Underhill's regular, clean photographic documentation of basic city structures.
1910: 34th Street and 6th Avenue, shot from the roof of Macy's, looking east

1912: Luna Park along Surf Avenue in Coney Island

1919: Madison Square Park and the Flatiron Building, with the newly erected 'Victory Arch' celebrating the end of World War I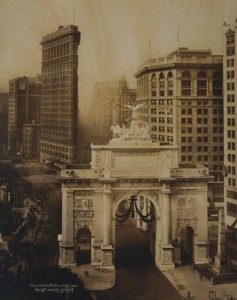 1920: Exchange Court building at 52 Broadway, one of dozens of Underhill subjects either radically revamped or demolished completely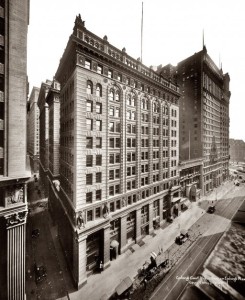 The Hotel St. George in Brooklyn Heights, date of photograph unknown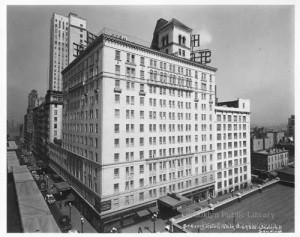 Underhill opened his studio in 1896, specializing in "artistic portraits, city views and panoramas, group photographs, marine, legal and machinery photography."
He was so successful that his agency received exclusive commissions to photograph and promote new buildings like the Woolworth Building, which he would capture in timed intervals to track the construction process. Many years later, his name could be seen from blocks away, plastered along the top of his studios at Broadway and Park Place. You can see the words 'Irving Underhill, General Photographer' along the top of the image here, taken in 1922.
Underhill's early portfolio was printed in the 1904 book One Hundred And Sixty Glimpses of Greater New York, an incredible array of black and white images detailing city architecture in the midst of the gilded era. Each page is cleanly labeled and visual detectives will enjoy matching the images to what stands in these places today. You can look at most of the book on Google Books.