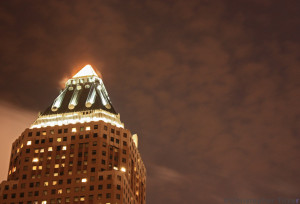 New York's PBS affiliate WNET tonight debuts the documentary '50th & 8th: A Skyscraper Story' about the construction of One Worldwide Plaza, the complex of buildings in Hell's Kitchen that fashioned itself as an architectural pioneer of midtown's west side. I would not have thought this exemplar of 1980s architecture, a modern try at replicating the Rockefeller Center formula and a nod to art deco, would merit an entire film, so I'm very interested in seeing where this will go.
There's no doubt that the three buildings and surrounded plaza forced a new identity upon the deteriorating west side of the 1980s and most believe it may have given the fortunes of the surrounding neighborhood's a much needed boost. The complex was designed by David Childs, at the firm of Skidmore, Owings & Merrill; his current project can be seen ascending downtown in the from of One World Trade Center.
Worldwide Plaza replaced Madison Square Garden (or MSG III, and the first building with that name nowhere near Madison Square) which sat here from 1925 to 1968. The neighborhood was the inheritor of many vice industries by the late 19th century, particularly during Prohibition.
Eighth Avenue, as the outer west edge of Times Square, was particularly known as a harbor for prostitution in the 1960s and 70s, sometimes known as the 'Minnesota Strip', an unfortunate nickname gleaned from the supposed Midwestern origins of many of the avenue's teenage prostitutes. Check out the WNET Thirteen website for a schedule of showtimes, or check your local PBS affiliate.
NOTE: Thanks to a commenter who indicated this is an older film produced after the plaza was first built. And is being re-broadcast because WNEW is making the building a new home!
UPDATE: This is a very odd film, almost like an industrial video made to impress investors. Why do I feel like I'm watching the Matt Damon movie 'The Informant'? However, to see the neighborhood and the surrounding streets in the late 1980s make it worth sitting through. If you live or work in Hell's Kitchen (or Clinton, as the documentary prefers), you'll get even more value. But the dry British narrator isn't helping matters!
And don't miss the 'Inspirational Consultant', an actual title, they claim, brought in to assure workers that the project is worthwhile.
Photo courtesy flickr/TravelingMango