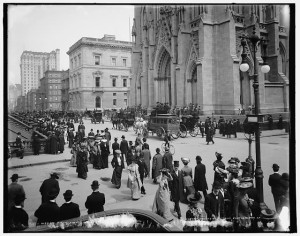 Project Runway 1903: Fifth Avenue in front of St. Patrick's Cathedral vibrates with fashion.
For well over 125 years, budding fashionistas have been prancing up and down Fifth Avenue on Easter Sunday, displaying elaborate bonnets, hairdos and colorful outfits. Given that modern holiday celebrations are often relatively new (for instance, trick-or-treating has only been a common activity on Halloween since the 1950s), this decorative practice located at this particular spot has displayed a commendable longevity.
And it appears that the bonnet parade is far older than most of the buildings in midtown. After all, people have been dressing up and going to church — and doing so with vanity — since the city was born.
According to a 1905 article in Harper's Weekly, the display of Easter finery may have begun in the Dutch days along the streets of whatever church was fashionable for the day. By the time St. Patrick's Cathedral was finally opened in 1879, the wealthiest New Yorkers were already on Fifth Avenue in their townhouses. The cavalcade naturally migrated here, whether the costumed were congregants there or not. With the addition of Saint Thomas Church on 53rd Street (built in 1914), Fifth Avenue became even further inundated with Easter elegance.
Even by 1905, the Easter bonnet parade had become an overwhelmingly popular and even cumbersome affair. "Such a vast number of people come on Easter to see the Fifth Avenue churchgoers walk home from the church that the Avenue, in the Fifties, begins at noon to feel like Park Row at 5 o'clock, when the Brooklynites begin to feel for the Brooklyn entrance."
The annual Fifth Avenue hat show existed before Saks Fifth Avenue department store, before Rockefeller Center, before any tony Fifth Avenue shops. The affair even influenced fashion for the rest of the year. According to author Nathan Silver, designers and illustrators would flock to the bonnet show for inspiration.
Enjoy your Easter and accessorize with an umbrella this year. Looks like it might rain!
Below: A similar fetching set gathers for the 1908 fashion parade.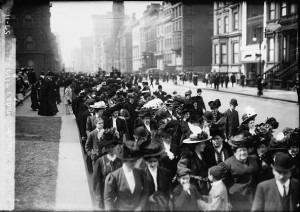 Top picture and bottom picture courtesy Library of Congress