It's spring in New York City and time for some frivolity! So we've just released an unusually whimsical episode of Bowery Boys Movie Club to the general Bowery Boys Podcast audience, exploring the 1984 comedy treat The Muppets Take Manhattan.
And that's not all! Sticking to the theme of 1980s New York City, the latest episode of the Bowery Boys Movie Club explores the film Coming To America and its rich historical details. An exclusive podcast for those who support us on Patreon.
To listen to that episode and to past Movie Club episodes (discussing Do The Right Thing, Breakfast at Tiffany's, The Warriors, When Harry Met Sally and many other films) become a Patreon supporter today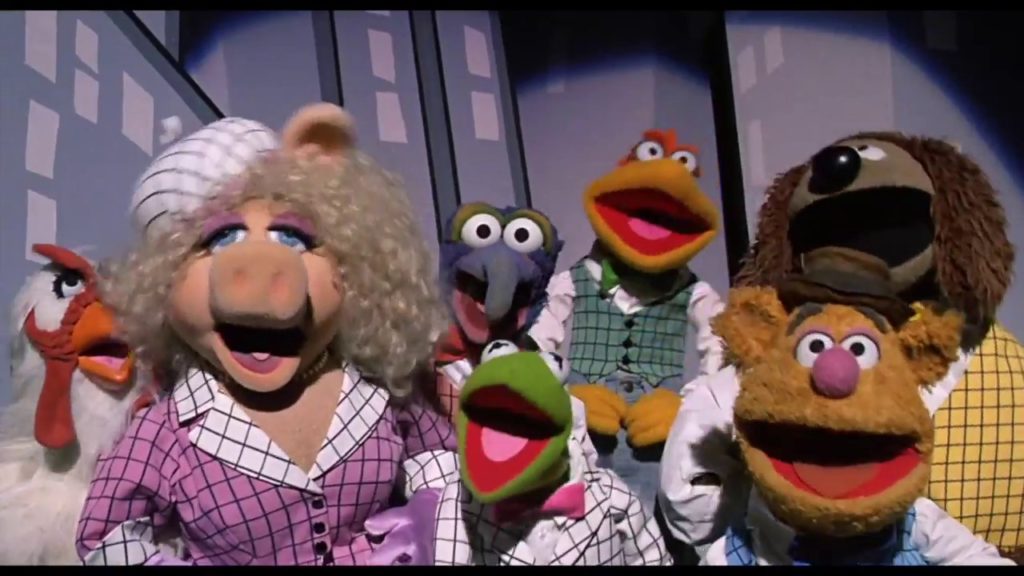 TOGETHER AGAIN! In 1984, Jim Henson brought his world-famous Muppets to New York for a wacky musical comedy that satirized the gritty, jaded environment of 1980s Manhattan while providing fascinating views of some of its most glamorous landmarks.
Listen in as Greg and Tom recap the story and explore the many real New York City settings of the film — from the Empire State Building and Central Park to the corner booth at Sardi's Restaurant and certain luncheonette in the area of today's Hudson Square.
The Muppets Take Manhattan expresses an unfiltered enthusiasm for the promise of New York City at a time when national headlines were filled with tales of the city's high crime and budget problems.
Can Kermit and Miss Piggy (and their roster of guest stars like Art Carney and Joan Rivers) bring magic back to the Big Apple?
How do I listen to all episodes of the Bowery Boys Movie Club? Once you're signed in on Patreon, you'll see a private RSS link that can be put directly into your favorite podcast player. Even easier, it can also be played directly from the Patreon app if you're signed in.
Your support on Patreon assists us in producing our podcast and website and it helps as we endeavor to share our love of New York City history with the world.
Should you watch the movie before you listen to this episode? This podcast can be enjoyed both by those who have seen the film and those who've never even heard of it.
We think our take on The Muppets Take Manhattan might inspire you to look for the film's many fascinating (but easy to overlook) historical details, so if you don't mind being spoiled on the plot, give it a listen first, then watch the movie! Otherwise, come back to the show after you've watched it.
Thank you for supporting the Bowery Boys podcast!
---
This episode was inspired by an 'obsessive guide' post that Greg wrote a few years ago. That article is presented here in its entirety, featuring many additional New York City details from the film.
---
"We did our first film in Los Angeles and our second in London. I thought it would be nice to do the next one in our hometown." — Jim Henson
In The Muppets Take Manhattan, our friendly assortment of animal and animal-esque protagonists arrive in New York City to put on a variety show. But, of course, Jim Henson and his creations had been here for over a decade already, the critical ingredient of PBS's Sesame Street, which originally filmed on the Upper West Side.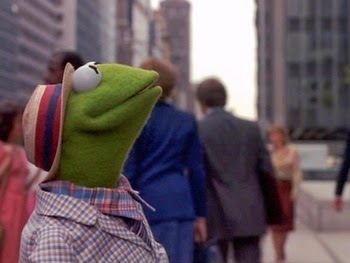 By 1982, production on the children's show had moved to 55th Street and Ninth Avenue, but the Muppets had gone global — with a successful syndicated variety show (The Muppet Show, from 1976 to 1981, produced in England) and two box office hits, The Muppet Movie and The Great Muppet Caper.
Given the theatrical nature of their own weekly show — set in a theater, after all — it made sense to return the Muppets to New York, to finally bring the beloved characters to a cinematic Broadway stage.
Below are 21 often trivial, mostly historical points of interest from Henson's zany, most exuberant homecoming:
NOTE ON TIME AND SETTING: The Muppets Take Manhattan, directed by Frank Oz, was released in the summer of 1984 and filmed the previous summer in a variety of New York and New Jersey locations, with interior shots at Empire Stages in Long Island City (today Paris Film Productions). However it's set sometime in the summer of 1982, judging from flying calendar pages that set September 1 on a Wednesday.
"Broadway? But this show isn't good enough for Broooadway!"
1. The film opens with some terrific overhead shots of Manhattan, before taking us over bridges to Poughkeepsie, NY, the home of the fictional Danhurst College (as played by Vassar College). The Muppets are on stage, delighting an over-enthusiastic crowd with their new variety show 'Manhattan Melodies'. With charming naivety, they decide to bring the show to New York City.
'Manhattan Melodies' was actually the name of a successful New York radio show in 1932, broadcast by WOR from Times Square.
History was made with a unique multi-location broadcast featuring The Do Re Mi Trio, three voices recorded from three different skyscrapers. "'Do' was on the Empire State [Building], eighty-six stories in the air, 'Re' was on the seventy-first floor of the Chrysler Building, and 'Mi' was on the roof of the Manhattan Bank Building [aka 40 Wall Street]." [source]

Port Authority in 1980, photo by Jeremy Gilbert/Flickr
2. The Muppets arrive through the unglamorous hallways of the Port Authority Bus Terminal. In the early 1980s, this was considered one of the most crime infested areas of Midtown, a marketplace for prostitution and crack dealers. The bus terminal was "an ideal place for these illegal activities" during this period due to a recent expansion that left many corridors unguarded at night. Crime here "escalated to an uncontrollable level."
Despite this, the Muppets decide to move into a wall of lockers. "I'll trade with anybody who has a Jacuzzi!" says the free-spirited Janice.
3. Animal wears an I HEART NEW YORK T-shirt throughout the film. This was a rather new emblem then, created in 1977 by graphic designer Milton Glaser. The irony of loving a particular city that was in a serious social and financial crisis was not lost on the designer.
"It was the mid-seventies, a terrible moment in the city. Morale was at the bottom of the pit," Glaser said in an interview with The Believer. "….[T]hen suddenly the city simultaneously got fed up and said, 'It's our city, we're going to take it back, we're not going to allow this stuff to happen." And part of that was this campaign."
He gave away the rights to the design, so he gets paid nothing for the use — in the film, on tourist T-shirts, or anyplace else.
4. With Variety Magazine in hand, the Muppets venture off to pitch the show to big Broadway producers. The first, disreputable Martin Price (Dabney Coleman), has offices at the Paramount Building (1501 Broadway) in Times Square.
Originally built for the film company Paramount Famous Lasky Corporation in 1926, it rapidly became a key center for Broadway theater wheeling-and-dealing, "a hive of suites where ideas are hatched, partnerships forged, contracts signed, legends born," according the New York Times.
In the basement was a Walgreen's lunch counter, popular with struggling actors and writers, "a poor man's Sardi's".
Between 1979 and 1982, there were over 7,000 reported murders in New York City. (In comparison, there were less than 2,000 between 2009-2012.). This partially explains the dialogue exchange between Kermit and Price: "Well, it's all about life in the big city." "The big city? Cops, shootings, car chases — that kind of stuff?"
However, in 1987, the theater was ravaged by fire, most likely arson. According to the New York Times report, "Hypodermic needles were found inside the theater, indicating that drug users may have been using it as a shooting gallery, and storage lockers had been rifled."
The theater finally reopened in 2008 — under the ownership of the Manhattan Theatre Club — as the Samuel J. Friedman Theatre, named for the renown Broadway publicist.
As quickly as the show begins, however we cut to a shot of a wedding chapel for the nuptials of Kermit and Piggy. Nearly all the existing Muppets appear in this scene. (Muppets Wiki actually has a complete seating chart.) Piggy's gown gives a subtle nod to that of Princess Diana's when she wed Charles in 1981.
AFTERWORD: The Muppets Take Manhattan was a modest box office success when it opened in July 1984. The film was up for the Academy Award for Best Music, Original Song Score. But the film lost the award to Prince for Purple Rain.
The artist took to the stage wearing a garment which Miss Piggy would have desperately coveted:
My thanks to the Muppets Wiki for the inspiration for this article.. All images are courtesy Tri-Star Pictures/Jim Henson