If you love perusing lists of books that you'll never get a chance to read in your lifetime, please check out the Guardian's list of the 100 greatest non-fiction books ever written. And when they say ever, they mean it. (The oldest entrant is dated c400 BC.)
The works on their list cover the entire history of the world, the development of art, science, spirituality and politics within the evolution of man. You know, basically everything.
Even so, a few notable New Yorkers did make the list. Have you read these yet?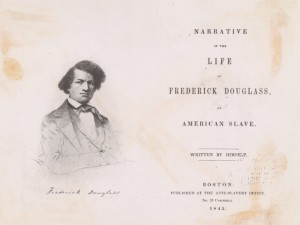 Narrative of the Life of Frederick Douglass, an American Slave by Frederick Douglass (written in 1845) Douglass documents his escape from a brutal life of slavery and his arrival in New York City in 1838, his first tastes of freedom in a "boarding-house at the corner of Church and Lispenard Streets". He soon became one of the nation's leading abolitionists, and this account of his tribulations made him both the toast of New York City for some, and a symbol of scorn for others. Douglass's straight-forward account of slavery in the early 19th century makes this one of the most important American documents ever published.
Innocents Abroad, or The New Pilgrims' Progress by Mark Twain (written in 1869) A recount of Samuel Clemens' often amusing voyage overseas with some of the congregation of Henry Ward Beecher's Plymouth Church. Three decades later, he would return to live out some of his final years in New York, despite some sarcastic digs in 'Innocents' aimed at the city's elite.
Notes on Camp by Susan Sontag (written in 1964) The New York feminist icon brings her unique take of city subcultures — specifically, of the gay and Jewish varieties — into an inspection of modern sensibilities, a blunt manifesto that punctured traditional notions of social tastes. And includes such lines as, "The ultimate Camp statement: it's good because it's awful."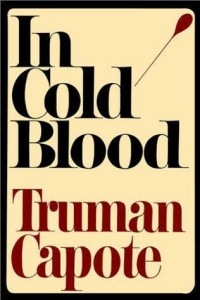 In Cold Blood by Truman Capote (written in 1966) The colorful writer's classic reinvention of the non-fiction novel takes place in Kansas, but in many ways, this is the most New York of creations. Capote wrote much of it from his Brooklyn Heights townhouse, and its serialization in The New Yorker and subsequent publication — paired with the fame of 'Breakfast At Tiffany's' — made Capote the city's most famous writer.
And there are many books represented on the list written by people who were born here (William James, Studs Terkel, Richard Feynman), resided here (Richard Said, Gertrude Stein, Hanna Arendt, Tony Judt) and even a couple by authors who currently live here — Joan Didion and Robert Hughes. And I'm sure I've left off a couple. You can check out the complete list here.
And since we're in a literary mood here, are you checking out any New York events in honor of Bloomsday, the unofficial holiday honoring James Joyce's 'Ulysses'?
Original book artwork courtesy the New York Public Library