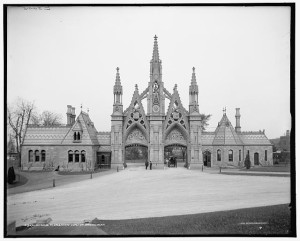 A special illustrated version of our podcast on Green-Wood Cemetery (Episode #64) is now available on our NYC History Archive feed. Just hit play and images of our topic will appear on any compatible media player.
If you're looking for a beautiful landscape of shaded hills and meandering paths, filled with classical architecture and populated with some of the greatest names in New York City history, look no further than Green-Wood Cemetery, once the most popular tourist destination in Brooklyn during the 19th century.
Green-Wood is one of New York's oldest gravesites, but its development reaches back all the way to the beginning of Brooklyn itself — in fact, to Hezekiah Pierrepont, the founder of Brooklyn Heights. Find out why it took an inventive city planner with a funny name, a dead New York governor, and a few errant parakeets to make this place a beautiful, richly historical place to visit today.
Download it for FREE from iTunes or other podcasting services, or you can listen to the cleaned up audio version (without visuals) right here: Green-Wood Cemetery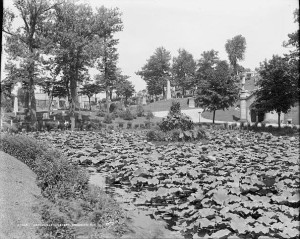 Original version released Oct. 3, 2008. Pictures above courtesy the Library of Congress