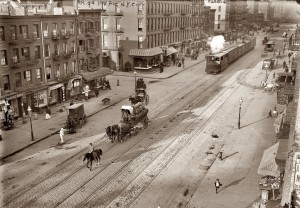 Above: Eleventh Avenue in 1911, pre-High Line. This photo disturbs me greatly. This is courtesy, of course, of Shorpy, so click in to admire (and cringe) at the detail. One loose horseshoe on a train track, and it's no longer pretty!
The High Line, an experimental and highly successful park using the elevated train tracks along the west side in the Meat Packing District, opens its second section tomorrow (June 8), allowing visitors to meander further north, from W. 20th Street to 30th Street.
These strange tracks, weaving around and sometimes straight through buildings, were constructed in the 1930s to essentially lift regular freight rails off the street. In the mid-19th century, westside freight trains were allowed to travel into the city, even as ordinances prevented passenger trains from going further than 42nd Street.
This created the famous legend of the far west side as 'Death Avenue', with steam engines plowing down the side of Manhattan, unconcerned with pedestrian or vehicular traffic.
Below: The scene along Tenth Avenue. Imagine trying to cross the street in this! (Picture courtesy Friends of the High Line)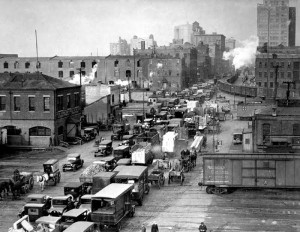 Curiously, years before the elevated trail of railroad tracks was constructed, the New York Tribune tried to proclaim "DEATH AVENUE, NEW YORK'S SAFEST STREET" in August 28, 1921, although its tongue was mordantly in cheek..
Their reasoning was truly macabre. Thanks to the advent of streetcars and new motorized vehicles, so many more people died in accidents throughout the entire city that, by comparison, the fatalities along Death Avenue "seem mild by comparison."
As with many early newspaper articles, the author's morbid sarcasm is evident. It wasn't that Death Avenue became safer; it's that the rest of the city, in those early decades of automotives, became less so. Indeed, during the 1920s and 30s, it was routine to tally almost 1,000 pedestrian fatalities per year. [Read the entire Tribune article here]
Below: The ludicrous illustration that accompanied the article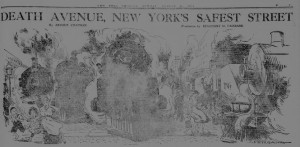 Although we don't talk about the High Line per se, you can visit a world of elevated tracks throughout Manhattan by checking out our podcast on New York's Elevated Railroad. [Download it from iTunes or from here.) I highly recommend you visit the Friends of the High Line for dozens of more old photographs of the line's early days.