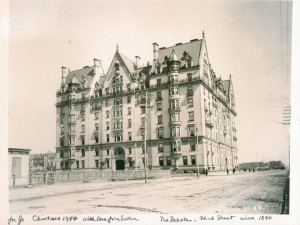 The Dakota Apartment circa the 1890s: If you arranged everything just right, could you go back to it?
The writer Jack Finney, who was born a hundred years ago this week, on October 2, 1911, turned the Dakota Apartments into a time machine in his 1970 novel 'Time And Again'. He inspired a legion of New York City history lovers (including myself) and a simple (if scientifically absurd) way of traveling in time, technically obtainable by anybody with adroit attention to detail.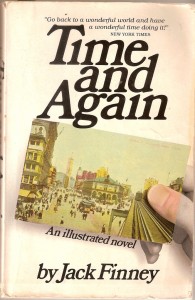 Finney was hardly a New York literary figure of note. Born in Wisconsin, Finney moved to New York in the 1940s to work in advertising but detoured in to a successful short-story writer. He had already moved from New York in 1954 when a set of his serialized stories were compiled for the novel The Body Snatchers, which inspired the classic film Invasion of the Body Snatchers and its many derivatives.
Time travel and New York were common themes in his work. In the 1950 tale 'The Third Level', a man finds a mysterious concourse at Grand Central Terminal and a train that carries him to the year 1894. Almost two decades later he wrote 'The Woodrow Wilson Dime' about a bored advertising executive who enters an alternate New York universe (imagine 'Mad Men' as a science fiction.)
But Time And Again, first published in 1970, was his greatest success, a time-shifting novel short on scientific rationale, but large in nostalgia and architectural romance. The plot involves a curious scientific experiment that delivers a man back to the date January 21, 1882, to locate the sender of a mysterious letter that foretells "the destruction by fire of the entire World."
The key to the novel's success were its illustrations and photographic reproductions. Pick up an old copy today and you'll wonder why the smudged, sometimes darkened reprinted photographs would excite anyone. When I first picked it up, probably twenty years ago, that was part of the allure. The book itself had a creaky, dated presentation and a wide-open earnestness about it. It was ideal for burgeoning history lovers, never lecturing its readers. You felt you were joining Finney himself as he excitedly flipped through a stack of old photographs and imagined a reason for stepping into the images.
Perhaps that's because the science fiction behind it almost blushingly simplistic. Essentially, anyone can go back in time. All you have to do is recreate a situation exactly as it might have been at a selected date, then hypnotize yourself into thinking it into reality.
For this reason, the Dakota Apartments are chosen for the time experiment. Finney certainly chose the location due to the building's pristine, unchanged condition. (Meanwhile, as he wrote, Roman Polanski would film 'Rosemary's Baby' here, placing the structure into a far darker fantasy context.)
"We know exactly when all the apartments facing the park have stood empty, and for how long," proclaims a scientist. "Picture one of those upper apartmenets standing empty for two months in the summer of 1894. As it did. Picture our arraging — as we are — to sublet that very apartment for those identical months during the coming summer….I believe it may be possible this summer, just barely possible, you understand, for a man to walk out of that unchanged apartment and into that other summer."
Simply by bringing a structure and its surroundings into physical replica of the past can one actually get there. Keep in mind when this was written. Pennsylvania Station had been destroyed seven years before the publication of 'Time And Again'. The New York Landmark Preservation Commision was but a few years old. People were beginning to fight for their neighborhoods and protect aging city relics.
'Time And Again' was a manifesto for preservation. In essense, keeping an area locked in a certain place in history created some kind of metaphysical bridge. Or, more easily put, magic.
Having returned to 1882, the main character wanders the city and marvels in wonder. His adventures take him the offices of the New York World, the old City Hall Post Office and Gramercy Park.. The plot, involving jealous lovers and blackmail, incorporates actual historical detail into the adventure, although not in anyway one would consider subtle. For instance, my favorite detail of the book is easily the disembodied arm of the Statue of Liberty, sitting in Madison Square Park years before it was attached its body.
'Time And Again' is written with awe while keeping a certain distance. (Finney was no historian.) The story takes place within a snowglobe of New York more than an actual depiction of it. In other words, there are no visits to Five Points or the Lower East Side, for that matter. Later books, like Caleb Carr's 'The Alienist', would take a more technical, tour-guide approach to its descriptions. 'Time And Again' is simple in its tintype illustration of old New York but leaving someting to the imagination makes it an inspiring read, even today.
By the way, Finney wrote a sequel called From Time To Time that was published in 1996, a year after his death. The book takes place in 1911, the year of Finney's birth.
Top picture courtesy NYPL