A Bill Murray holiday classic is closely linked to a forgotten 1955 teleplay
Tracing itself back to one of America's first television broadcast station, New York's local WCBS-TV can claim a host of significant achievements, including the first regular broadcasts in color and the first baseball game in color (with the Brooklyn Dodgers, naturally).
Their early news documentary series 'Eye on New York', hosted and produced by future CBS president Bill Leonard, took a break from serious reporting on the evening of Christmas 1955 to broadcast a live version of Charles Dickens' 'A Christmas Carol'. I don't believe a version of this classic exists to view today, but holiday television lovers benefit from one odd quirk of this fleeting program.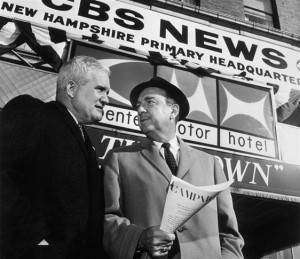 At right: Bill Leonard with CBS News correspondent Walter Cronkite.
This version of 'Carol' starred the extraordinary Bronx-born character actor Jonathan Harris (best known as the flamboyant Dr. Smith from 'Lost In Space') as Ebenezer Scrooge and Tony Award nominee Biff McGuire as Bob Cratchit.
But far from constructing a dour Victorian London set upon their midtown Manhattan soundstage, Leonard (who wrote the teleplay) decided to change the setting of the story, to modern day New York City. According to author Fred Guida, "this clever conversion preserved the spirit of the original but in the milieu of lower Park Avenue and big industry."
Harris' Scrooge was transformed into the bitter old CEO of Metropolitan Plastics, with Cratchit his elevator man. Scrooge was visited by the various ghosts via "a TV receiver as an up-to-date medium for his unearthly visions," according to Variety.
Leonard's 'Carol' was the very first version of the tale set in New York, and with a modern twist. While this original program has been lost, its cheeky trope has been used in a great many modern shows (especially those of the 1970s and 80s) in 'very special Christmas episodes', to bring holiday realizations to jaded characters from Alex P. Keaton of 'Family Ties' to even the title character of 'Xena: Warrior Princess'.
But the greatest beneficiary of Leonard's holiday twist is the 1988 Bill Murray classic 'Scrooged', where a grumpy New York television producer — filming his own version of 'A Christmas Carol' — finds epiphany after an evening with three illuminating spirits, including a cab driver played by former New York Dolls singer David Johansen.
And since we're on the subject, here's some more New York holiday themed cheer from Johansen, under the name of his alter ego, Buster Poindexter. Happy holidays from the Bowery Boys!