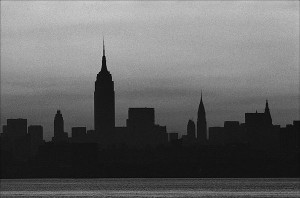 Here's a few images — many of them quite well-known — of the New York City blackout, which occurred 35 years ago. By 9:36 pm on July 13, 1977, the entire Con Edison power system for the city shut down, the devastating endpoint of a chain reaction which began with a lightening strike at an electrical substation 40 minutes before.
A blackout in the middle of summer — in the 1970s, in the midst of a bankrupt, blighted city — is a recipe for chaos. Unlike the relatively peaceful blackouts of 1965 and 2003, this disturbance caused widespread looting, arson and rioting. The city's power was fully restored by very late the following day.


One raging fire destroyed several blocks in Bushwick, Brooklyn, including this block on Greene Avenue.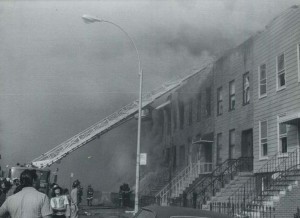 A screen capture from the film Koyaanisqatsi. Director Godfrey Reggio was in the city at the time and included some of his images in the atmospheric Philip Glass film.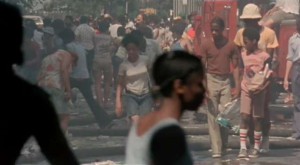 Le Burger Bistro on Madison Avenue follows the inspiration of many by turning the blackout into a business opportunity. It also helped get rid of refrigerated beers.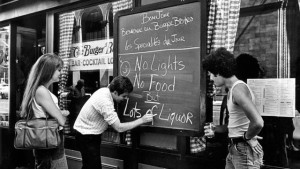 The New York Mets were in the middle of a game at Shea Stadium against the Chicago Cubs. With emergency lights, they finished the game. The Cubs won.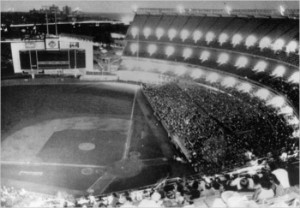 A sense of free-for-all reigned in many areas of the city, inspiring looting sprees in areas where law enforcement was stretched thin and electrical security systems failed.


Mayor Abraham D Beame at a press conference. Not exactly popular to begin with, Beame was swept out of office in the next election, with the events of this day weighing heavily on voters' minds.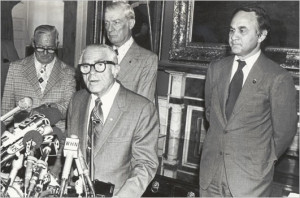 Fighting fires through the darkness, haze and heat.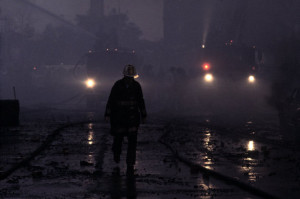 The International Herald-Tribune shares details of the blackout with its international audience two days later.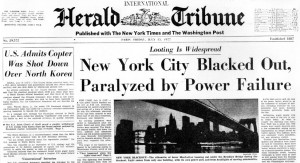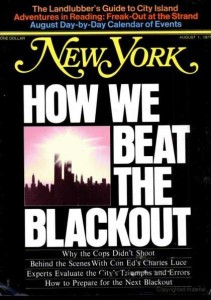 And finally, a couple pieces of video footage from the blackout, the first some raw video (with intermittent sound) with the fire department battling blazes, the second a newscast from WABC

You can find more pictures on the blackout in our 2007 post, recognizing the 30th anniversary.
For more information on the 1977 blackout, you can listen to one of our very first podcast — believe it or no, Episode 5! — on the history of this event. Of course, we were very green then, and it's quite short. But I think it still gives you a good overview of the catastrophe. You can download it here or find it on iTunes on our Bowery Boys: NYC History Archive feed.
By the way, July 13th is not a very good day in New York City history. One hundred and forty-nine years ago today, the Civil War Draft Riots began, an even greater city-wide trauma that lasted almost a full week. For more information on that, you can listen to our show about this event, Episode 127, on our regular iTunes feed or download that from here. Recorded just last year at this time, I think we did a pretty great job on it if I do say so myself!
Image sources
1) Sorora Mystica
2) Subchat
3) Spirit of Baraka
4) Bowie Songs
5) NY Minute
6) Loge 13
7) New York Times
8) Magnum Photos/Alex Webb