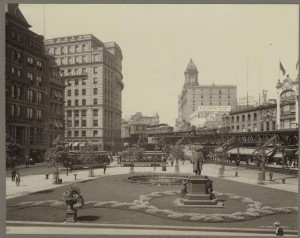 The plaza in front of Brooklyn Borough Hall in 1911, a far more pleasant and manicured scene than the one described below.
They had a rather odd scene of frivolity back in the day. I found this Brooklyn anecdote from the July 14, 1912, issue of the New York Tribune rather enlightening. It's certainly meant to be amusing — a slice of life! — but underlying it is the fact that the square in front of Brooklyn Borough Hall had a rather serious homeless problem. Imagine the outcry if this became the daily solution to the city's homeless crisis! Italicized emphasis mine: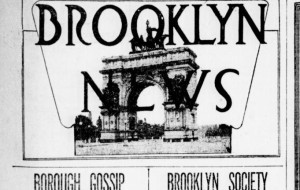 "The city employees at the Borough Hall have become volunteer members of the public bathing squad. Every morning, soon after daybreak, the free baths are administered to the one hundred or so unemployed men who have passed the night on the steps of the hall or about the square.
The hose is brought out, ostensibly, for the purpose of watering the flowerbeds. The taxicab men and other night workers of the neighborhood take this as the signal for the fun to begin and gather around just out of range of the lines. The gardener walks into the middle of the square with the end of hole pipe in hand and gives the signal for the water to be turned on.
At first the stream falls on the walks and the grass. Then the nozzle rises a little and the water takes a wider sweep, and the spray falls over one or two of the sleeping beauties about. Usually the sleepers start up with the looks of surprise and reproach then hop to their feet and 'beat it'. The water then advances up the steps and startles a few more sleepers and so on, until all have been sprayed.
After the baths are over the taxicab men take a hand with the sleepers who have not been disturbed and arouse them with their horns."