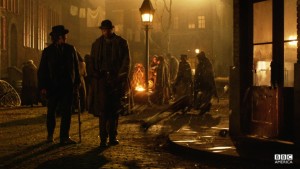 I've been on Twitter every Sunday at 10pm EST during broadcasts of BBC America's 'Copper' throwing out trivia and other observations on 19th century New York. I had a blast doing this kinda thing during 'Mad Men' earlier this year, and I've also started with the new season of 'Boardwalk Empire'.
Well, this Sunday is the season finale ('A Vast and Fiendish Plot'), and the folks at BBC America have sent me over some fabulous 'Copper' swag to give to Bowery Boys listeners and readers. The 'Copper' prize package include a dark-grey 'Copper' tee-shirt, a promotional poster featuring Detective Kevin Corcoran and a wearable re-creation of a Metropolitan Police badge!
I'll be giving away three 'Copper' prize packages later this afternoon. To win one of them, you'll need to answer three trivia questions which will be posted below at 4 pm EST today.
The trivia questions will involve New York City history in the year 1864. If you've listened to our podcast #128 Hoaxes and Conspiracies of 1864, then you have all the answers at your disposal.
The first three correct responses will win. If you're one of the winners, I'll email you back letting you know and asking for a mailing address to send your prizes.
THE CONTEST IS OVER! See below for winners and for the answers to the questions.
Question 1: Who was mayor of New York City in November 1864?
Answer: Charles Godfrey Gunther
Question 2: Confederate conspirators set blazes within several New York hotels on the evening of November 25, 1864, using volatile 'Greek fire' stored in valises. But in an unplanned maneuver, one conspirator also set fire to the stairwell of an additional building, the only place attacked that was not a hotel. In fact, it was one of New York's most popular attractions in 1864. Its proprietor wrote a letter to the New York Times stating his establishment was 'as safe a place of amusement as can be found in the world." Who was that man and what was the name of this place?
Answer: P.T. Barnum and his American Museum


Question 3: The Booth brothers were performing at the Winter Garden on November 25, 1864, in a special production of 'Julius Caesar' to raise funds for the erection of a statue of William Shakespeare to be placed in Central Park. One of the Booth brothers was later himself immortalized in a statue, in 1916, dressed for another Shakespearean role — Hamlet. Which Booth brother received this honor and which Manhattan park is he standing in?
Answer: Edwin Booth, and you can find his statue in Gramercy Park


Thank you everybody for sending in your answers! I had an overwhelming response and a great many of you got all three right. But the first three of you to answer correctly — and the winners of the 'Copper' prize packages — are Brian S. from New Jersey, Jocelyn from Florida, and Laura S. from New Jersey. (A runner-up commendation to Toni E., who got all the answers right but sent them just a few minutes too late.)