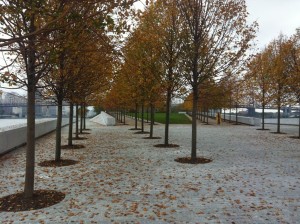 In 1973, the sliver of land in the East River called Welfare Island was given a more lofty name — Roosevelt Island — in anticipation of a grand monument to Franklin Delano Roosevelt designed by premier architect Louis Kahn. But Kahn died in 1974 after designing the somber, angular granite memorial, set to be placed on the southern end of the island.
Then the 1970s happened. The city could barely keep itself operational, much less embark on a new landmark.
Thirty-eight years later, the memorial — called Franklin D. Roosevelt Four Freedoms Park — finally opened this Wednesday.
The timing is definitely off, in more ways than one. Its tasteful rows of trees are already losing their leaves, and who knows how they'll endure Hurricane Sandy next week. The sun has rarely made an appearance since the park opened, robbing visitors of a fabulous trick which occurs at the granite monument to the south. (Western light filters through inch-wide slots, creating an "accidental Alice-in-Wonderland effect" when you look through them.)
But the end result is fantastic, calming and geometric, subtle and nostalgic. And they've done a fine job situating the memorial in conversation with one of Roosevelt Island's most famous features — the ruins of James Renwick's smallpox hospital.
Visit their website for more information. The park is open Thursday through Sundays, 9am-5pm.
Meanwhile, over at the American Museum of Natural History, Theodore Roosevelt makes a spectacular re-introduction at the museum he helped populate. The museum's Central Park entrance and the Hall of North American Mammals reopen this weekend after a $40 million renovation, which includes a brand new statue of Roosevelt and a refreshed Panama Canal mural in its rotunda.
Live Science has a photo essay spotlighting the renovations. Visit the museum's website for visiting information.
And we've got podcasts on this history of both places! Before you head out, make sure to download our free shows on the history of Roosevelt Island (Episode #82) and the American Museum of Natural History (Episode #116). You can also find them on iTunes.
(Picture at right courtesy New York Times)
ALSO: It's a good weekend to brave the Statue of Liberty before the bad weather. Why? According to the National Park Service: "As of October 28, 2012, all interior and exterior levels of the Statue of Liberty, including the Pedestal, Museum, Crown and Fort Wood, are accessible by advanced reservation."