Did you see the spectacular debut of the Empire State Building's new LED lights last night, choreographed to the music of Alicia Keys, being simultaneously broadcast on four New York radio stations?
The allure of the Empire State Building as a glamorous light spectacle has been around almost since the mast — originally designed, but never used, as a mooring mast for zeppelins — was raised in 1931.
Nearby Times Square was bathed in the light of neon advertisement, and its master of manipulation was lighting designer Douglas Leigh. The iconic beacon would have been irresistible to Leigh, and in 1941, he proposed for the top of the Empire State something that would have been easily his most ambitious, most striking lighting display to date — an illuminated bottle of Coca-Cola.
According to author John Tauranac, the famous curvaceous bottle would have sat along the spire, changing color based upon the weather. It was one of several potential Empire State Building/Coke tie-ins planned, including a Coke-sponsored performance by the orchestra of Andre Kostelanetz performed at the top, broadcast nationwide on the radio. Coke products would have featured "a small guide to decipher the colors."
The Empire State Building could have used this publicity at this time, as owners were scrambling to fill vacancies within the building. With Rockefeller Center, the Chrysler Building and dozens of other towers now constructed, midtown Manhattan was experiencing a glut of office space. A Coke sponsorship would have given the Empire State Building free publicity, not to mention sizable rental fees.
Below: Leigh's famous smoking Camel ad in midtown Manhattan. The Empire State Building can be seen up in the corner.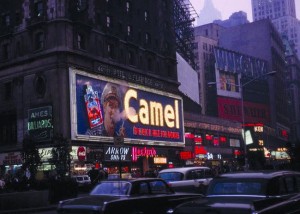 But Leigh's timing was terrible; even as the plan was being drafted, Pearl Harbor was attacked, and America entered World War II. During the war, there would be no lights at all atop the building or in its upper floors.
A few years later, in July 1945, a B-25 bomber would crash into the Empire State Building, killing the pilot and several within the building. More amazing facts about that tragic accident here.
Leigh never gave up his dream of transforming the Empire State Building. After the war, Leigh told Life Magazine he wanted to put a gigantic, lighted cigarette on the building. [source] Many decades later, Leigh would finally get his chance — albeit without product placement — designing a new, colorful lighting system in time for the country's 1976 Bicentennial celebration.