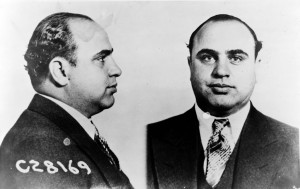 Many of the early 20th century's most renown gangsters were born in late January!
Today is Al Capone's birthday. (He's pictured above in his infamous mugshot.) It's also the birthday of gambler/ Jewish mobster Arnold Rothstein.  Joe Masseria, early New York Mafia leader, was also born on this date — January 17, 1886.

Enoch 'Nucky' Johnson — the inspiration for Steve Buscemi's Nucky Thompson — was born January 20, 1883. Â Frank Costello, leader of the Luciano crime family post-Prohibition, was born January 26th.
Papa Johnny Torrio, Capone Chicago mentor, was born on January 20, 1882. Â Frankie Yale, another of Capone's gangster employers, was born January 22, 1893.
And if we extend the coincidence even further to times of death, Lucky Luciano died of a heart attack on January 26, 1962. Â Meyer Lansky died in Florida on January 15, 1983. Â The bootlegger George Remus died on January 20, 1952.
Most of the men above are depicted in some form or another on HBO's Boardwalk Empire. In fact most of the characters from that show appear to have late January birthdays.
I'm not too knowledgable about astrology, but is there something about the gangster way of life that appeals to those that reside on the Capricorn-Aquarius cusp?
Perhaps I should be afraid. My birthday was a few days ago. (Ack.)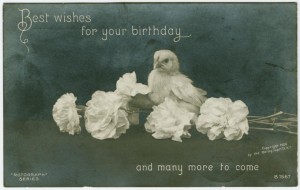 Pic courtesy NYPL