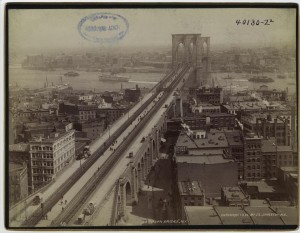 Thanks to the profile on the Bowery Boys podcast which ran on NPR:Morning Edition a couple weeks ago, we've seen a lot of new listeners to the show. Welcome aboard! We're grateful to have you join this amazing community of history lovers interested in the story of New York City.
If you've just discovered the podcast, you might be a little daunted by our back catalog. I'm daunted by it at times. (There's a few older shows that I've completely forgotten that we recorded!) To help you sort through the 147 episodes that are currently available, here's a rundown of some back episodes that may interest you:
1) The Early Years For our first few dozen episodes of so, we recorded weekly. As a result, the shows are shorter and less deeply researched. However if you want to take a dive into the older shows, subscribe via the Bowery Boys Archives (also found on iTunes). Many of these have been relaunched as 'illustrated podcasts,' meaning photographs and other things pop up on your listening device as we speak about things. Try (Episode #46) Barnum's American Museum, the two episodes on the Revolutionary War (Episodes #35 and #36) and of course the Brooklyn Bridge (Episode #29).
2) Ghost Stories Our annual Halloween shows are always fun to produce, a mix of urban legend, historical context and good ole fashioned storytelling. Spooky Stories of New York (Episode #65), featuring supernatural tales of the Algonquin Hotel, a SoHo eatery with a secret in its basement, and an axe-wielding witch of Staten Island. And, of course, sound effects.
3) Next month is the 100th anniversary of the opening of the Woolworth Building so give our episode on its history a try. (Episode #76)
4) The Great Fire of 1835 gave us an opportunity to tell a straight-through narrative about a deadly blaze that destroyed almost a third of Manhattan during a frozen December evening. This is one of my top five favorites. (Episode #78)
5) Robert Moses was 100th episode, and of course about the man we reference again and again in future shows. You need to know the story of Moses before you can understand the story of modern New York. Hopefully we did his tale justice. (Episode #100)
6) For Bowery Boys On The Go, we recorded five stories on the history of New York transportation, from land to sea. Best listened to if you're actually riding aboard ferry or subway — although sadly there are no cable cars. (Episode #106 Staten Island Ferry, Episode #107 Elevated Railroad, Episode #108 Cable Cars, Trolleys and Monorails, Episode #109 New York Subway Part One, and Episode #110 New York Subway Part Two)
7) Want to know what we're preparing for Episode #150? Well, here's your first clue. WATER. Listen to Episode #143 Water for New York: The Croton Aqueduct, one of many shows we've recorded on New York infrastructure.
8) And finally — a new Bowery Boys audio history walking tour will be released next month! We've released two thus far — the walking tour on Washington Square Park (on sale on iTunes and Amazon, or click the box in the top right column) and a free tour on the High Line (Episode #136). I'll reveal the subject of this walking tour on next week's show.
And if you haven't done so already, please join our Facebook page. Next week I'll be posting something there — a treasure from our past! — that will only be available to those on Facebook.

Top picture courtesy New York Public Library