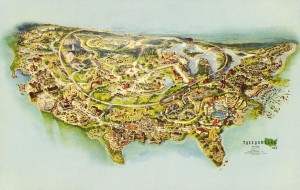 America, as depicted by Freedomland USA pre-opening map — courtesy Viewliner Ltd.
WOW. The response to our profile on NPR Morning Edition has been truly overwhelming. It's been a very wild and exciting couple days. Thanks to everybody who has written us via email, Facebook and Twitter and welcome to our new listeners!
One amusing result of the airing of the piece is a resurgence of interest in Freedomland USA, the 1960s amusement park in the Bronx. I did a short podcast on the long-forgotten America-themed park back in 2009, and an original advertisement for one of the park's more unusual attractions — reenactment of the Chicago fire! — was used in the NPR story.
The comments section on the blog page relating to our podcast is filled with recollections of people who visited Freedomland USA as a kid. Here are a few selected comments about particular aspects of the park, giving a little more insight into this strange and mystifying place, written by those who were actually there:
Elsie the Cow
featured in the Borden's Barn Boudoir, a barn that promoted Borden products. Yes, not only was Elsie a part of Freedomland, she had a very seductive image back in the 1960s

"I hadn't even thought of Freedomland since the 60's. It stopped me in my tracks when I heard the name. I remember my family and our friends who lived across the street all piling in the station wagon for our drive from Levittown to the park. Nothing else came to mind, but when you mentioned Elsie the cow- BINGO! I was mesmerized by that cow…I remember just standing there and being thrilled. Who knows what will captivate a little girl's imagination." — Jablow
The Chicago Fire
"Yeah! The Chicago Fire. I was selected to help pump one night & so we started pumping and all of a sudden, the pump started moving by itself – it was motorized! As a 12 year-old, I was crushed by the fakery. The good part was the photographer for LIFE Magazine snapped the scene so I became a smudge on a piece of newsprint." — Big Al
"I still have my certificate recognizing my efforts to help put out the Chicago fire! Don't remember Murray the K being there, but the WMCA good guys used to broadcast from a "space ship" in Futureland. Saw Little Peggy March there once, singing "I Will Follow Him." Fond memories of seeing Elsie the Cow, too."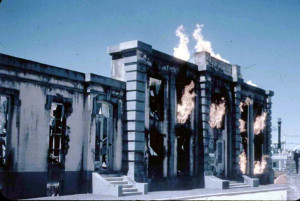 Courtesy Flickr/slideshopper
Defying Gravity:
"As a kid growing up in Somerville, N.J. I got to go to Freedomland 3-4 times. My most vivid memory is of an attraction where stuff rolled uphill. You could set a soda can on a table and even though it looked like it was angled down hill, the can rolled up the hill. It still amazes me. Freedomland was the closest we kids from N.J would come to Disneyland for a really long time. California was on the other side of the country and Disney World was not even started yet. I have many great memories of a visit with my cub scout troop."
"Went to Freedomland several times over two summers loved the fried chicken with honey in "New Orleans", "Casa Loco" with weird distortions of gravity, and I'll never forget seeing my father's face of amazement as we stood a couple of feet away from Benny Goodman and His Orchestra. The place was so cool."



Special Events:
"Hey, does anyone remember seeing Chuck McCann do his Halloween kids show from the park? Absolutely! I remember bits and pieces of it like it was yesterday and I have been looking for references online about it for a number of years. As I recall it had two actual children and a number of puppets including a witch. It was one of my favorite Halloween specials. I have been trying to find a New York TV guide from October 1963 as I understand it's listed there."
"I was in a Yo-Yo championship contest hosted and judged by Chuck McCann. At Freedomland, I think it was 1962."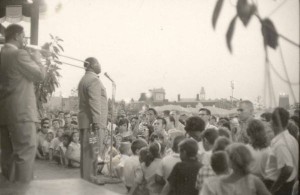 Above: Louis Armstrong at Freedomland, picture courtesy the Louis Armstrong House Museum
"I was 10 years old with Ed Sullivan on the original broadcast about Freedomland. It took all day to tape the show segment. He was very patient and very kind." "Only thing I remember is seeing The Four Seasons perform on a chilly, damp, windy day. First concert I ever attended."
"One of the most memorable events of my childhood was seeing Louis Armstrong at Freedomland."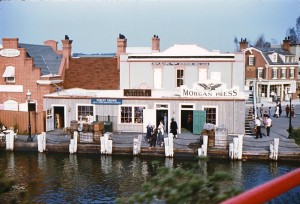 Photo courtesy Gorillas Don't Blog
Stagecoach drama:
"I was stunned to hear about Freedomland on NPR today. I was there with my sister when they had the stagecoach accident that eventually caused the financial ruin of Freedomland.

Apparently, the horse handlers warned the owners that the train that ran through the park would spook the horses. That is exactly what happened the day we visited. Coming down the last hill, the horse spooked and bolted. The stagecoach flipped over and severely injured most riders.

My sister and I were on top and were thrown clear of the coach. I had a small cut on my elbow and my sister had a damaged tooth. Others broke legs and spines when they were trapped under the coach. My uncle and cousins helped lift the stagecoach off the injured. Many lawsuits later, Freedomland closed. I never heard anyone mention that place until today."