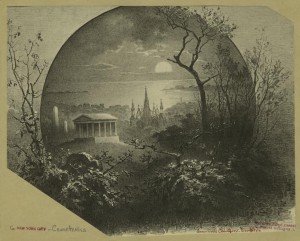 Green-Wood Cemetery celebrates its 175th year as Brooklyn's oldest greenspace, populated with deceased politicians, writers and actors. It's the final resting place for some of New York's most famous and notorious characters — Henry Ward Beecher, Horace Greeley, DeWitt Clinton and Boss Tweed among them.

The Museum of the City of New York debuts its new exhibit "A Beautiful Way To Go: New York's Green-wood Cemetery" this week, while the cemetery itself is planning a host of events, including trolley tours, concerts and their popular twilight tours. (The nighttime tour this weekend is sold out, but you can visit their website for future events.)
It's a good time to chow down at Katz's Delicatessen again on the occasion of its 125th birthday. It was in the year 1888 that a deli officially opened at the southeast corner of Ludlow and Houston, serving the neighborhood's immigrant community. It was sold to the Katzs in 1910s, renamed and moved to its present location.
They're throwing a big birthday bash on May 31 with all proceeds going to another great Lower East Side institution, the Henry Street Settlement. But if you can't make that, you can always go online and buy anniversary souvenirs.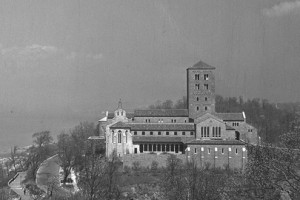 And finally, the Cloisters Museum, the medieval branch of the Metropolitan Museum of Art at Fort Tryon Park, is celebrating its 75th birthday this month. This unusual collection of European buildings were shipped over and reassembled upon a famous Revolutionary War site by John D. Rockefeller Jr., and they house one of America's most beautiful collections of medieval artworks, including, of course, the Unicorn Tapestries (another gift from Rockefeller).
Opening this week is 'Search for the Unicorn: An Exhibition in Honor of The Cloisters' 75th Anniversary', a perfect time to revisit these strange, fantastical pieces of art.
If the weather's nice, why not visit all three? There just happen to be Bowery Boys podcasts on all three places! You can find them all for free on iTunes and other podcast aggregates. Or download them from these links:
— Green-Wood Cemetery
— Katz Delicatessen
— The Cloisters and Fort Tryon Park

Green-Wood pic courtesy NYPL; Cloisters courtesy Met Museum