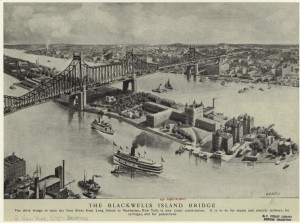 In this weekend's New York Times Travel section, I chat with Emily Brennan about three places outside the borough of Manhattan that would make ideal destinations for tourists if the lines get too long at the Empire State Building and the Statue of Liberty. You can read the interview here, but the places I discuss include:
— Wave Hill – It can be a bit challenging to get there, but this green oasis — once home to young Theodore Roosevelt and Mark Twain — is worth the journey
— Snug Harbor – It's just a short cab or bus ride from the St. George ferry station in Staten Island, and an amazing collection of architecture awaits you along Richmond Terrace.
— And finally, Roosevelt Island, with an amazing view of Manhattan, an oddball assortment of historical structures (from the lighthouse to the ruins) and of course that tram ride!
Roosevelt Island (once known as Blackwell's Island and Welfare Island) features prominently in tomorrow's new podcast, a story of desperate circumstances, bizarre medical practices and a Revolutionary War era mansion.
Also to prepare for tomorrow's new show, may I suggest a couple prior blog posts?
— Execution Corner: 13th and 2nd Avenue
— Asylum! The insane foundations of Columbia University
And thanks to Emily Brennan for a great interview.
Picture courtesy NYPL