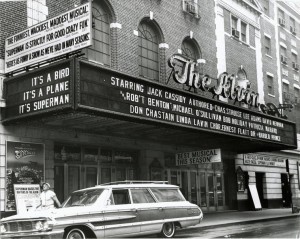 Above: The new Superman movie might be great, who knows? But it doesn't have Linda Lavin in it, like the 1966 Broadway musical 'It's A Bird, It's A Plane, It's Superman' which played at the Alvin Theatre (today's Neil Simon Theatre). Encores! recently did a revival of this forgotten musical gem earlier this year.
We have an entire blogroll down at the right of the page of good history and New York-related blogs we recommend. But here's five that I've been regularly enjoying:
Daytonian In Manhattan
What's it about: Going through the history of New York City, one building at a time
One recent post: On the West Village apartment building The Hampton –Nos. 80-82 Perry Street
Sample quote: Guiseppi Verrazzano, known as "The Big Man," to his patrons, tried to take cover, "but toppled over with a bullet in his heart," said The Evening World the following day.
New York Historical Society: From the Stacks
What's it about: Peeling back history, from the perspective of artifacts from the Historical Society collection
One recent post: The Shantytown: Nineteenth-Century Manhattan's 'Straggling Suburbs'
Sample quote: Even the animal inhabitants had changed: while goats and chickens still ruled the roost, the inhabitants no longer kept pigs. In 1859 New York City made it illegal to keep pigs below 86th Street and apparently the Dutch Hill residents abided by the law.

Scouting New York
What's it about: Nick Carr's experiences as a movie location scout, leading him to secret places other New Yorkers don't get to go
One recent post: The Ruins of old Union Square
Sample quote: But for anyone else like myself who's been to Union Square a million times and never stopped to look, learning about the red frames is an eye-opening experience
Brooklyn Historical Society Blog
What's it about: Like the NYHS blog, it highlights the treasures from their collection, filled with oddities and fun photographs
One recent post: A Reflection on Brooklyn Businesses
Sample quote: One longtime anchor of the district is the Macy's department store at 422 Fulton Street. Longtime residents of the borough will recall that the cast-iron building is the former home of Abraham and Straus department store, known as A&S

Frank Jump's Fading Ads
What's it about: The remnants of old advertisements, still seen around New York City and in other cities. What's incredible is that he and his friends are still finding them all over the place!
One recent post: Jamaica Fountain Fixture Co – Soda Fountains – Store Fixtures – Jamaica, Queens
Picture courtesy NYPL archives