This unusual story appeared at the bottom of the front page of the New York World newspaper in July 17, 1913: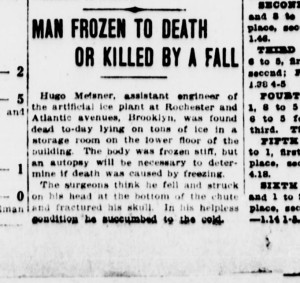 MAN FROZEN TO DEATH OR KILLED BY A FALL
Hugo Meissner, assistant engineer of the artificial ice plant at Rochester and Atlantic Avenues, Brooklyn, was found dead today lying on tons of ice in a storage room on the lower floor of the building. The body was frozen stiff, but an autopsy will be necessary to determine if death was caused by freezing.

The surgeons think he fell and struck on his head at the bottom of the chute and fractured his skull. In his helpless condition he succumbed from the cold.
Further details from other news sources reveal Meissner to be a machinist for the Atlantic Hygienic Ice Company in the neighborhood of Bedford-Stuyvesant.
Ice manufacturing was such a relatively new craft in 1913 that what they refer to here as 'artificial ice' simply means ice manufactured and processed in a plant vs. naturally occurring ice. They are obviously not referring to synthetic ice (sometimes called artificial ice), which is used for skating rinks.
In the 19th century, ice was harvested from frozen rivers and stored in northern ice houses. Artificial ice plants began appearing around the 1880s. This ad from the 1916 Brooklyn Daily Eagle provides a listing of artificial ice makers in New York City. There was clearly some concern then of artificial ice not being as clean as 'real' ice, as this advertisement stresses its product's purity: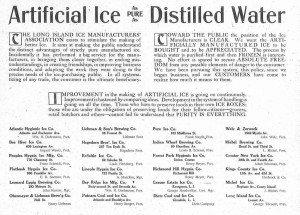 The ice-making industry was near its end in New York City, as refrigeration techniques were improving, and people would soon have devices in their own homes which could make the product. It didn't help that the ice trade had also been subject in prior decades to mass corruption and price fixing.
As to the details of this poor man's death, the Sun provides further speculation: "Meissner went into the shaft to repair the elevator on Tuesday afternoon……[and] may have been overcome by ammonia** fumes or the change of temperature from that of a warm day to 26 degrees Fahrenheit, thus losing his hold and falling."
His wife Bertha ended up suing the Atlantic Hygienic Ice Company in 1917. (The sometimes grisly details of the court case can be found here.) The jury originally awarded her $5,500.00 in damages — worth almost $100,000 today — but the ruling was appealed. In the end, the Atlantic Hygienic Ice Company paid Meissner's widow $750 (or about $13,500 today).
**Ammonia was used in artificial ice making. Early artificial methods sometimes left ammonia residue in ice and led to its less-than-pure reputation.