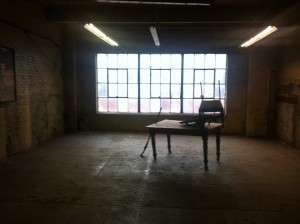 For several decades, Ben Forman & Sons occupied the three-story, brick-constructed factory at 201 Water Street in today's neighborhood of DUMBO, an industrial metal plant which produced "ornamental dies, lamp parts, brass sheets, chopsticks, domestic cutlery sets, butter spreaders, flatware sets, domestic serving utensils" and a myriad of other metal objects for the home. [source]
In a very typical story for the neighborhood, the factory is gone, and recently the building was purchased and is being transformed into residences.
For the past few years, the factory has been known as the Jay Street Arts Building. This weekend appears to be one of its final weekends before construction, and they are opening their doors a final time for a site-specific art project that will allow people to explore this fascinating building on their own.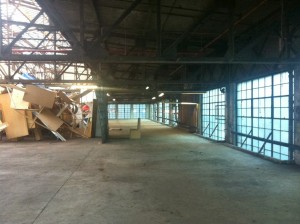 Fabrika 7 is hosting this weird event, with art pieces dispersed throughout the building, applied with a heavy does of Am I supposed to be wandering around here? Many installations use materials found in the building itself; other works are cleverly placed in former offices and even in factory washrooms.
I stumbled into this accidentally while meeting a friend there a few weeks ago, and within minutes, I was pretty sure I didn't want to leave.
It's gloomy and melancholy in places, and downright frightening in others. An insistently unanswered phone rings somewhere in a cavernous space, as your eyes try focusing on a heap of twisted metal illuminated in blood-red light. In other corners, you'll find evidence of the men that formerly worked here. On the top floor — an open room hoarding all the natural light — it appears the ceiling as collapsed into a mass of metal entrails.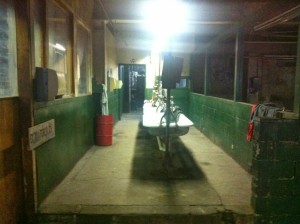 You can visit the Jay Street Art Building this weekend only. It's located at 201 Water Street at the corner of Jay Street (take the F train to York Street), just a couple blocks from Brooklyn Bridge Park, so make a day of it! Oh, and did I mention, there's no admission charge?
Friday, Sept 27, 6-9pm, Saturday, Sept 28, 12-9pm, and Sunday, Sept 29, 12-6pm.
The installation is open this weekend as part of the Dumbo Arts Festival. Check here for other events going on in DUMBO this week.
Enjoy your weekend!