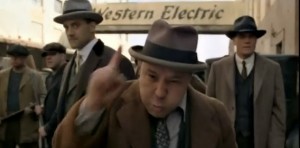 Frank and Al Capone, with Nelson Van Alden (played by Michael Shannon), at Western Electric's Hawthorne Works in Cicero, although I suspect this was actually filmed at the Brooklyn Navy Yard. (Courtesy HBO)

BOARDWALK EMPIRE: I've been up to my regular Sunday Tweet-alongs with historical-based television shows, this time around following the newest season of Boardwalk Empire. Although Harlem will certainly play into the drama this year (with the introduction of Jeffrey Wright's elegant racketeer Dr. Valentin Narcisse), so far we've spent most of our time in Atlantic City, Chicago and Tampa. If you're interested in the history of America in 1924, please follow along with me on Sunday nights!
Here's an example of a few Tweets from last night's show:
Another picture of suburban Chicago's beautiful Hawthorne Works: #BoardwalkEmpire pic.twitter.com/RDMeADjPqh
— The Bowery Boys NYC (@BoweryBoys) October 7, 2013
The ukelele was a trendy instrument in 1924, made famous by vaudevillian performer Roy Smeck. #BoardwalkEmpire http://t.co/OMHuYXZpfm
— The Bowery Boys NYC (@BoweryBoys) October 7, 2013
.@BoweryBoys We do still make Abba-Zaba, and it's wackier than ever. @DylansCandyBar and other candy shops in New York carry it.
— Abba-Zaba (@abbazabacandy) October 7, 2013
MASTERS OF SEX: This new Showtime drama about the human-sexuality research team of Masters and Johnson takes place in late 1950s in St. Louis, Missouri. While most of the show is filmed in Los Angeles, they actually began filming the show in Long Island, in particular Sands Point (a famous inspiration used in The Great Gatsby) and the old Guggenheim mansion, Hempstead House.
COPPER: BBC America have announced that they have cancelled this drama, set in New York in the 1860s, after just two seasons. Sad to see it go and want to help save it? There's an official Change.org petition. Fans have also started a Save Copper Facebook page if you'd like to jump in.
MAD MEN: AMC is prolonging Don Draper's alcoholic misery with two mini-seasons — instead of one long final season — starting up again next year. Prepare for the show to assiduously explore New York City in 1969. . [source]
______________________
A NEW LOOK FOR THE BOWERY BOYS: Lots of great improvements will be happening to the Bowery Boys: New York City History blog and podcast in the coming months, including a new logo and some seriously upgraded design elements. The website will be going through a thorough design overhaul. (I mean, look at this place! It's so 2009 in here.)
And next month I should have a new recording studio as well, with (hopefully) improved acoustics and equipment. All of this is with the hopes of bringing the podcast back to a more frequent schedule in 2014. We will also be debuting a couple new sponsors to the show in the next few months.
Outside of advertising on this blog (which helps pay for the podcast hosting costs), we don't make any money on the podcast yet. If you've been a fan and feel so inclined, you can help us achieve these immediate goals by donating to the show, using the PayPal button in the column to the right. (Edit: The donate button works now! Thanks for your patience. It was acting a little iffy the past few days.)
All donations will go to defraying the costs associated with our improvement plans. We thank you and appreciate your support!