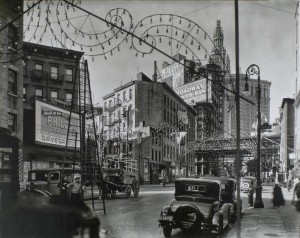 Street life at Oak Street and New Chambers Street, 1935. This is in today's neighborhood of Two Bridges. Neither of these streets exist today, swept away by grand housing projects. Sepiatown has the approximate location of where this photograph was taken. (Pic by Berenice Abbott, courtesy NYPL)
The nominations for the 2013 Podcast Awards are open. If you feel so inclined to nominate the Bowery Boys: New York City History podcast in the People's Choice and Travel* categories, we would greatly appreciate it! And while you're at it, give you other favorite podcasts some love in some of the other categories.
Submit your nominations here: People's Podcast Awards
Now, we've been nominated a couple times before, and it's a wonderful honor. We're always off doing our own thing with New York City, so it's nice to feel part of the larger American podcast community. Of course, we always lose to Disney theme park podcasts (albeit very good ones), but perhaps things will be different this year. We can only dream, Jiminy Cricket.
As always, I thank you for checking out the Bowery Boys blog and podcast!
*Travel has always seemed like an odd category for what we do, however, on iTunes, the category is actually called Places & Travel. Although I hope that our shows are educational, it doesn't seem quite right to put us in the Education category.