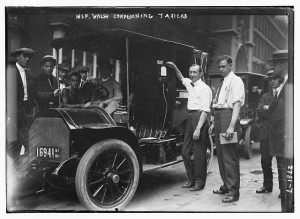 Taxis, not as taxing! The caption for the photo above: "New York City Mayor's Bureau of Licenses condemning a taxicab after new ordinance regulating taxicab meters went into effect on August 1, 1913." The law was withheld in state court 100 years ago today, kicking in a new set of lowered cab fares for New Yorkers. The price list is below.
— The Bowery Boys were featured in last weekend's issue of the Wall Street Journal in an article about the economics of podcasting. The article by Jo Piazza — which also features Catie Lazarus of the Employee of the Month podcast — is depressingly titled 'So Many Podcasts, So Little Profit.' [Wall Street Journal]
— What's the latest on the remains of the Bull's Head Tavern that were found on the Bowery during the excavation for a new boutique hotel? Well, demolition hasn't stopped. [The Lo-Down]
— Also wiped from the New York City landscape — 5Pointz, the graffiti palace in Long Island City and the Louvre of graffiti art. But a new condominium is on the way! I'm not a clairvoyant, but that new condo better have paint-resistant surfaces [New York Times]
— Perhaps you've biked or driven past this building many times, the Flatbush Avenue campus of Long Island University with the curious marquee. It was once the spectacular Paramount Theatre, dating from 1928. Nick takes you inside, looking for the remains of this former movie palace. [Scouting NY]
— Amazing New York nurses from 1942! Another lovely find from the Shorpy digital photo blog. [Shorpy]
— The curious journey of a neon liquor sign on the Upper West Side. "In as much as New York's old neon signs are metaphors for survival against the odds, Riverside and its old sign say it loud and clear." [New York Neon]
— And you'll be getting a preview of our new look this Monday! It's far more interesting and presentable than, say, our original look.
— One hundred years ago today, the battle to lower cab rates, spearheaded by the New York Evening World, was won when an appellate court withheld regulations passed by New York's board of aldermen. It also eliminated 'private hackstands', which created virtual monopolies for wealthier private cab companies . Here is the new list of cab fares in 1913: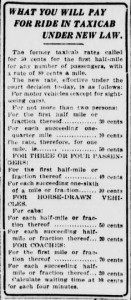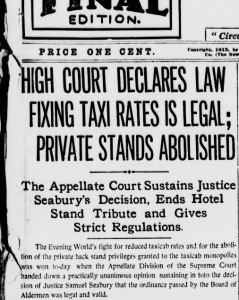 Picture above and newspaper excerpts courtesy the Library of Congress