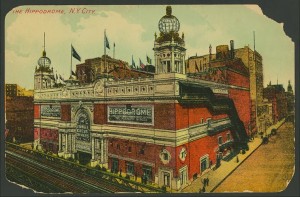 Our show on the Broadway musical was quite epic, and we ended up cutting out some interesting stories to make the show a reasonable length. However I'll leak out a couple of these 'deleted scenes' over the next couple weeks.
For instance, here's a segment about another great Broadway theater. In fact, one of the biggest stages ever — the Hippodrome

And, as I referenced in this segment, here's the advertisement featuring John Philip Sousa. "The Greatest Success in Theatrical History"!:
You can hear music that was performed at the Hippodrome by the Victor Military Band in a prior post.
Picture courtesy New York Public Library. Newspaper clipping from the New York Tribune, courtesy the Library of Congress.