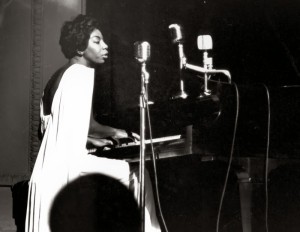 Nina Simone was born on this date in 1933 in Tryon, North Carolina. She came to New York as a student of the Julliard School, but her unique blend of genres came from her experiences in the nightclubs and cabarets of Harlem and Greenwich Village. She wowed audiences with a memorable New York debut at the Village Vanguard on July 20, 1959. "Miss Simone is a real talent who can go far," said Billboard of her performance.
Less than three months later, she made a more formal debut to audiences on September 12, 1959, at Town Hall, an elegant stage in the heart of the theater district. The ironic thing about this show was that the regal, classically trained performer was used to singing in places where the patrons were drinking and smoking, venues with a bit of commotion and energy.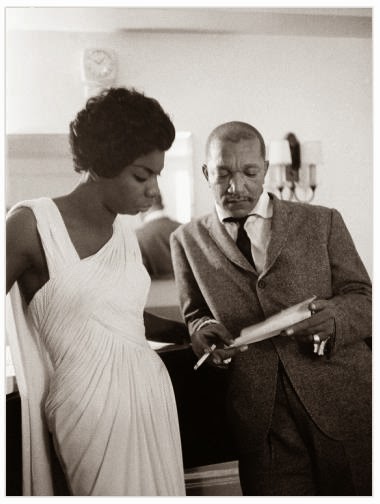 She brought a bit of everything to her performance that evening, confounding those who pegged her as a simple classical artist.
From Simone's autobiography: "[C]ritics started to talk about what sort of music I was playing and tried to find a neat slot to file it away in. It was difficult for them because I was playing popular songs in a classical style with a classical piano technique influenced by cocktail jazz. On top of that I included spirituals and children's songs in my performances, and those sorts of songs were automatically identified with the folk movement."

At right: Nina from that same evening with Redd Foxx (Photo courtesy Ebony Magazine, G Marshall Wilson photographer)
The New York Times review was hesitant in its praise, but concluded "both her singing and playing are carried off with such consummate assurance, skillful pacing and attractive good nature that she proved an extremely winning performance."
Although she had recorded two previous albums by this time (and a third was cobbled together without her knowledge), the Town Hall live album released in 1959 is notable as being the first to include one of her signature masterpieces — "Black Is The Color Of My True Love's Hair."
Simone would release three more live albums recorded in New York venues — one at Village Gate and two at Carnegie Hall.