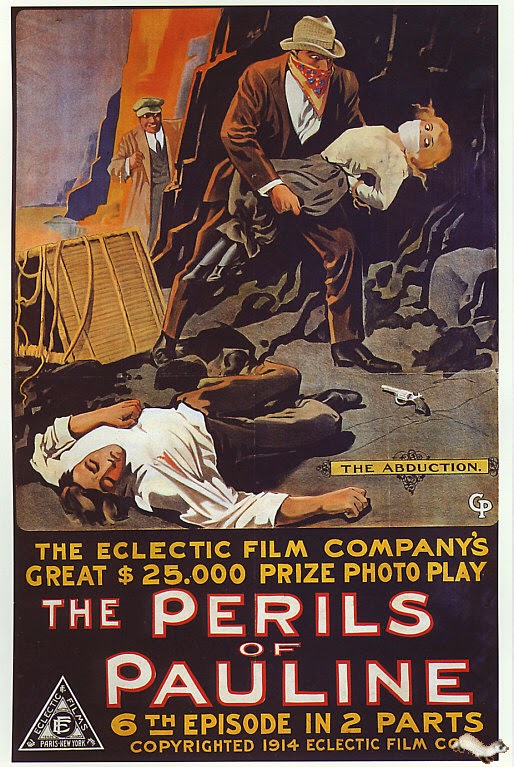 What does the George Washington Bridge have to do with The Perils of Pauline, the classic film serial which debuted 100 years ago this week? They're both cliffhangers of the literal sort — and almost the same cliffs, it turns out.
Many consider the Pauline film series to be the first "movie blockbuster," filled with thrills and suspense. Pauline (Pearl White) has an inheritance coming to her once she gets married, but as an adventurous single woman thirsting for some action, she puts off looking for a mate to explore the world. The secretary in charge of the inheritance, hoping to keep it for himself, baits Pauline into various dangerous quests in hopes she will meet an unfortunate end.
Although the films are silent, a novelization from that same year fleshes out the melodrama and reveals a rather bold lead character: "As an old, settled-down married woman, I couldn't really do what I want. I must see life in its great moments. I must have thrills, adventures, see people, do daring things, watch battles. It might be best for me even to see someone killed, if that were possible."
Below: The first Perils of Pauline adventure, which debuted 100 years ago this week:
The serial was filmed in Fort Lee, New Jersey, adjoining with the production studios of New York City and Jersey City to become America's first film capital. (Only a few movie studios had begun moving out to Los Angeles by this period.) Pauline was the first American project for the French production company Pathe.

The Perils of Pauline was filmed along ragged cliffs of the New Jersey Palisades. In fact, it is from one of Pauline's own adventures — where she's literally hanging from a cliff — that we get the phrase 'cliffhanger'.
Fifteen years after the success of Pauline, Fort Lee found itself almost completely without an industry, as most producers migrated out west to the flourishing Hollywood scene. It was at this time that Othmar Ammann developed his strategy for a bridge spanning the Hudson River, one that took advantage of the Palisades' high elevation.
A Fort Lee historian recently studied a 1918 publicity shot of a later Pauline serial called The House of Hate (below) and discovered it was taken near Coytesville, NJ. Had the film been made a dozen years later, the George Washington Bridge would have been in the shot!