Girls with a pretty amazing dollhouse at Seward Park playground. Photo labeled August 1913
I'll be traveling for the next few days so I'll be posting here a bit less than normal. Next week I'll re-post some interesting stories from the back catalog. Enjoy your weekend!
I recently discovered this first image in a collection of Lower East Side photographs, and realized how unusual it was to see pictures of children before the 1920s actually smiling and happy in photographs. This is partly due to a certain awkwardness around cameras and the relative slow process in taking a picture back then.
Also, children were usually photographed doing things that did not make them happy. The two best known social photographers of the era — Lewis Hine and Jacob Riis — were specifically trying to capture poor working and living conditions. Images of life's little pleasures did not fit the narrative. Although in some of Hine's photographs of tenement life, some happiness peeks through.
But I did find these images of kids at play, most all of them in the summer time. Take a little of their enthusiasm with you this summer! Click into the pictures for a larger view.
Children find some joy near the elevated, July 31, 1913. The kid in me wants to jump in and join them. The adult in me is thinking, "That water must be filthy."
I believe the boys in the two pictures above are playing checkers*. Top photo is labeled August 1913, the second around the same time period.

Craig on our Facebook page clarifies the images above: "I suspect that the boys in that picture aren't playing checkers, but a distinctly NYC game called "Skully" or "Skullsy," as some call it. At least that's the first thing that I thought of." Good catch!
I'm putting this in a blog post about children playing, but I do not think the boy being leaped over is having too much fun.
Children being drawn to the streets by the intoxicating sounds of the organ grinder (and monkey, although I don't see one here).



At the Seward Park playgrounds. The dark clothing doesn't appear to make the scene very jovial, but everybody is all smiles.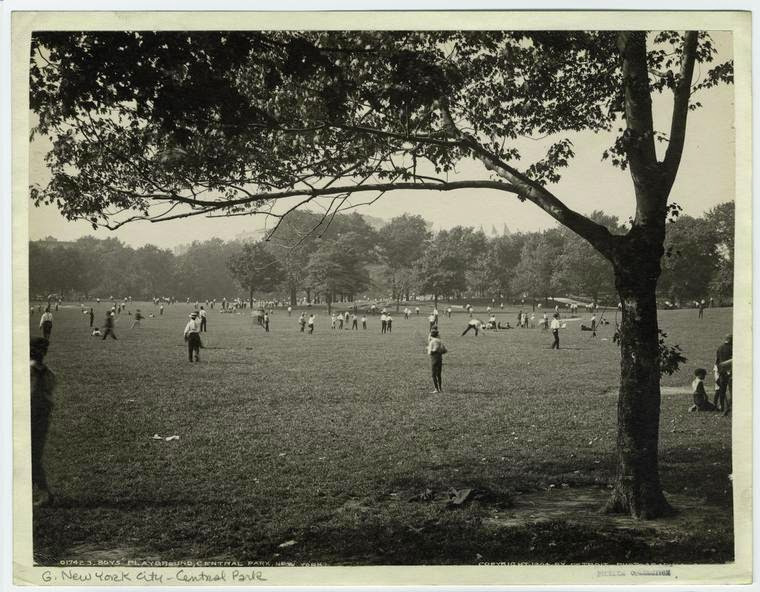 And a bonus picture above of boys playing in Central Park, 1904. This is a quite extraordinary picture because for half a second, I thought they were sheep.
Photos above are courtesy the Library of Congress, the Tenement Museum, and the New York Public Library