Did you make a New Year's resolution this year to go to more museums? To be more cultured? To know, generally speaking, what's going on in this great big city in 2014? Then start with these three terrific history-related exhibitions — some of best shows from last year — either at their half-way points or about to close.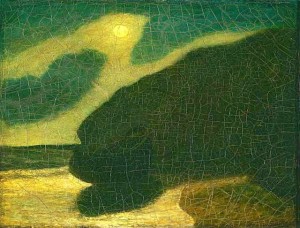 Moonlit Cove, Albert Pinkham Ryder
The Armory Show at 100: Modern Art and Revolution
New-York Historical Society
Closing: February 23
This is a masterful show of curation and presentation and perhaps the first where a slight sense of disappointment should adhere to your general experience. The almost-mythical Armory Show, while shocking when it was presented at the 69th Regiment Armory in 1913, displayed the American artists of the day alongside European modern-art masters. For the most part, it's the European pieces that have become art world standards, while many prominent American works have been forgotten. Most artifacts here have lost their shock value, but few have lost their beauty.
The NYHS show presents the exhibition in narrow, undramatic galleries similar to the original show, a rare moment for a museum to revel in the old fashioned. In this way, an unfamiliar artist or painting may emerge with an intimacy and purpose. You might casually walk by important works by Duchamp, Van Gogh and Picabia to discover something new. In replicating a show famed for being revolutionary, it might be the quietest painting that grabs you the most.
There's also a small gallery recounting how the Armory Show came to be, appropriately austere and full of documents that have perhaps come to be as important as many of the paintings in the show. (If you don't mind, I'll plug my podcast from last year on the Armory Show here, as many of these pieces — exhibition guides and manifestos — are mentioned there.)
If you don't live in New York and can't make it, NYHS has an interesting online gallery relating to the show as well.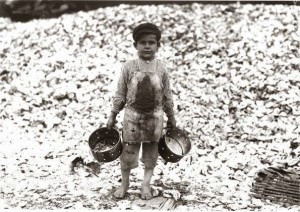 Manuel, a five-year-old shrimp picker, in Mississippi.
Lewis Hine
International Center for Photography
Closing: January 18
Hine stumbled into photography-as-social activism while on several trips with students to Ellis Island in the 1910s. This comprehensive show starts at that point and winds through Hine's extraordinary career, witnessing the beautiful and the distressed, portraits and poses which have now defined how we look back at the poor in the early 20th century.
You'll fall for the little smiles, tired eyes and awkward poses that occasionally attend Hine's serious photography, used to expose the evils of child labor. Slowly, his work becomes more refined and masterly, leading to his glorious later works of industrial might (featuring his most visionary photo, Powerhouse Mechanic).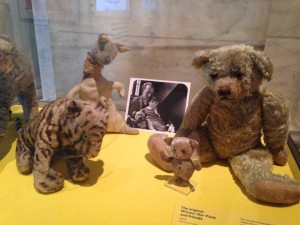 Original Winnie-the-Pooh plush toys from the 1920s
The ABC of It: Why Children's Books Matter
New York Public Library
Closing: March 23
Yes, the show feels overly broad, slightly chaotic and at times even shameless. Just go with it. This celebration of children's books brings you the stunning early picture books of Wanda Gag, literally through a furry wall taken from Maurice Sendak's imagination, and into the medieval castles and magical forests of your favorites stories.
For centuries, authors and artists have presented engaging, whimsical, and often personal fables, balancing a need to educate and moralize with their unique powers to transport young minds into bizarre worlds. The drama of the show will only heighten your love of your favorite childhood story, most likely presented here within the Library's veritable hall of fame.
And the joy of this exhibition is that we all have different favorites, our minds carried off into different stories. Teenagers hovered over the Harry Potter displays; a couple rooms away, an elderly woman told her daughter about the first time she read Winnie-the-Pooh.