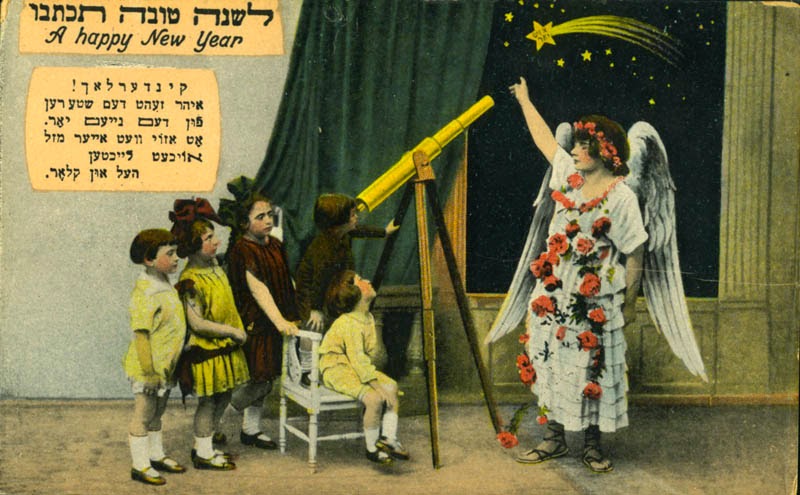 Look to the stars children! A vintage Rosh Hashanah card manufactured by the Williamsburg Art Company in the 1920s.
Rosh Hashanah is here — the first of Tishrei, year 5775. Presented here are a selection of photographs from the Library of Congress depicting Jewish New Yorkers celebrating the new year (or, at least, on their way home to start the festivities). These images date from 1909-1915, although most are 1912. As most of these photographs were possibly taken (or labeled) by non-Jewish photographers, some of the meaning is a little lost. If you have any insights into these images, please leave a comment!
And there's some detective work to be done here. For instance, anyone recognize this synagogue?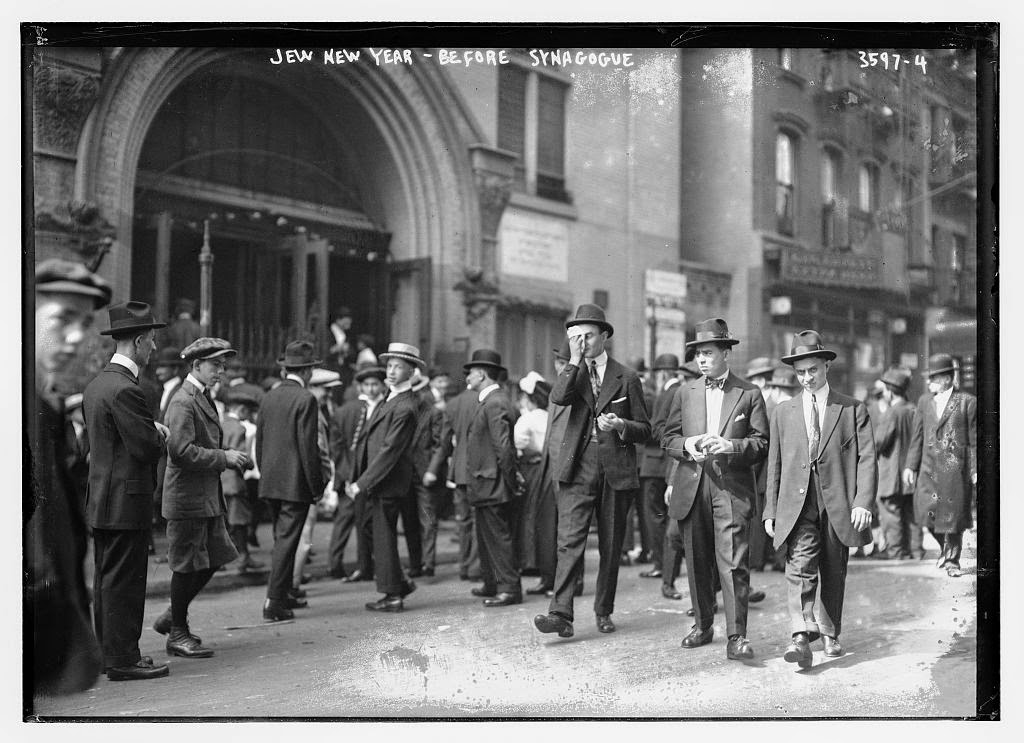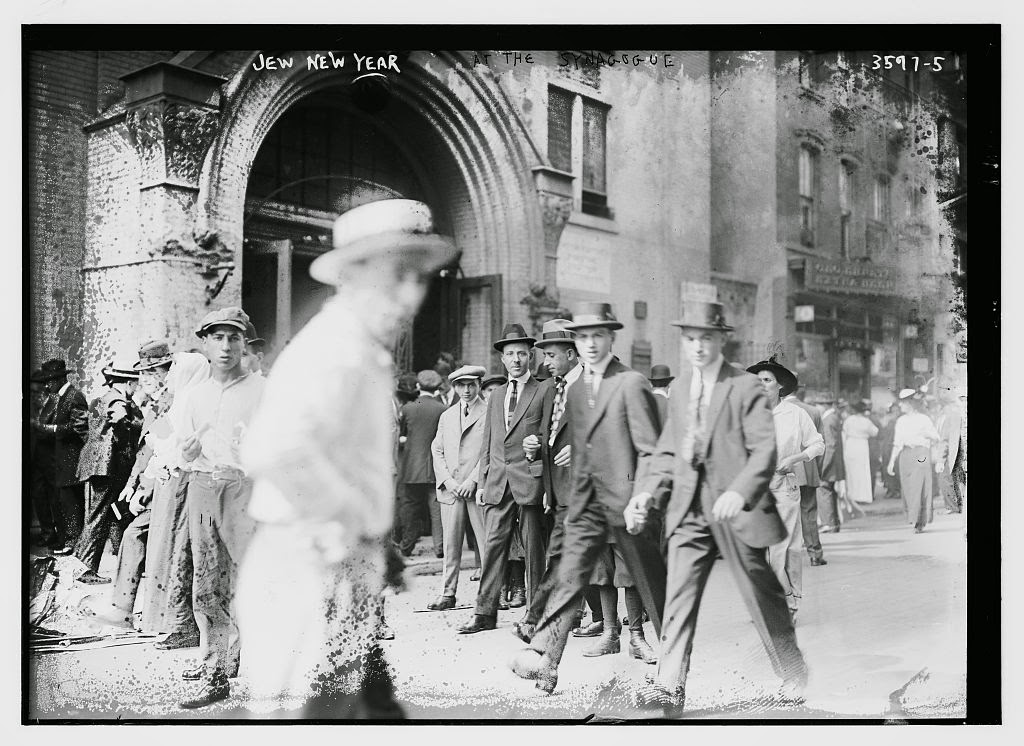 One hundred years ago, Jewish New Year celebrations were especially fraught due to the events in Europe. Ethnics groups from embattled countries, in fear their rituals made them targets for local violence, made doubly sure to distance themselves for the politics of the day, while affirming their continuing connection to their Jewish brethren.
A leader of the reformed Jewish congregation proclaimed, "The conservative and patriotic citizenship of America refrains from endorsing the attitude of any country involved in the horrible European conflict. … [O]ur hearts go out to the 300,000 men in the Russian army who, having bled and suffered at the hands of their country on account of being Jews, are now suffering and dying for their country because as Jews they are loyal to the flag under which they live." [source]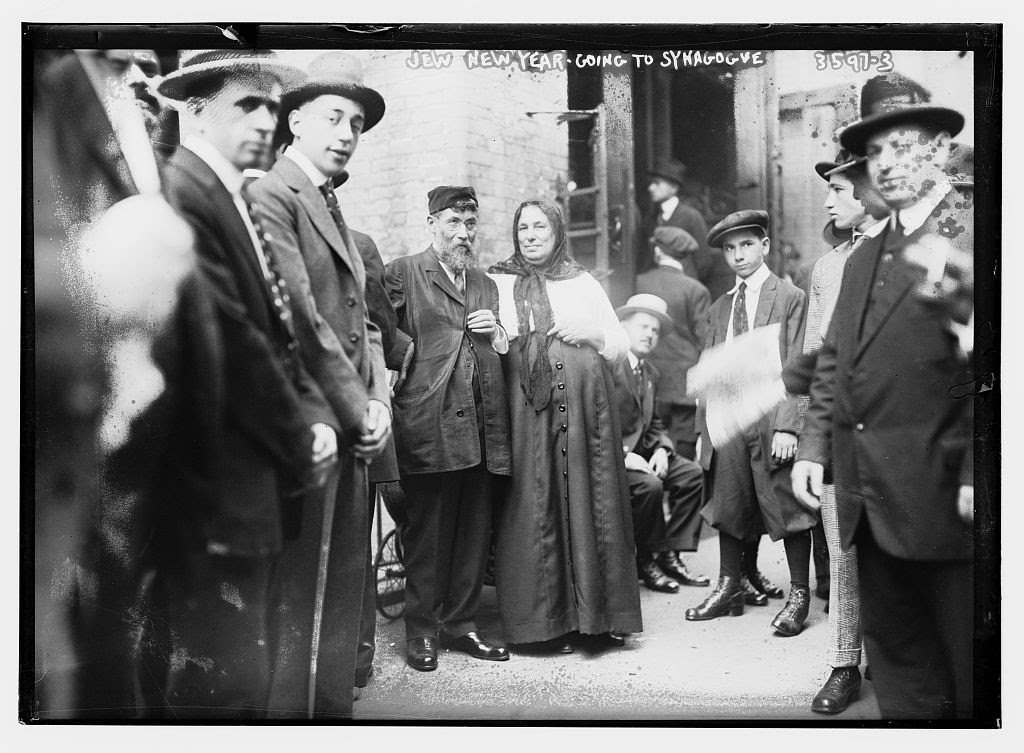 This one is dated September 1912 although there was not a "Jewish New Year Parade" and this is hardly an image of a parade anyway!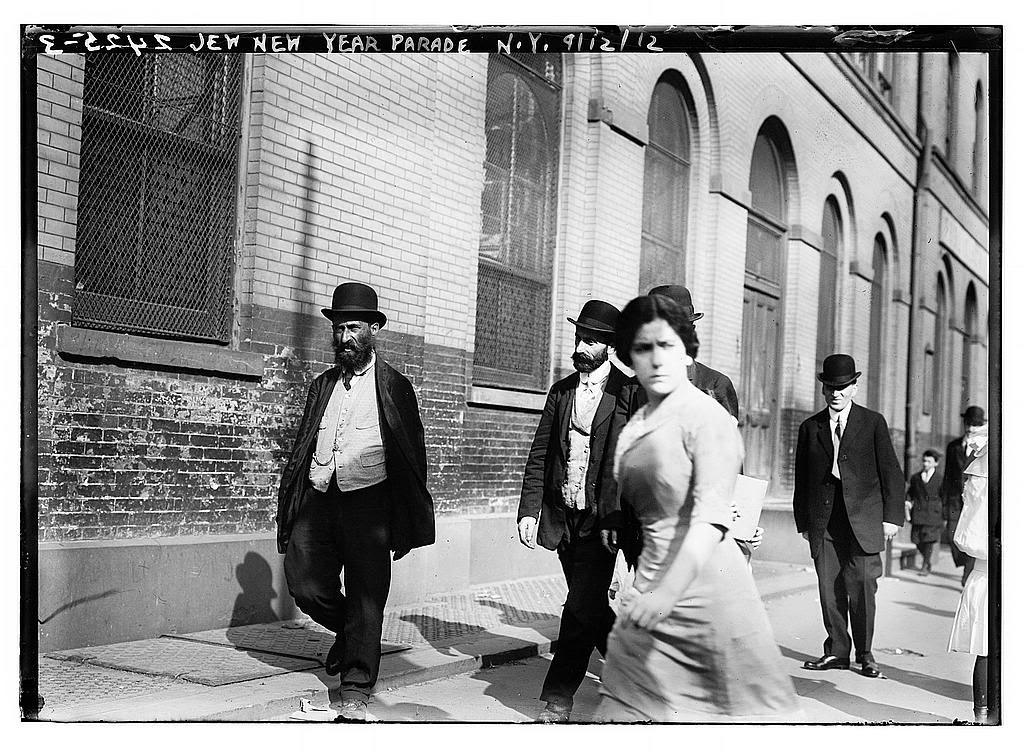 There appear to be a series of old Rosh Hashanah photographs focusing on boot blacks polishing the shoes of young ladies. I doubt this was an actual custom but more a recognition of the fact that many young boot blacks came from Jewish families. (However, for Passover, people leave their shoes at the door.)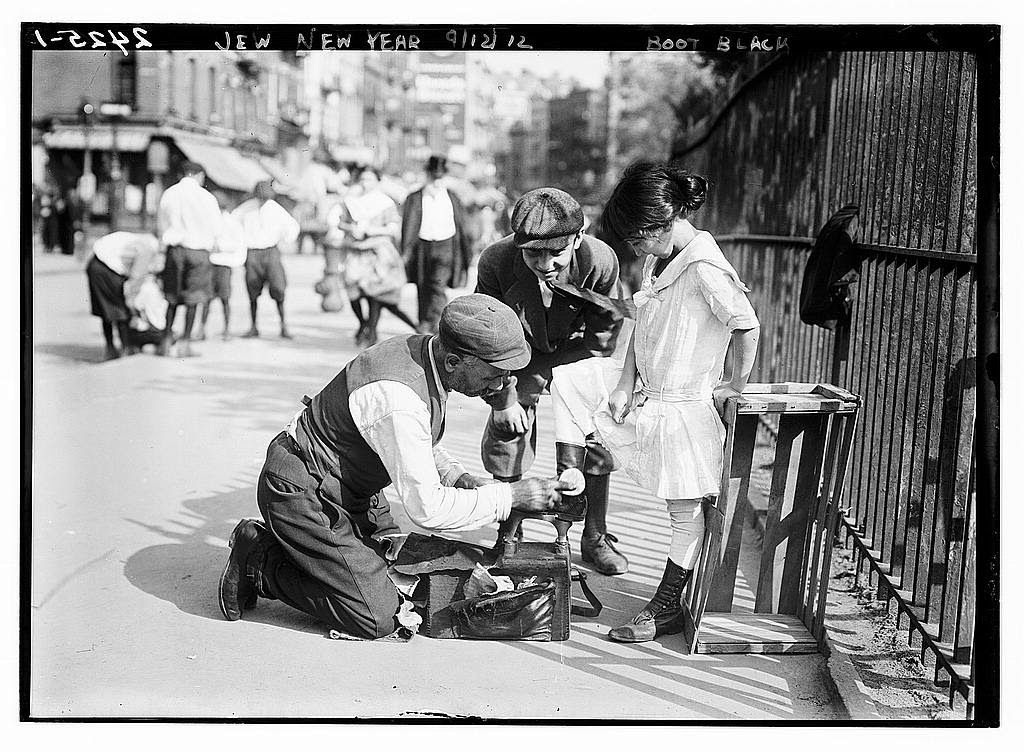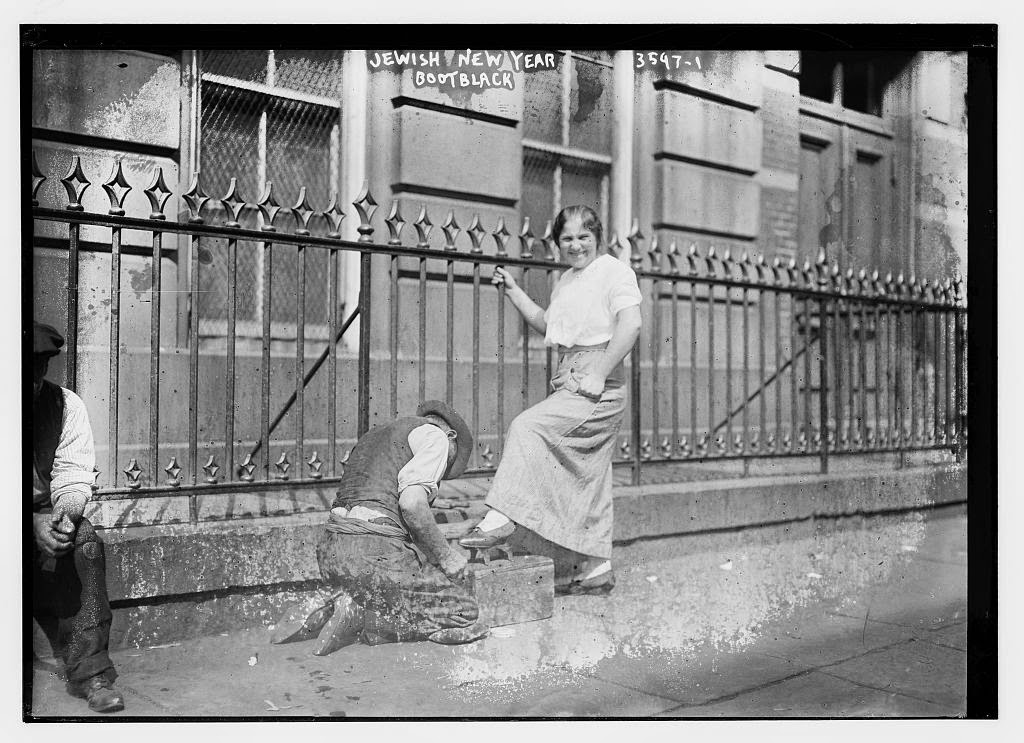 The smile of the girl at center is totally making my day: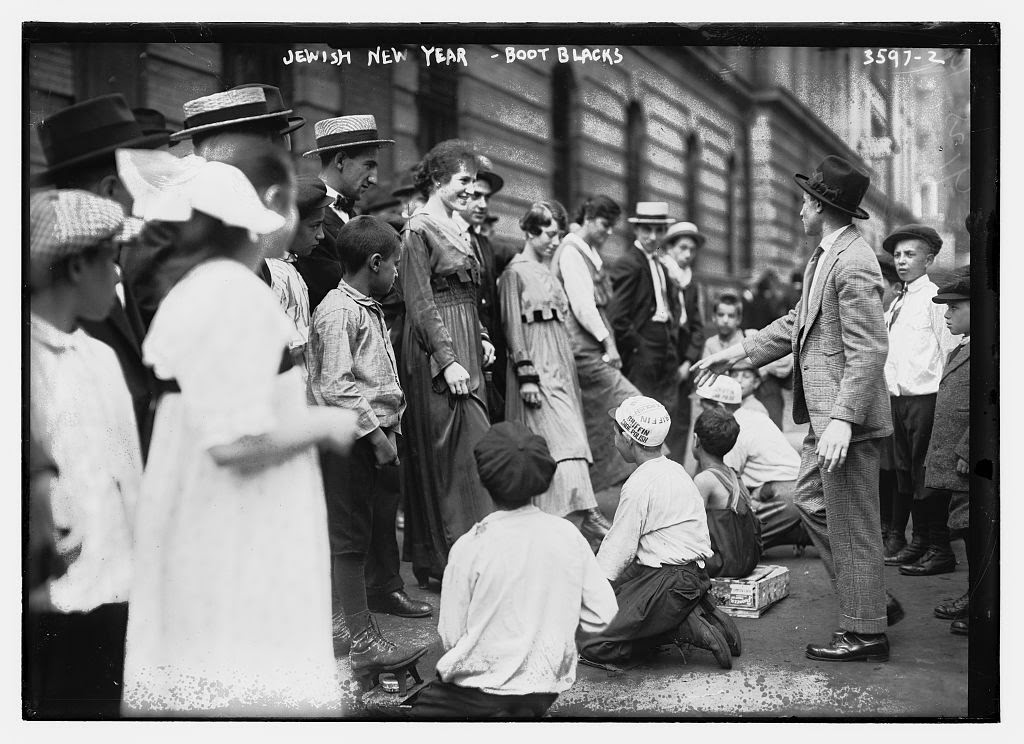 Here's a telling detail from 1914: New Jersey decided to hold a statewide primary election on the same day as Rosh Hashanah that year, disenfranchising thousands of Jewish voters "who are prohibited from signing their name." Registering to vote was quite different back in the day; luckily, there was an alternate date provided that fell before the holiday, but no attempts were made to actually move election day. [source]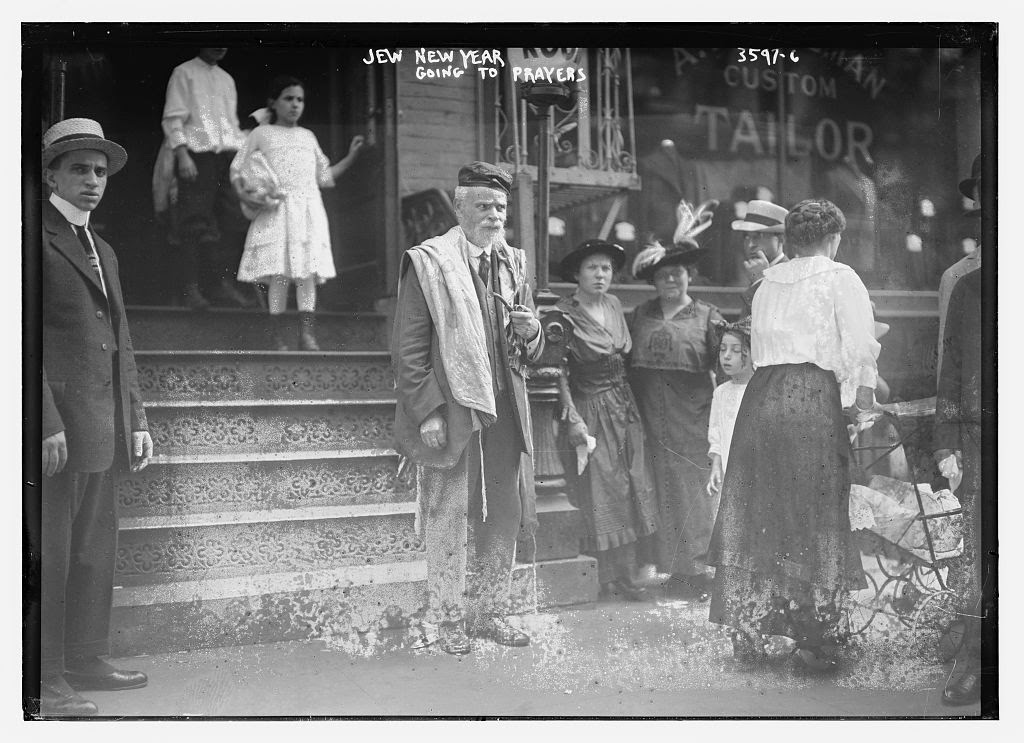 Then there's this captivating image: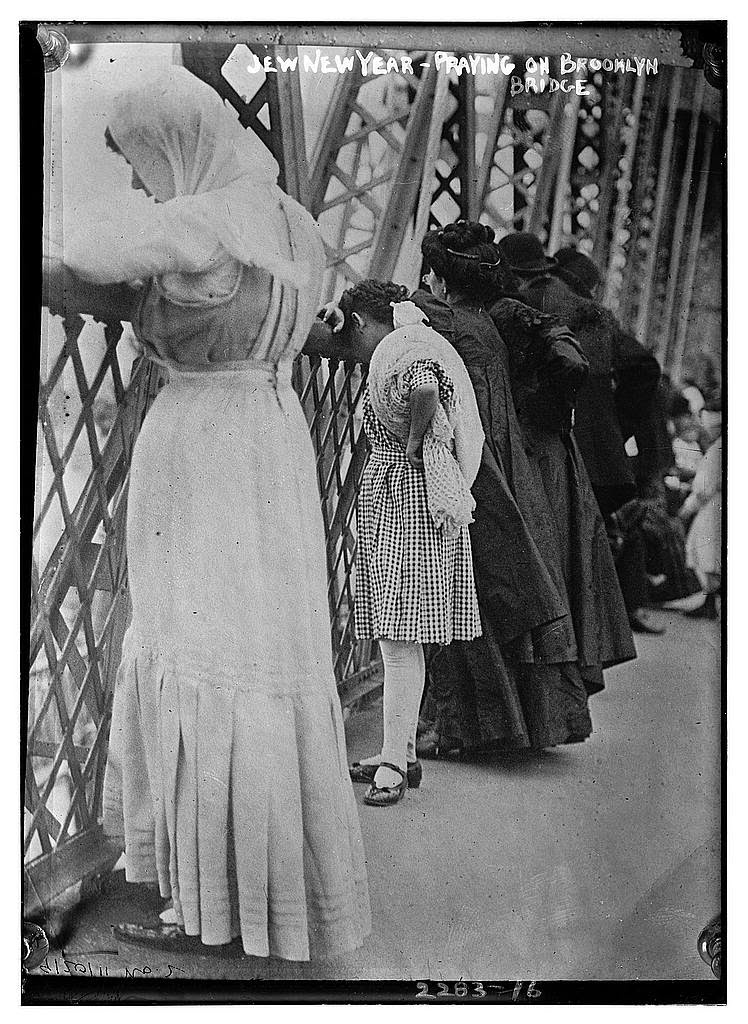 So what's going on in the picture above, taken on the Williamsburg Bridge in 1909? Per some commentary from a Library of Congress commenter: "If this was photo was indeed taken around Rosh Hashanah (Jewish New Year) as the notation implies then these people are most likely taking part in a "tashlich" ceremony. The ceremony is when the previous year's sins are symbolically "cast off" by throwing pieces of bread into a flowing body of water."

And finally here's some rather imaginative Jewish New Year postcards that were manufactured by the Williamsburg Art Company sometime in the 1920s. While the company was located in Brooklyn, all of these were actually manufactured in Germany.