PODCAST Gramercy Park is Manhattan's only private park, a prohibited place for most New Yorkers. However we have your keys to the history of this significant and rather unusual place, full of the city's greatest inventors, civic leaders and entertainers.
Literally pulled up from swampy land, Gramercy Park naturally appealed to the city's elite, a pocket neighborhood with classic old brownstones so vital to the city's early growth that two streets sprang from its creation — Irving Place and Lexington Avenue.
Within the story of Gramercy Park there are echoes of modern debates over class and land usage. The area's creator Samuel Ruggles was a New York developer before his time, perfecting techniques that modern developers are still using to convince both the city and its residents of the importance and vitality of their high-end projects.
At right: Inside the park with Edwin Booth (Photo by Helaine Magnus, courtesy NYHS)
In this show, we give you an overview of its history — a birds eye's view, if you will — then follow it up with a virtual walking tour that you can use to guide yourself through the area, on foot or in your mind. (You can follow along virtually starting here.) In this tour, we'll give you the insights on an early stop on the Underground Railroad, the house of a controversial New York mayor, a fabulous club of thespians, and a hotel that has hosted both the Rolling Stones and John F. Kennedy (though not at the same time).
ALSO: We tell you the right way to get into Gramercy Park — and the wrong way.
---
Below: Looking west onto Gramercy Park, photo between 1909-1915. Â You can see both the Flatiron and the Metropolitan Life Tower in the distance. [LOC]
---
And we would like to thank our sponsors:

— Squarespace, the all-in-one platform that makes it fast and easy to create your own professional website or online portfolio. For a free trial and 10% off (your first purchase), go to squarespace.com and use offer code BOWERY.

—Audible, the premier provider of digital audiobooks. Get a FREE audiobook download and 30 day free trial at www.audibletrial.com/boweryboys. Over 150,000 titles to choose from for your iPhone, Android, Kindle or mp3 player Audible titles play on iPhone, Kindle, Android and more than 500 devices for listening anytime, anywhere.
---
Samuel Ruggles, the mastermind behind the Union Square and Gramercy Park developments, two parks with drastically different fates. While Union Square would eventually be considered 'the people's park' and a center of working class protest, Gramercy Park would retain its guarded, exclusive character.
A 1831 map outlining the lands owned and developed by Samuel Ruggles. Lexington Avenue and Irving Place have already been planned by this time. (Courtesy MCNY)
The 1918 unveiling of Gramercy Park's one permanent resident — the statue of Edwin Booth. (NYPL)
The esteemed Dr. Valentine Mott who lived (with his large family) at 1 Gramercy Park.
3 and 4 Gramercy Park from 1935 — and they look exactly the same today! The lampposts indicate that this was once the home of former mayor James Harper. (Photo by Berenice Abbot, NYPL)
A architectural cross-section of 4 Gramercy Park, showing the size of the house.
New York governor and almost-U.S. president Samuel Tilden lived in Gramercy Park. His home would later be transformed into the National Arts Club.
Enjoying a banquet at the National Arts Club in 1908. As you can see, the membership has always been open to both men and women, a trait few social clubs of the day enjoyed. (NYPL)
The Players Club in 1905. In this photo the building is mournfully adorned in black crepe in honor of the actor Joseph Jefferson.
The Friends Meeting House in 1965. It would become the Brotherhood Synagogue ten years later. (Courtesy Wurts Brothers, MCNY)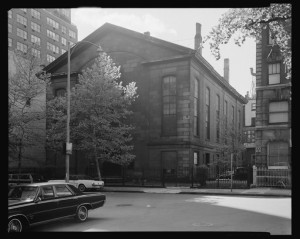 Children within the park, 1944. The Edwin Booth statue stands in the background here (MCNY)