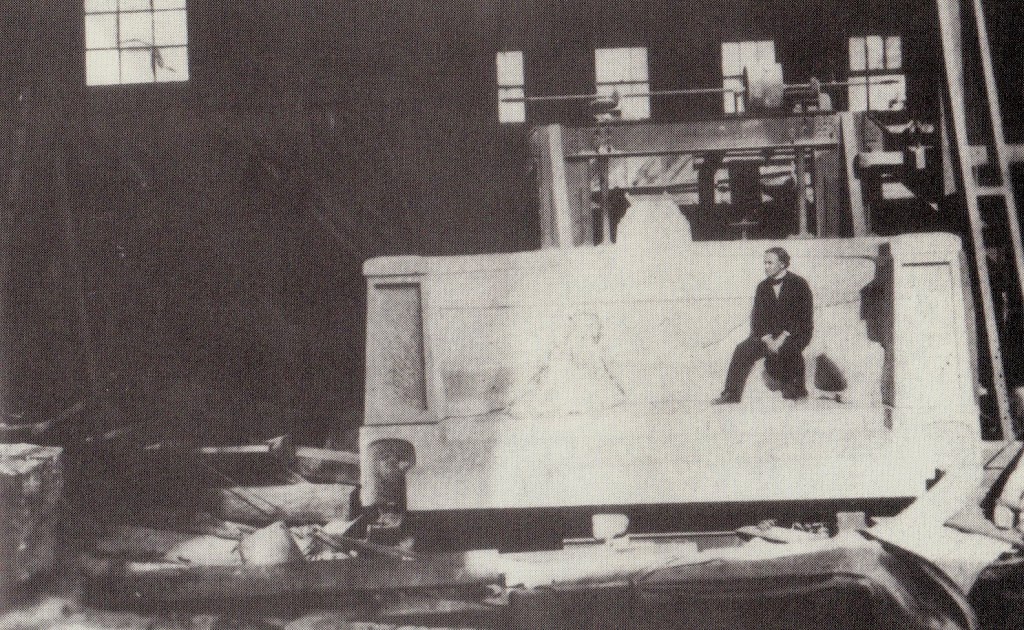 Anybody watching the Houdini mini-series on the History Channel? It's, um, interesting, I guess. It breezes over any actual character development — eschews all forms of subtlety — and lingers upon vast areas of speculation in his biography. This would be totally unacceptable if it were anybody else but Harry Houdini, who routinely blended fact and fiction in his personal presentation. The influences of Christopher Nolan's The Prestige are evident.
Death hung over Houdini in his performances so it's no surprise that he had a personal hand in the creation of his final artifice. He's pictured above in 1916 sitting on his own exedra. The stonework would be moved to Machpelah Cemetery to a plot reserved for his whole family, including his brother and fellow magician Theodore Hardeen.
He was at last interred here at Machpelah on November 4, 1926. Busts have appeared and re-appeared throughout the years — stolen or knocked off. The first one debuted on Halloween in 1927, unveiled by members of the Society of American Magicians, an organization which started in a magic store in Greenwich Village. The current one (see below) was placed there by curators at Pennsylvania's Houdini Museum.
From the Bowery Boys Instagram account. While the cemetery was closed, I was able to snap a peek at his grave through the fence. Unfortunately I did not see any wand-breaking ceremonies on this day:
Top image courtesy the Houdini Museum and Ruth Brandon's The Life and Many Deaths of Harry Houdini