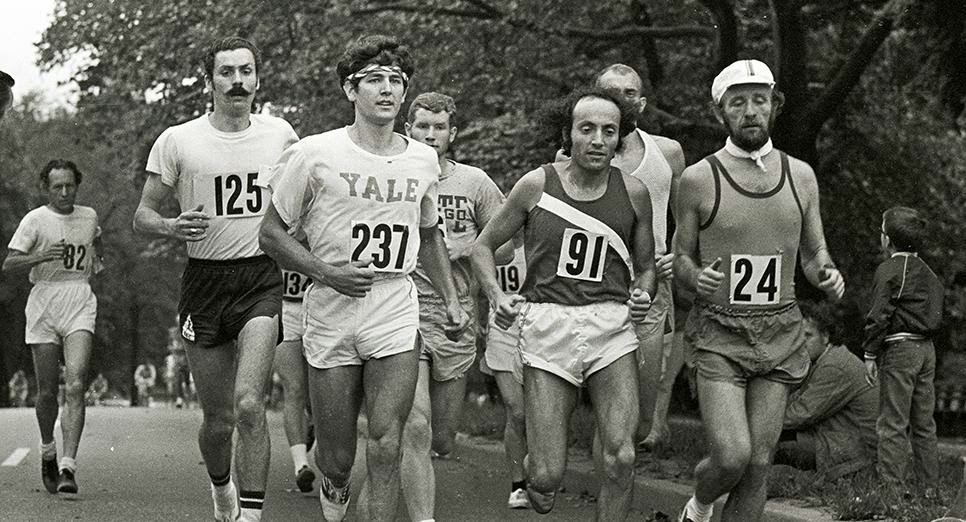 Above: The 1971 marathon. That's Fred Lebow on the far right (#24). Pic courtesy TCS NYC Marathon
Next week (November 2, 2014) brings the TCS New York City Marathon so I thought I'd dust off an older podcast on its funky, fascinating and furious history.
The New York City Marathon hosts thousands of runners from all over the world, the dream project of the New York Road Runners and in particular one Fred Lebow, an employee of the Fashion District turned athletic icon. Find out how he launched a massive race in the midst of bankrupt 1970s New York.
ALSO: our guest host Tanya Bielski-Braham takes us on a speedy tour of the course, from the Verrazano-Narrows Bridge to Tavern on the Green.
A special illustrated version of the podcast on the New York City Marathon (Episode #68) is now available on our NYC History Archive feed, via Stitcher streaming service and of course on iTunes. Chapter headings with images have been embedded in this show, so if your listening device is compatible, just hit play and a variety of pictures should pop up. The audio is superior than the original as well.
There's also a map included in the enhanced features of this show from the current 2014 race. Please consult www.nyrr.org for more information.
NOTE: This show was originally recorded in October 2008. George W. Bush was still president! I even make a reference to the election. However, as a result…..
1) The cancellation of the New York City Marathon in 2012 due to Hurricane Sandy — and the controversy surrounding that — is not mentioned in this show. Hopefully one day soon I'll get to officially amend this episode with recent history.
2) The race is now sponsored by TCS. When this show was recorded, the sponsor was ING and we make mention to that.
3) Thanks again to Tanya Bielski-Braham for helping me out with this show. She performed admirably in the marathon that year and has since moved to Pittsburgh. Come back to New York, Bowery girl! You're truly missed.
For this and our older episodes (Episodes #3-#65, subscribe to The Bowery Boys: NYC History Archive feed, on iTunes, directly from our host page, or directly via our RSS feed.