Crowds at the now-defunct City Hall Station of the brand new New York subway system. (NYPL)
One hundred and ten years ago today, the first train of the New York City subway system began its first trip underneath the city, filled with eager and excited passengers. Â Thousands lined up to take this revolutionary new ride, promising a jaunt from City Hall to Harlem in under 30 minutes. At the helm of the very first subway ride was the mayor himself, George B McClellan Jr., refusing to relinquish the wheel until he had completed most of the distance.
The subway is one of the defining creations of New York's Gilded Age, but it was hardly a foregone conclusion.  Early attempts at underground transportation by innovators like Alfred Ely Beach were waylaid by political corruption.  Elevated railroad and streetcar companies were hardly enthusiastic about it. Even the idea of going below disturbed and frightened some people.  Proponents of the subway in New York must have grimaced when Boston beat them to the punch in the late 1890s.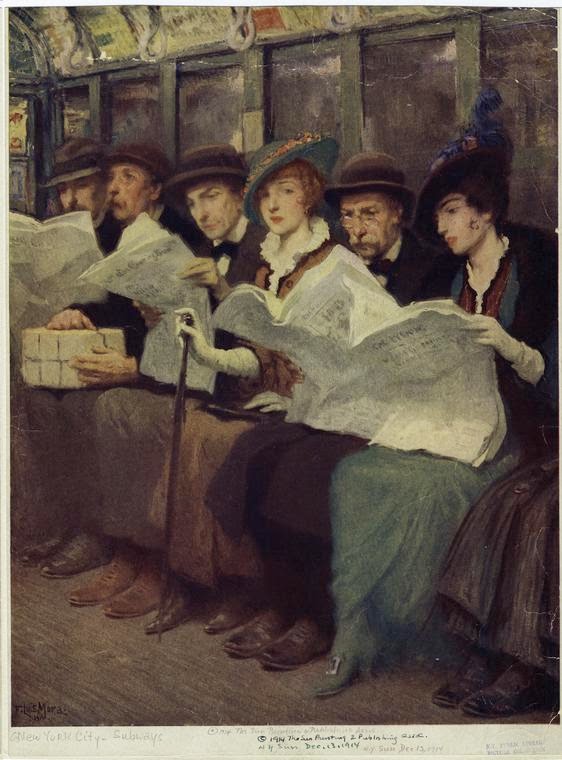 Both the Boston and New York subway systems benefited from great genius and even greater wealth. As Boston Globe editor Doug Most notes in his terrific book The Race Underground: Boston: New York and the Incredible Rivalry that Built America's First Subway, the systems even shared wealthy benefactors — the brothers Henry and William Whitney, one in each city, negotiating a  host of political and technical speed bumps on their quest to build the country's first subterranean route.
At right: Subway riders, painting by F. Luis Mora, 1914 (NYPL)
Most's story is especially fascinating in outlining the difficulties of these ambitious projects. Â What seems an absolutely sound decision today was deemed highly risky and politically fraught in its day. Â On this important anniversary, I thought I'd ask the author to elaborate on the significance of this day and the spectacular achievements of these two rival cities. (And I highly recommend picking up his book this week. After all, has there ever been reading material better suited to commute reading?)
The final chapter of The Race Underground is actually titled "October 27, 1904 "? This is obviously an important date for New Yorkers, but what is it about the events of that particular day that make this a milestone in American (and even world) history?
Doug Most
: ​Well, first I loved the contrast between how Boston celebrated opening its subway and New York celebrated its subway opening. Boston opened in the morning and just treated it like any other day. Here it is, we built it. New York celebrated like New Yorkers, they made it a spectacle, a party, and all the politicians and key figures wanted to play their part. Very different openings.New York's subway was a huge achievement for many reasons. That it was built, tunneling through the ​Manhattan schist, using dynamite where needed, was incredible. Many workers died during the construction and my book tells the dramatic story of how they worked, dug, and died tragically. But that's how society makes progress, right? We have to learn through tragedy. The New York subway was a great example of that.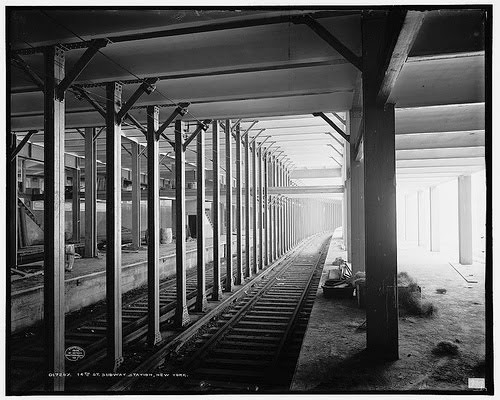 The newly completed subway tunnel in 1904, before the big inaugural ride on October 27, 1904 (Library of Congress)
The greatest obstacle for the creation of the subway wasn't merely physical or political; it was convincing people that travelling underground could be a clean and safe experience. What were a few of the beliefs or superstitions people held in the early days?
DM
:  ​It's something we take for granted today. We bound downstairs staring at our phones and tablets and papers, and don't give a second though to the underground. But back then in the 19th century, the underground was terrifying for people. It was where Lucifer lived! The Devil! Where vermin made their home.People needed to be convinced subways could be clean, safe, dry and healthy, that the air would not be poisonous and kill them. I love the story of London opening a pedestrian tunnel around 1840, and thousands of people taking one look down that tunnel and going right back up to the street, refusing to walk through it. That was 1840! In terms of history, not that long ago. It took a long time for society to accept the underground as a safe place to travel.​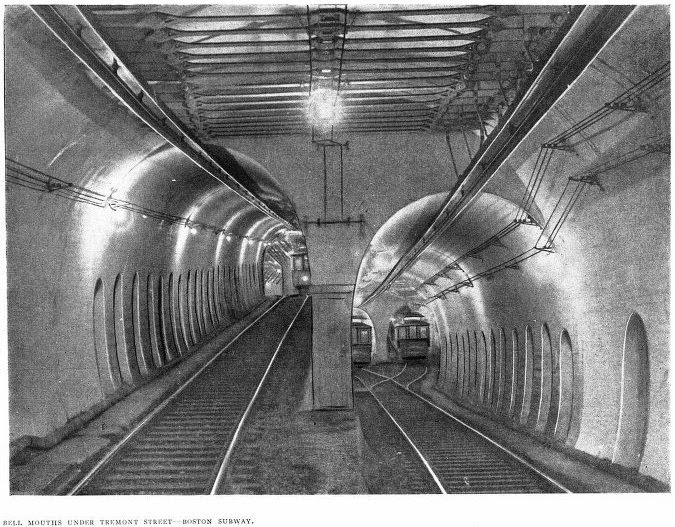 Under Tremont Station in Boston (courtesy nycsubway.org)
Your story is framed as the glorious rivalry between two brothers – Henry and William Whitney – and two rival cities, Boston and New York. But Boston really manages to pull ahead for much of the story. Was this because the needs of the city were easier to accomplish or was it because of New York's corrupt political system at this time?
​
DM
: Â I think it's both. New York struggled politically with some big decisions and some key characters stood in the way of progress, including of course
Boss Tweed
. New York absolutely should have been ahead of Boston; they were talking about a subway in New York in the mid 1800s, but it didn't get built until 1900.Boston didn't start thinking subway until 1887 and then moved very quickly. New Yorkers were not happy to see that little podunk city to the north making so much progress while their city kept getting bogged down in politics.​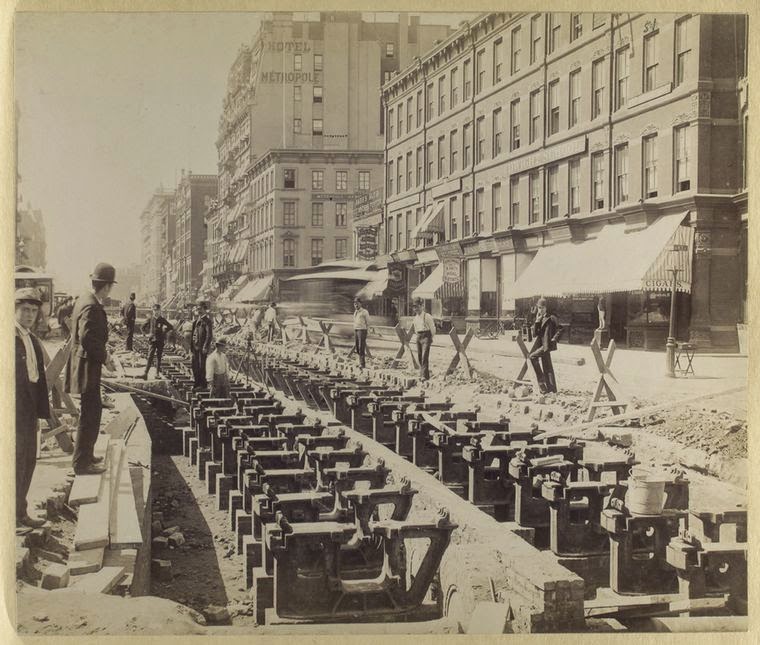 Digging up Union Square to lay cable-car lines, 1891. (New York Public Library)
The story of The Race Underground features an extraordinary build-up of transportation technologies, from noble but failed technologies (the pneumatic tube) to others that led to the birth of the subway (like electric streetcars). What do you personally consider the most interesting or surprising development in transportation prior to the birth of the subway?
​
DM
:  Well the story of the cable car was fascinating, because it seemed like for a few years that was the future of urban transportation. It was cleaner and faster and smoother than the horse-pulled carriage, and people enjoyed riding them and it really looked like it might take off. San Francisco gave birth to it, and other cities, including New York, experimented with it.But as cities quickly learned, the cable car had a big problem. Those cables could twist and snap and fixing them was slow and expensive. And when a cable snapped, the entire system ground to a halt. Plus, cables were only effective in cities with lots of long straight roads like New York. But in smaller cities, like Boston, with twists and turns and narrow streets, cable cars just didn't make sense. I love the story of how the cable car was almost our future, and then suddenly, it was gone!​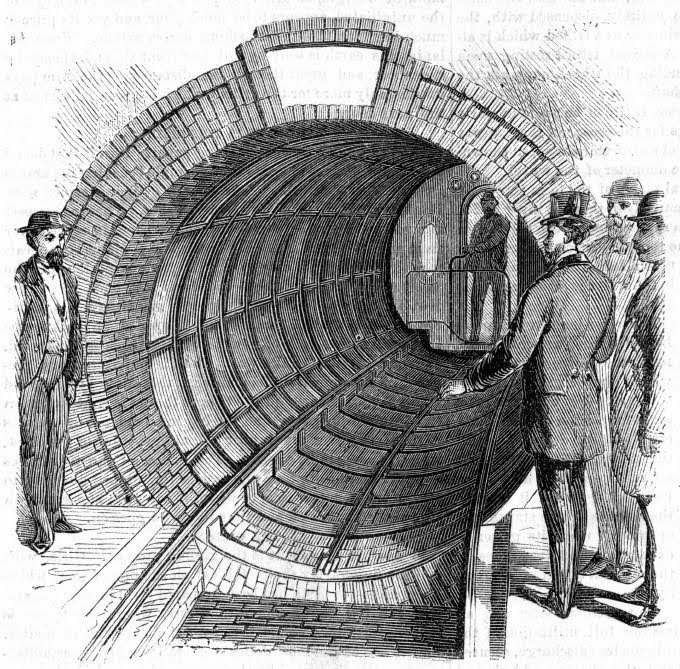 Now speaking of that pneumatic tube, here's a what if? – say Beach faced no opposition from Boss Tweed and the elevated railroads. Could New York have actually built a viable transportation system using this method? After all, people are looking into pneumatic systems for possible high-speed travel today!
​
DM
:  No. Chapter One in my book, the story of Alfred Beach and Boss Tweed, is really my favorite chapter for so many reasons. And the great fan he used, the Western Tornado, to blow his subway car down the tracks. But was a fan really going to blow subway cars all over the island of Manhattan? No it wasn't. The technology being talked about today is so sophisticated, involving electromagnetic charges and other methods far beyond basic pneumatic tubes. ​But Beach was a dreamer, a lot like
Elon Musk
of Tesla, and we need dreamers like that to push us forward as a society. So that's why I love his story so much.
What features of the modern New York City subway system are you the most impressed by today? And what could use some serious improvement?
​
DM
:  The speed is impressive and so is the reach of it — how you truly can reach almost every corner of the five boroughs on the subway. That's so different than other cities, especially Boston and Washington, for starters, where the transit systems are much smaller and harder to survive on without a car. I am not sure I have any great suggestion for New York's subway. I'm a big fan of it, and loved riding it when I lived at 80th and Broadway, and love taking my kids on it today when we come back to visit. It's a treat and it's a part of history I hope people appreciate.​
Below: New York's distinctive subway entrances, inspired by the subway system in Budapest, 1905 (New York Public Library)