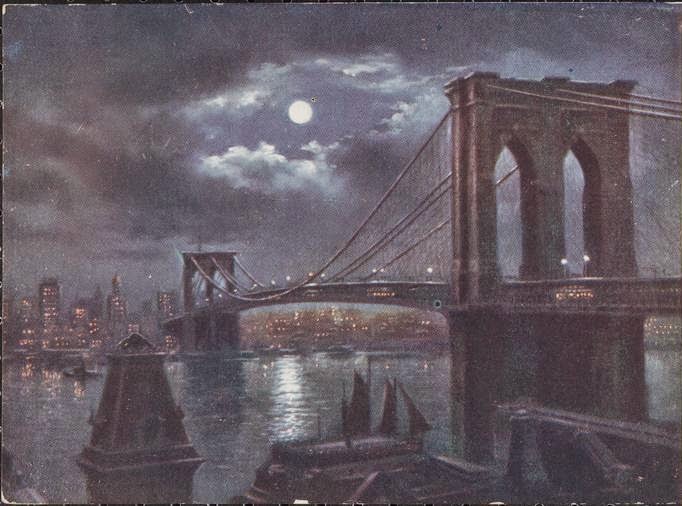 Dark skies over the Brooklyn Bridge, from a 1905 postcard (courtesy MCNY)

PODCAST  Brooklyn is the setting for this quartet of classic ghost stories, all set before the independent city was an official borough of New York City.  This is a Brooklyn of old stately mansions and farms, with railroad tracks laid through forests and large tracks of land carved up, awaiting development.  These stories also have another curious resemblance — they all come from local newspapers of the day, reporting on ghost stories with amusement and more than a little skepticism.
1)  The Coney Island and Sea Beach Railroad took passengers to and from Brooklyn's amusement district.  But nobody was particularly amused one evening to be stopped by a horrific, gangly ghost upon the tracks near Mapleton.
2)  In Clinton Hill, a plantation-style house built in the early years of the Brooklyn Navy Yard has survived hundreds of unusual tenants over the years, but certainly the scariest days in this historic home occurred in 1878 with a relentless, invisible hand that would not stop knocking.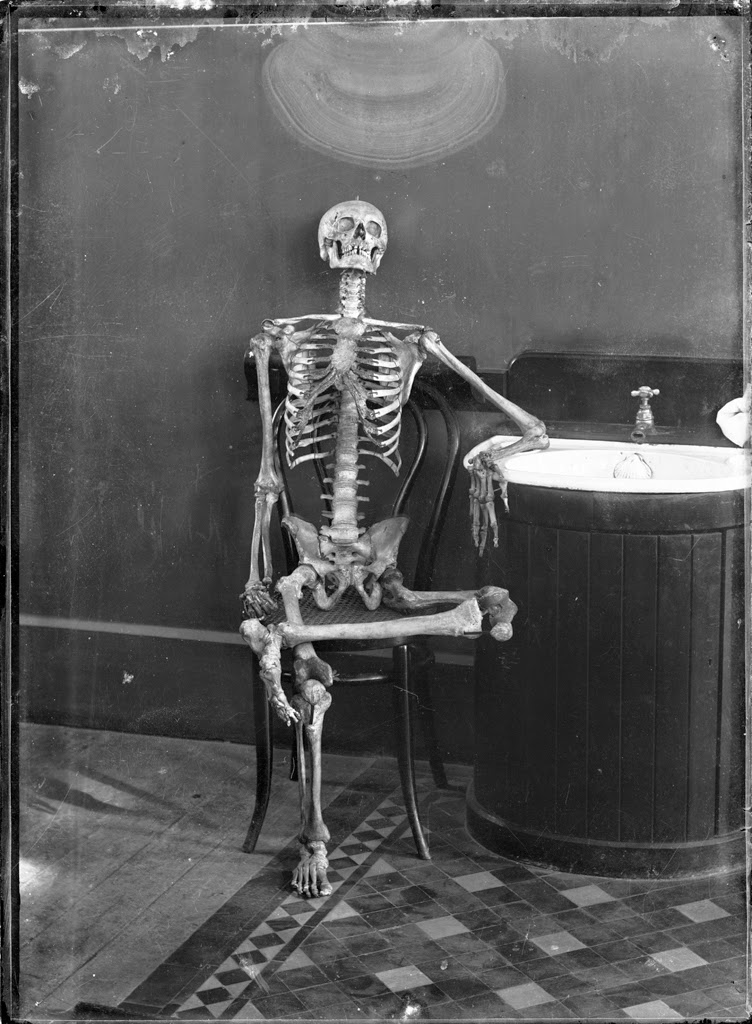 At right: Death will not deter this Brooklynite from ordering a great craft beer. (courtesy Powerhouse Museum)
3)  The Oceanic Hotel was one of Coney Island's first great hotels, an accommodation for almost 500 near the increasingly popular beaches of Brighton Beach.  But in 1894, the hotel was virtually emptied out and reportedly haunted.  Did it have something to do with the murder upstairs in Room 30?
4) And finally, the area of Bushwick nearest the Queens border are populated with various burial grounds like the Evergreens Cemetery, borne of the rural cemetery movement which transplanted thousands of previously buried bodies from Manhattan to Brooklyn.
In 1894, with Bushwick prepared for a spate of new development, the sudden appearance of an oddly dressed spirit threatens to disrupt the entire neighborhood.  During one evening, a drunken party of 300 ghost hunters, brandishing swords and revolvers, come across one terror that proved to be very real indeed.
ALSO: Secrets of The Sentinel, a 1977 horror film set in an old house along the Brooklyn Promenade.
---
And we would like to thank our sponsors:

—  Squarespace, the all-in-one platform that makes it fast and easy to create your own professional website or online portfolio.  For a free trial and 10% off (your first purchase), go to squarespace.com and use offer code BOWERY.

— Audible, the premier provider of digital audiobooks. Get a FREE audiobook download and 30 day free trial at www.audibletrial.com/boweryboys. Over 150,000 titles to choose from for your iPhone, Android, Kindle or mp3 player Audible titles play on iPhone, Kindle, Android and more than 500 devices for listening anytime, anywhere.
---
10 Montague Terrace, setting for the 1970s horror film The Sentinel, sits at the end of this elegant block on the Brooklyn Promenade.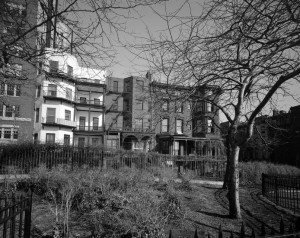 The theatrical trailer to The Sentinel
1) MIDNIGHT TRAIN TO TERROR
Phenomena reported August 1894 in several publications, including the New York Evening World
The incident in question occurred near the Mapleton station along the Coney Island and Sea Beach Railroad (Map of Brooklyn railroad lines courtesy
The Weekly Nabe
who has more information on the early days of Mapleton.)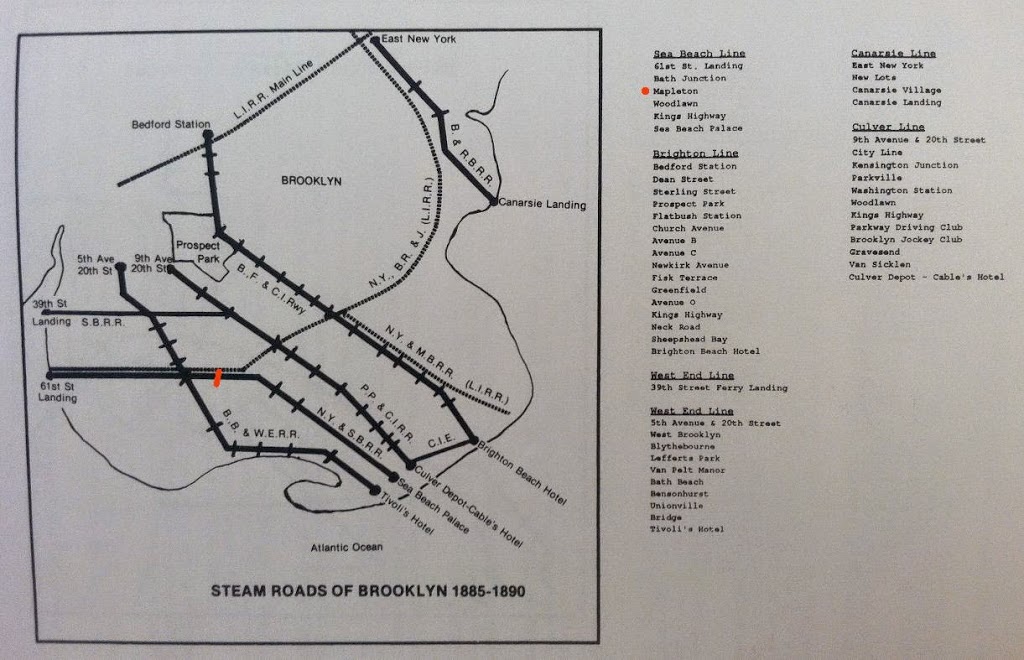 2) WHO'S KNOCKING AT MY DOOR?
Phenomena reported December 1878 in several publications, including
the New York Sun
A view of
Wallabout Bay
and the land which became the
Brooklyn Navy Yard
, circa 1830s.  That would appear to 136 Clinton Avenue (the oldest house in the area) however the general proportion of the region looks a bit off.  Below it, two pictures of the house on Clinton Avenue, including a close-up of the infamous door. (Pics courtesy 
Flickr/sjcny
 and Long Island Historical Society)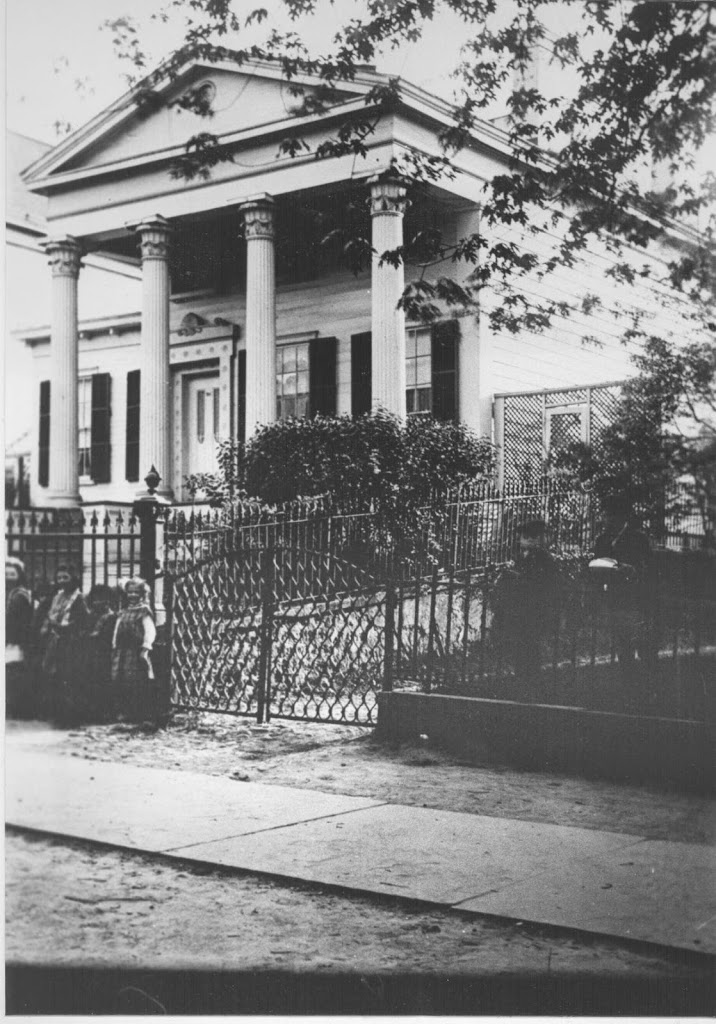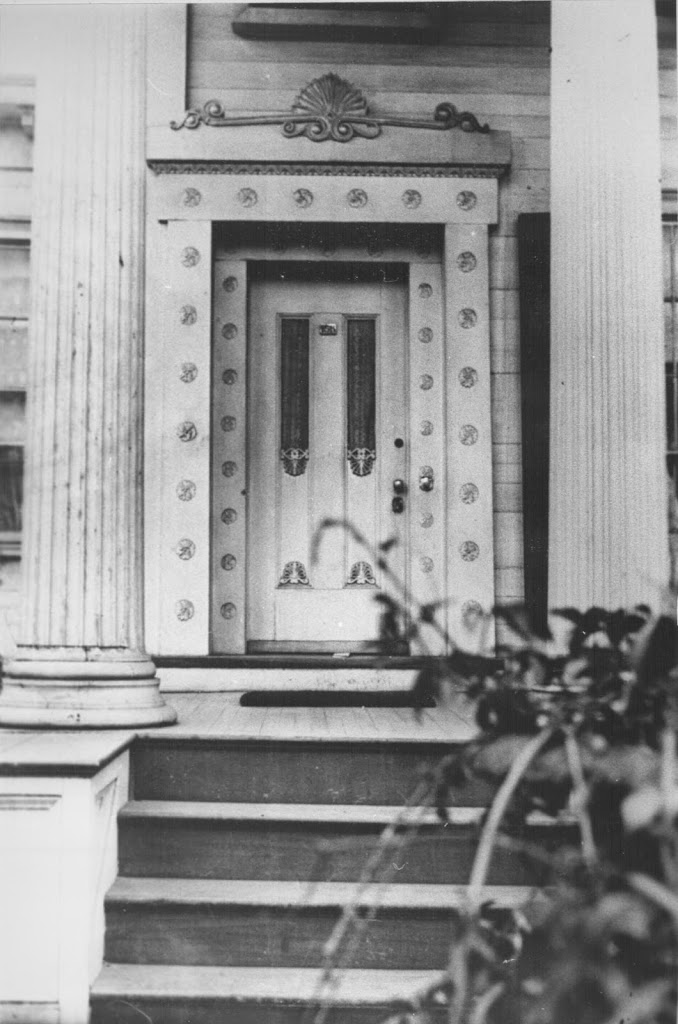 3) THE GHOSTLY GUEST IN ROOM 30
Phenomena reported August 1892 in several publications, including the Brooklyn Daily Eagle
The haunted Oceanic Hotel, located at Neptune Avenue and W. 6th Street. Perhaps this looks surprising for a 500-room hotel, but out of frame are bungalows and other adjoined buildings.  But you can see how this sort of accommodation went out of fashion rather quickly.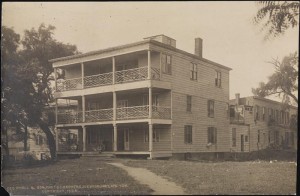 http://timesmachine.nytimes.com/timesmachine/1930/07/01/98307449.html?pageNumber=18
4) THE GHOST OF KNICKERBOCKER AVENUE
Phenomena reported November 1894 in several publications, including the New York Times
1924 — A view of the tracks which separate Bushwick from a cluster of cemeteries. Buildings to the left sit in the vacant lots which were mentioned in this story.  The cemetery nearest this photograph is Most Holy Trinity Cemetery.  You may remember the name Most Holy Trinity for it was this Bushwick congregation that was featured in a ghost story a couple years ago in the show 'Haunted Histories of New York.'