The New York World's Fair opened for its second and last season on April 21, 1965.  The grand opening the previous year had been rocky indeed — protests, rain, even a parking lot riot.  Thankfully the second season was met with beautiful weather and abundant crowds.  In order to jazz it up a bit — not too much, just enough to increase ticket sales — Robert Moses authorized a host of changes, great and small.  Some of the exciting guest stars and new features that awaited entrants to the 1965 World's Fair that day included: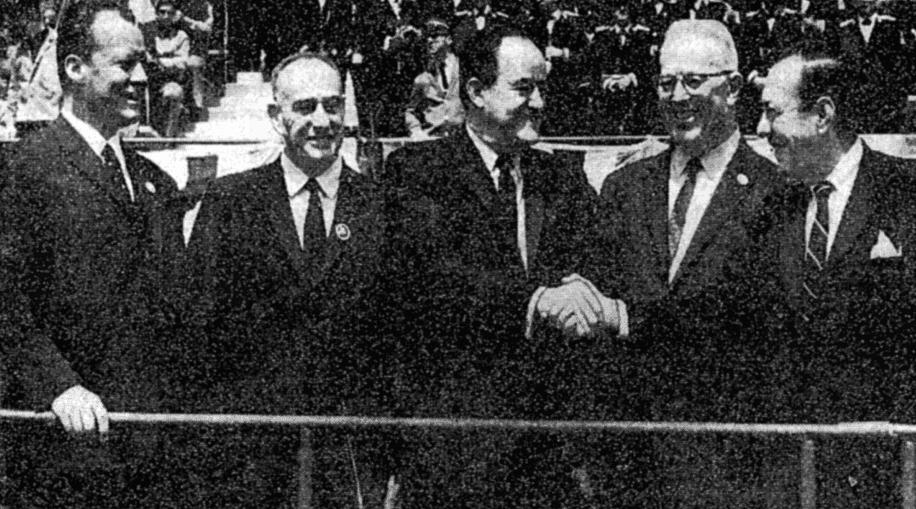 Opening the World's Fair that day: Mayor Willie Brandt of West Berlin; Robert Moses naturally; Vice President Hubert Humphreys; Chief Justice Earl Warren and New York Mayor Robert Wagner (from NYT file photo)
— Vice President Hubert Humphrey took a leisurely stroll through the fair, creating quite a stir. "He's a walking pavilion," cracked one observer. His entourage included Chief Justice Earl Warren.  During his visit to the New York State Pavilion, a riot almost ensued.  "Children cried out in terror, parents shouted, toes were trampled, cameras clicked."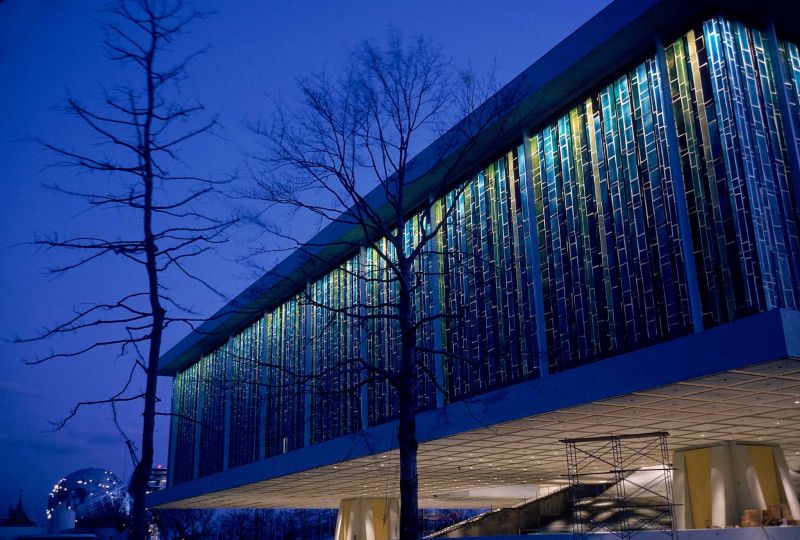 — Hall of Presidents: Appropriately, Humphrey's appearance coincided with the opening of some striking new exhibits within the United States Pavilion (which had opened the previous year) featuring memorabilia from over a dozen American presidents, including original copies of the Bill of Rights, Washington's inaugural and farewell addresses and Lincoln's Gettysburg Address.  Meanwhile, a crude Animatronic version of Lincoln continued to greet visitors.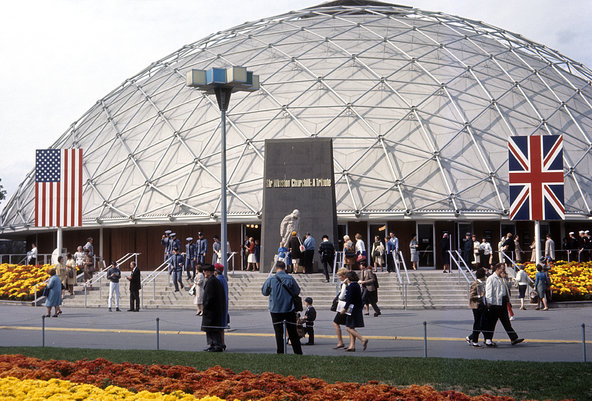 — Under The Dome: One of the most anticipated new arrivals to the fair was the Winston Churchill Center, a tribute to the former British Prime Minister who had died in January.  "Included in exhibits documenting Sir Winston's career are some of his own paintings, and photographs of him at various periods in his life. Also on display are a replica of Churchill's study at Chartwell; models of Blenheim Palace, where he was born, and Bladon churchyard, where he lies buried; and an exhibit of his personal effects, including his desk, which once belonged to Disraeli."
The dome of this dramatic pavilion would later be used as the Queens Zoo Aviary.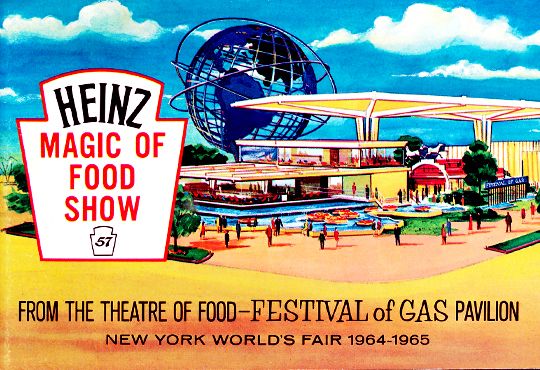 — MORE FOOD: According to the New York Times, "the number of restaurants has been increased from 111 to 198. This means the fair can now serve more than 38,000 Â person simultaneously, or about 8,000 more than last year. " Â Certainly there was food to be found at the Theater of Food-Festival of Gas Pavilion?
— The Gutenberg Bible: If you were craving a more spiritual exhibition, look no further than the latest resident of the Vatican Pavilion, one of six existing copies of the Gutenberg Bible. Also on site: The Pope's jeweled tiara. Â These two items were joining the Pieta, perhaps the most historically significant work of art at the fair.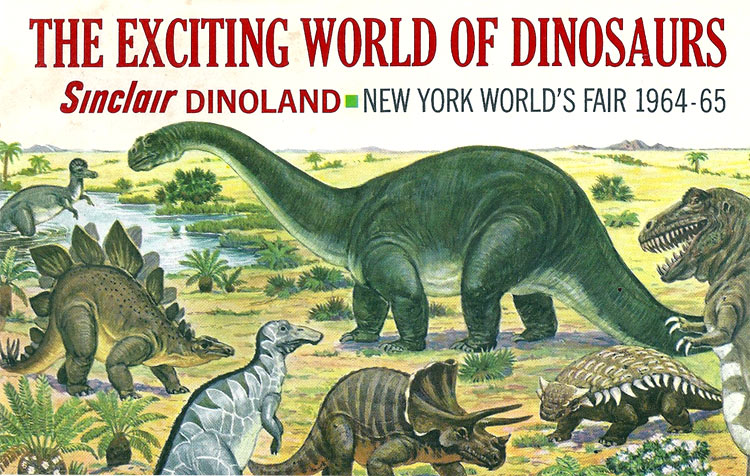 — New Dinosaurs at Sinclair's Dinoland : And not just any dinosaurs, but automated dinosaurs that could roar. "Last year we were of the school that dinosaurs had no vocal cords," said the exhibit's fuddyduddy spokesman. "This year we are in a new school."
— Kiddie Phone Center : As a way to get children excited about using the phone, Bell Telephone opened a Phone Fun Fair featuring a variety of wacky telephone games. "The center has three tot-sized phone booths where a youngster, by dialing, can get a pleasant message from one of six Disney characters, or a commercial message from an operator." BONUS FUN:  "A voice Mirror lets you hear how you sound on the telephone. Weather-phones allow you to dial Weather Bureau information in selected cities. Quiz games, solar battery display — and much more!"
— People To People Fiesta: The youth oriented People to People International is a youth outreach non-profit started by President Eisenhower in 1956. "Africa, Asia, Europe, as well as the Americas, are represented in a "village" of kiosks which display and sell a variety of folk art. Admission is charged; proceeds go to a center for world understanding."   The 'fiesta' "will stress folk singing and dancing in the setting of colorful tents."
Today PTPI takes the World's Fair's slogan — Peace Through Understanding — as its own.
(Image courtesy Worlds Fair Community forum.)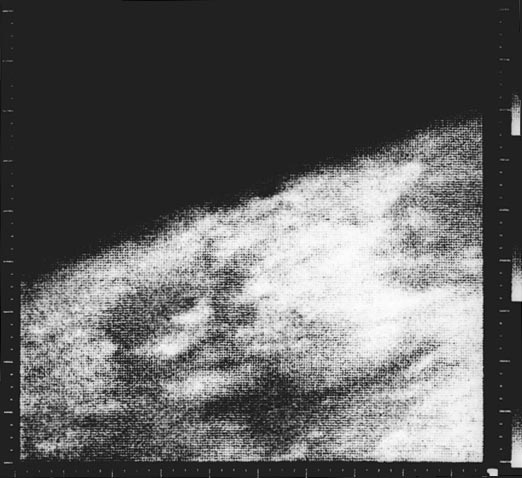 — MARS! One of the more innovative new exhibits was located in Space Park with a focus on Mariner 4, a spacecraft launched the previous year that would successfully take the first images of Mars. Photos sent by Mariner 4 would be displayed here as they came in on July 14-15. Above: An image of Mars sent by the orbiting spacecraft.
— Kensington Runestone: And finally no trip to the fair in 1965 would be complete without a viewing of the mysterious Kensington Runestone, an ancient stone marking found in Minnesota in 1898.  Some believe this to be a link to 14th century Swedish explorers although how it got to Minnesota is anybody's guess. It was debunked as a hoax in 1910, and yet here it is at the  World's Fair! It was accompanied, naturally, by the 28-foot-tall Viking that you see below: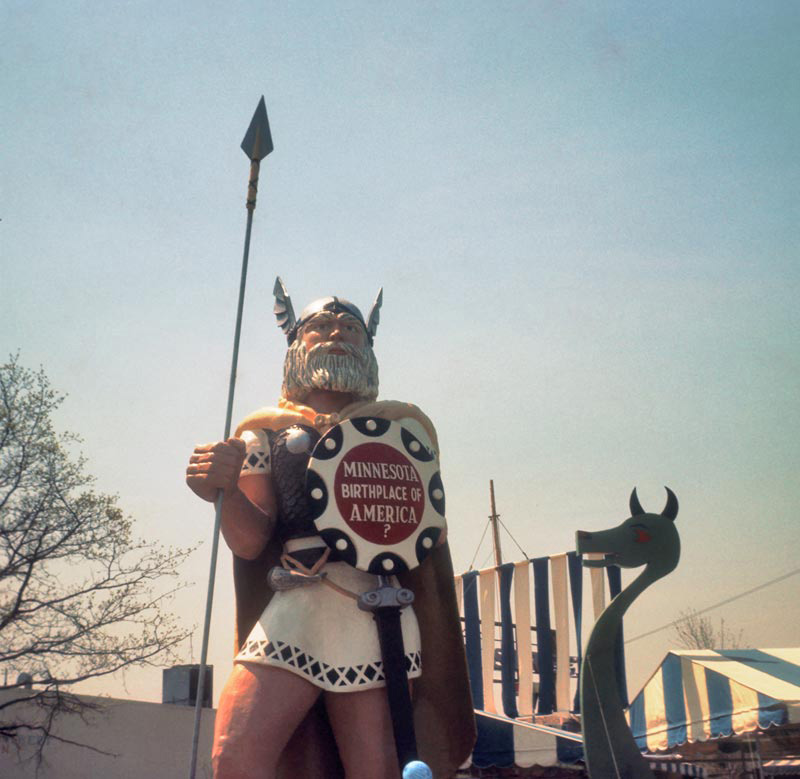 Picture courtesy the World's  Fair Community boards