We hope you enjoyed our 200th Bowery Boys podcast on Jane Jacobs. For further reading on her life, philosophy and work, we recommend the following books, most of which we used as source material for this show.
The Death and Life of Great American Cities by Jane Jacobs — Obviously you should start with Jacobs' opus on how the American city works (well, at least the city of the 1960s). Â She has a clear, approachable and pragmatic way of looking at urban problems. You'll also notice immediately how modern city planners have used some of the ideas she's described.
Wrestling With Moses by Anthony Flint — Perhaps the most succinct book on the specific crises which pitted Robert Moses with Jacobs, a breezy and engaging tale of New York City in the 1950s and '60s.
Jane Jacobs: Urban Visionary by Alice Sparberg Alexiou — If you'd like a good biography on Jacobs, try this enjoyable read (published in 2006, the year of Jacobs' death) that gives an overview of her life and career.
Becoming Jane Jacobs by Peter Laurence — If you're looking for something more recent, this brand new biography uniquely explores the origins of how she developed her ideas of urban places. Even if you've read any of the books listed above, Laurence's book goes more deeply into her many influences.
The Battle For Gotham by Roberta Brandes Gratz — For even more expansive look at the legacies of both Moses and Jacobs, especially in the proceeding decades. Gratz takes specific aim at more recent projects in New York in a very personalized way.
The Village by John Strausbaugh — A wide-lens history of Greenwich Village, Strausbaugh spends a great amount of time looking at how Jacobs assisted in the salvation of her neighborhood, and how these preservation battles interlocked with the culture of the day.
The Power Broker by Robert Caro — Jacobs famously doesn't even make an appearance in Caro's legendary, barn-burning biography, but the book remains essential reading for anybody interested in mid-century America.
————–
Or burrow your way through the New York Times archives of material on the battles waged by Jane Jacobs and Village community activists against the city. Â Start with these:
Shopping Scarce In City Projects "Most of the 350,000 New Yorkers living in public housing must go outside the projects for the loaf of bread, the quart of milk, the daily newspaper and the sociability of the candy store, coffee shop or tavern." (June 16, 1957)
Road Test Halted In Washington Square: Closing of Park to General Traffic Called Success By Village Leaders (November 25, 1958)
Two Blighted Downtown Areas Are Chosen For Urban Renewal (February 21, 1961)
Board of Estimates Votes Expressway Across Manhattan (March 8, 1968)
And here's Jane's 2006 obituary in the Times.
________
Below: Washington Square in 1930. Photo by Samuel H Gottscho. Courtesy the Museum of the City of New York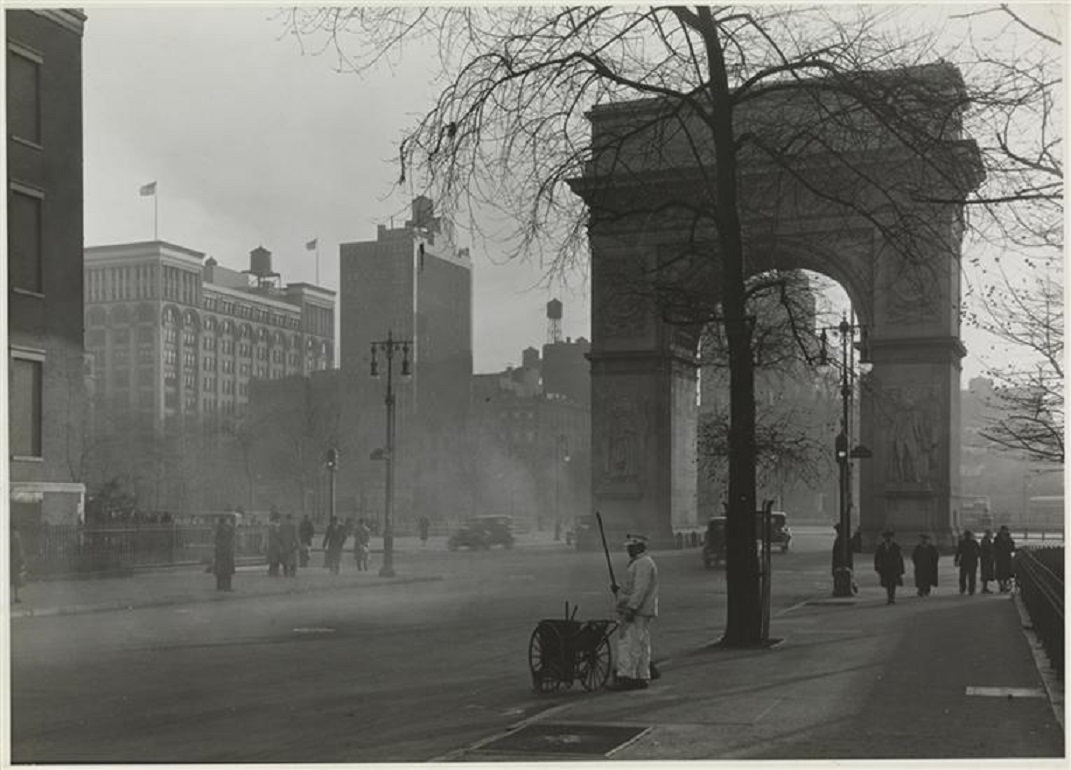 To celebrate the 100th anniversary of her birth (May 4), the Municipal Art Society, with funding by the Rockefeller Foundation, has been hosting a series of events this year. From the website #JJ100:
"The celebration will pay tribute to Jane Jacobs on the 100-year anniversary of her birth by highlighting self-organized activities and events that embody Jane's lasting legacy in cities around the world."
Starting with Jane's Walk in May, and culminating at the Habitat III Conference in Quito, Ecuador, Jane Jacobs at 100 will promote self-organized Jacobsian programming and projects taking place in New York and in cities around the world." Â Keep checking in at their website for more information. And of course Jane's Walk arrives in May!
————–
Meanwhile The Center for the Living City is taking a fascinating approach to their celebration of Jacobs' legacy. Check out their dedicated page Jane's 100th for a list of events and unique objectives. Including getting Jane Jacobs on a postage stamp! (How is she not on a postage stamp? Harry Potter has a postage stamp!)  Author Peter Laurence has set up a petition for this that you obviously must sign.
You also may be interested in their new project being launched as part of their Jacobs celebrations — the Urban Acupuncture Network.
————–
By the way, if you're interested in hearing the entire 1962 chat by Jane Jacobs that we featured in our show, you can hear it here.
Or perhaps you'd like to catch the new Robert Moses/Jane Jacobs opera — A Marvelous Order!