The Astor Place Riot erupted onto the streets outside the Astor Place Opera House on this date in 1849.  (You can listen to the thrilling details in our podcast on the subject from 2014.)  The opera house didn't last much longer and was turned Clinton Hall, site of the New York Mercantile Library.
Here are a few images of old Clinton Hall: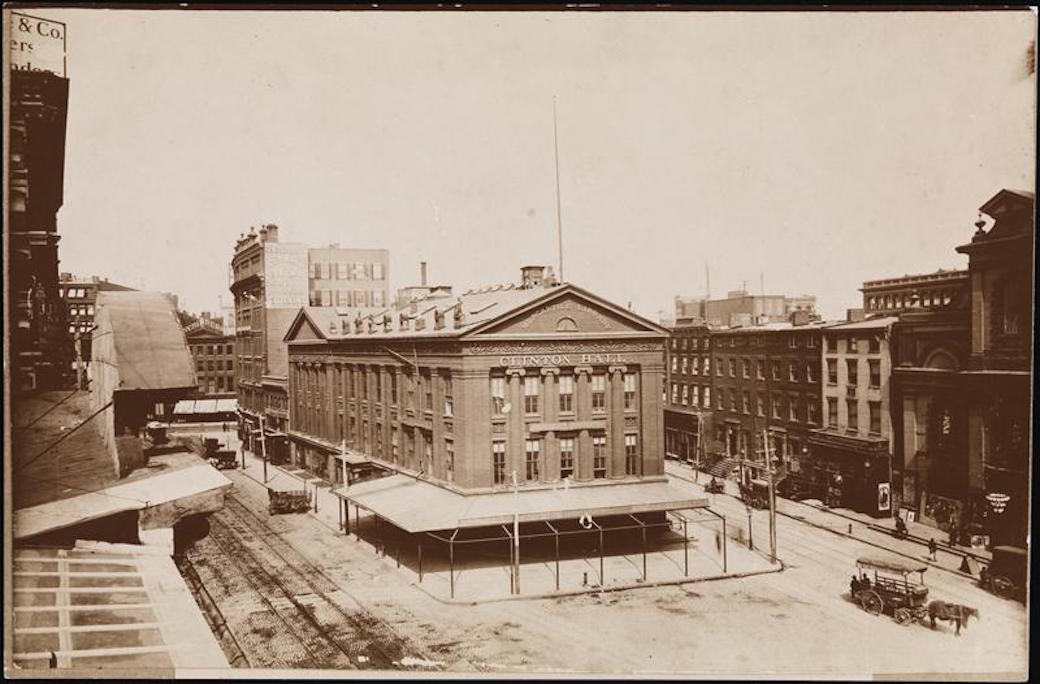 And here's a view from 1890: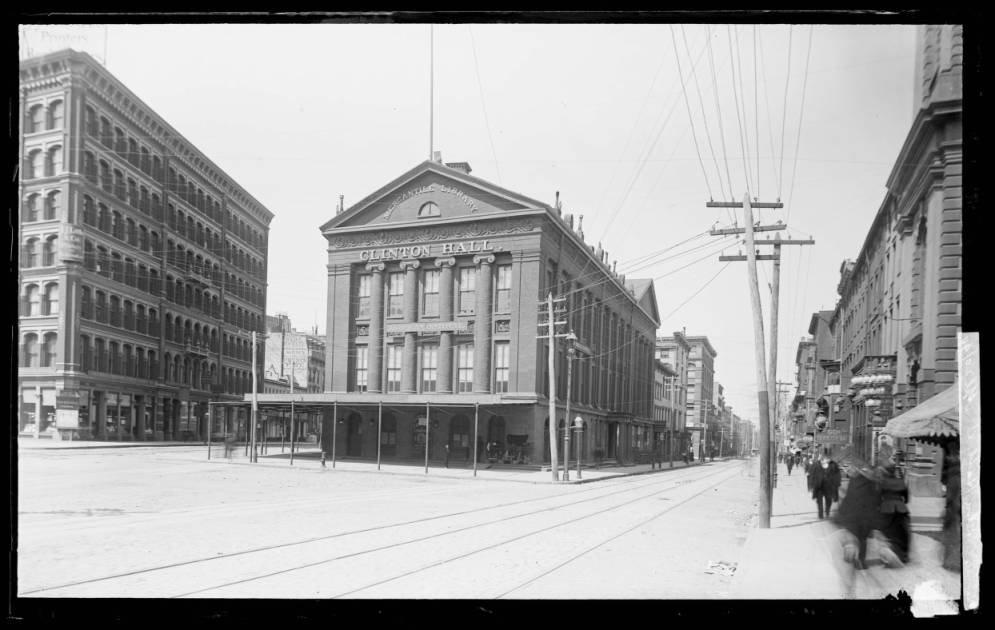 In 1890 it was replaced the present building which sits there today, also called Clinton Hall. the blog Bedford and Bowery has a breathtaking round-up of its history, including a dramatic fire in 1926.
Below: The brand new building in 1893, as seen in King's Handbook of New York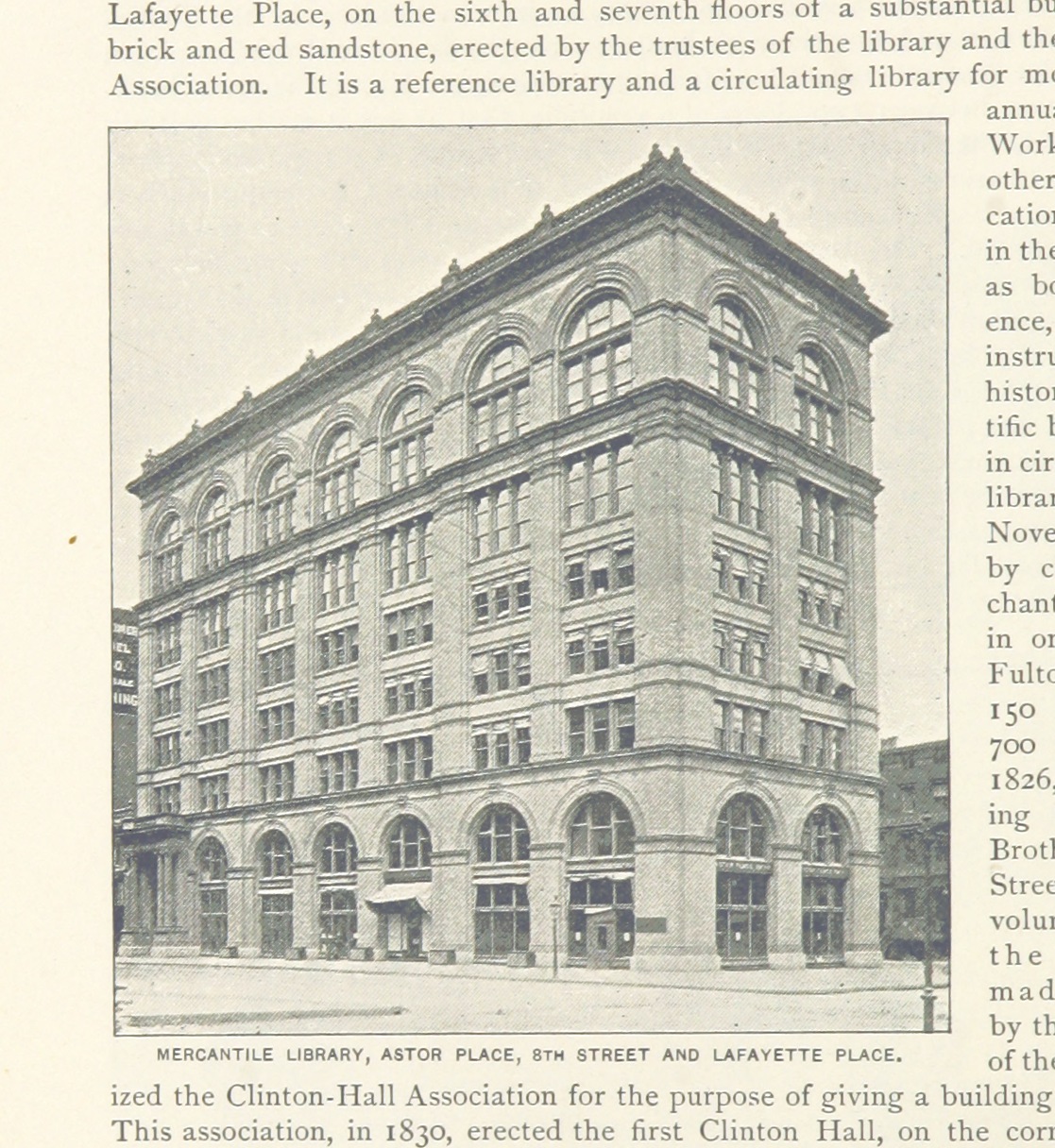 And now –Â some upcoming events and exhibitions you might want to check out this week:
— Just opened at the New-York Historical Society — Anti-Semitism 1919-1939 — A terrifying look at attacks against  hate in post-World War I Europe and the rise of Adolf Hitler. " Included is Hitler's original outline of a 1939 speech that he gave to the Reichstag about the "Jewish Question," announcements of mass meetings dictating the exclusion of Jews, anti-Semitic books and signs, as well as an original printing of the Nuremberg Laws, which laid the legal foundation for Hitler's Holocaust." Details here
— Opening today, May 10 and running until Sunday, May 15 – "In the Shadow of the Highway: Robert Moses Expressway and the Battle for Downtown," a new pop-up exhibit about Moses' potentially disastrous LOMEX plan and the efforts to stop it.  At the Allen Street Storefront, 103 Allen Street. More details here.
— Thursday, May 12 at 6:30pm — A Book Talk with Joseph Alexiou, guest on the recent Gowanus: Brooklyn's Troubled Waters podcast, at the Museum of the City of New York, where he discusses Gowanus history with Hannah Frishberg from Brownstoner. Details and tickets here.
— Next weekend, May 21-22, Saturday and Sunday — It's Sacred Sites Open House Weekend, Â an event sponored by the New York Landmarks Conservancy, your chance to visit that unique house of worship you've always wanted to see. Â Details here.
— Just opened at the Staten Island Museum — Home Games, a nostalgic look at sports history on Staten Island.  The baseball exhibit features "Bobby Thompson and Hank Majeski, Matty McIntyre, Sonny Logan and Glen Mosley of the New York Black Yankees, Gloria Elliott, and the 1964 Mid-Island Little League world champions." Visit the museum then take in a Staten Island Yankees game afterwards. The field is right across the street from the museum! Details here.
AND A NEW MUSIC-FILLED PODCAST THIS FRIDAY!