New York had no significant Asian population in 1880 outside of those who lived on a handful of small streets east of the Five Points neighborhood. Primarily focused around Mott Street, the first Chinese residents were businessmen and laborers, mostly men, close knit by design. Accurate population figures are hazy, but between 800 and 2,000 Chinese and other Asians lived in the Five Points and eastern waterfront region in 1880.
In cities around the country, small Chinese enclaves had been formed, most from workers who had arrived to work on the transcontinental railroad and other Western projects. In all places — and especially San Francisco, the  American city with the largest Asian population — the Chinese were met with prejudice, scorn and hatred.
It was for this reason that the United States passed what amounts to one of the most odious laws in this country's history — the Chinese Exclusion Act of 1882.
Whereas in the opinion of the Government of the United States the coming of Chinese laborers to this country endangers the good order of certain localities within the territory thereof:
….
SEC. 14. That hereafter no State court or court of the United States shall admit Chinese to citizenship; and all laws in conflict with this act are hereby repealed.
[read the entire text of the law here]
Below: From Frank Leslie's Illustrated Newspaper, April 1882 — "We must draw the line somewhere, you know."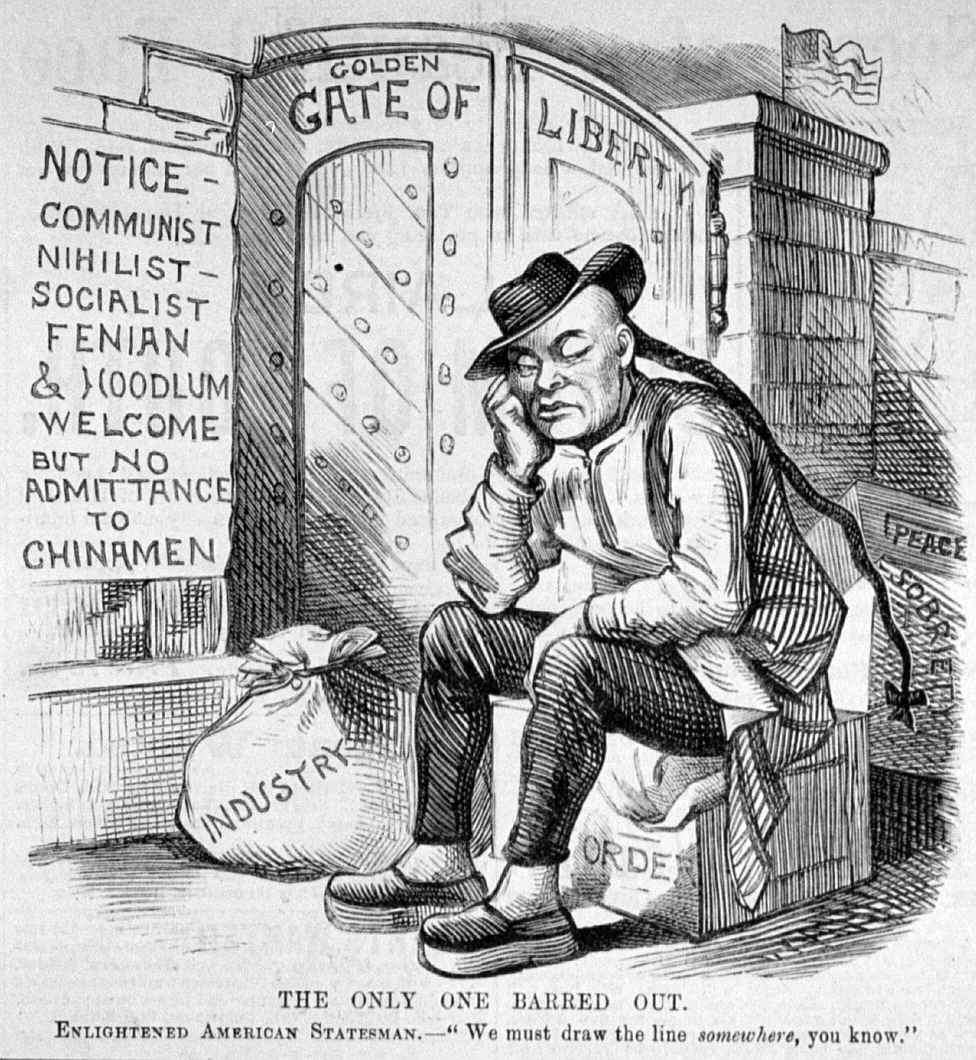 In these crazy political times, it's always good to remind ourselves of the fearful restrictions and laws that the United States had once embraced.
A small but poignant exhibit on the effects of the Chinese Exclusion Act arrives in Chinatown this Sunday, May 22 — at the First Chinese Baptist Church (21 Pell Street).  Remembering 1882, The Chinese Exclusion Act and Chinese Railroad Workers Exhibit is a small traveling exhibit explore the racist causes and devastating effects of the law, which was eventually extended and made permanent (before finally being abolished in 1943).
Head over there by 2 pm and catch a screening of the film Ancestors In The Americas: Chinese In the Frontier West.
For more information, check out their Facebook page
And if you can't make it on Sunday, perhaps you'd consider signing this White House petition, asking the president "to officially apologize on behalf of the United States of America for the Chinese Exclusion Act of 1882."
Image at top, per the original caption: Chin Quan Chan; Seattle District, Chinese Exclusion Act Case Files, Applications to Reenter, c. 1892-1900]: Chin Quan Chan Family, Chinese Exclusion Act Case File