This weekend I strolled around Carroll Park in Carroll Gardens, Brooklyn, and observed at least 8 or 9 people staring intently at their phones, occasionally wiping their index fingers rapidly at the screen.
In the center of the park is an 18-foot-tall World War I memorial dedicated in 1921, emblazoned with the names of those from the neighborhood who had died in the war. On one side of this monolith are the words: "THEY FACED THE PERILS / OF THE SEA AND THE / HIDDEN FOE / BENEATH THE / WAVES."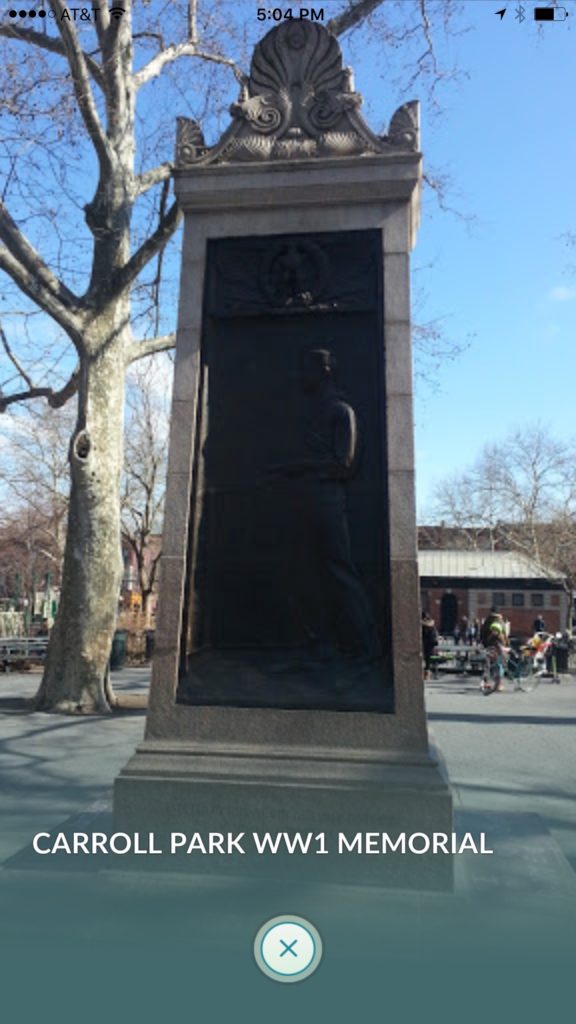 People were gathered here thanks to Pokémon GO, the hot new mobile app that transfers the adventures of the Japanese fantasy franchise into the real world via a nifty GPS location tie-in.
The player's avatar can now wander the city streets looking for adventure in the form of creatures to capture by throwing Poké Balls at them. The world is rendered as an abstract grid devoid of buildings until you interact with one of the creatures. At that point, both the real and virtual worlds collide. Suddenly it's as though you have a cognitive 'third eye', seeing a beast from another dimension that the rest of the world wanders past indifferently.
For instance, here's the corner of Wall Street and South Street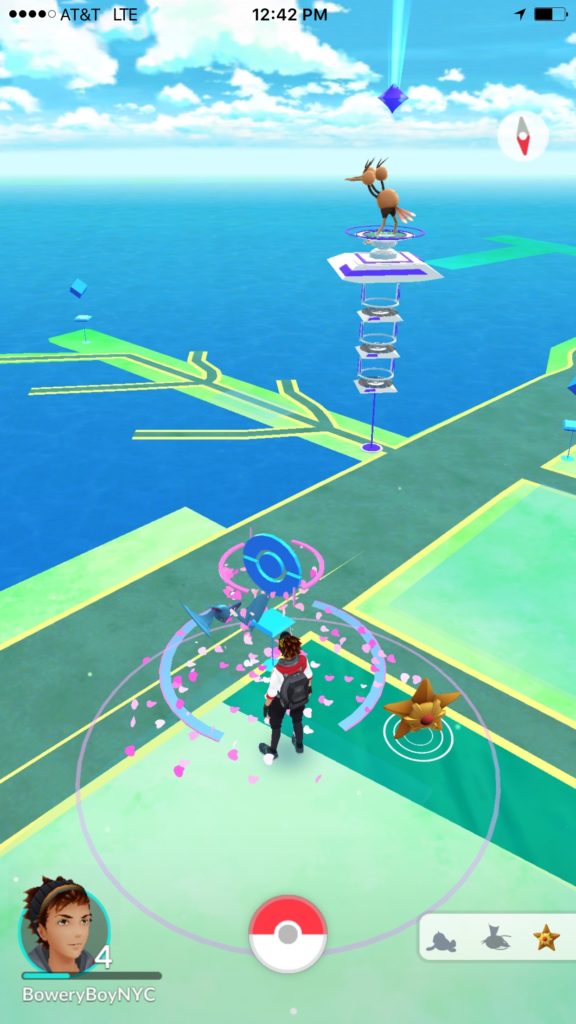 At this busy intersection I had a vigorous battle with a starfish-like creature. I was not very good at this game and, at several points, threw virtual Poké Balls that would have caused many injuries had they been real. Finally I was able to successfully rid Wall Street of this terrible menace.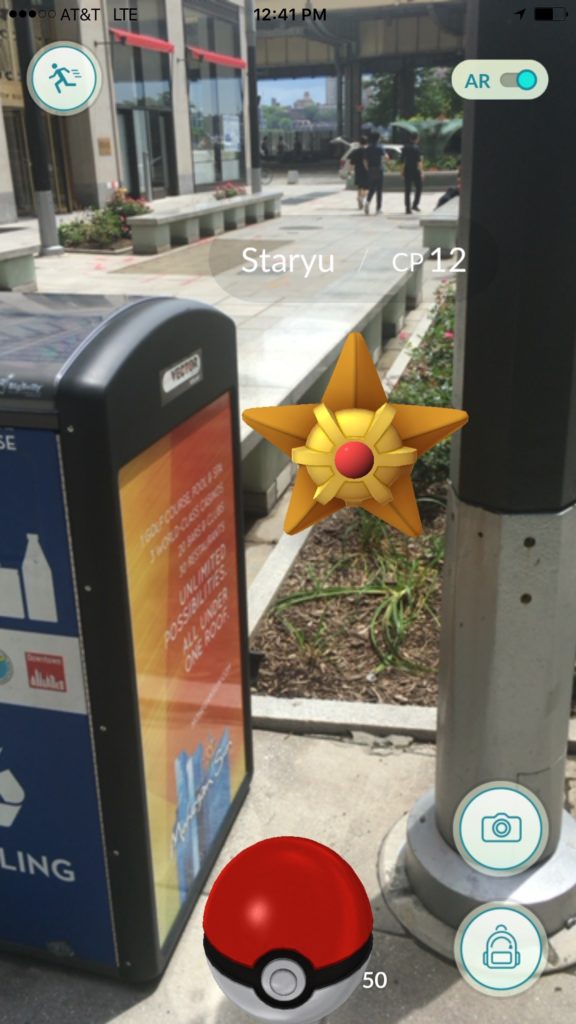 Several friends recommended this game to me over the weekend due to one particular aspect — its innovative use of landmarks as a critical component of game play. Icons which appear as spinning blue cubes sit over the location of various neighborhood landmarks. These are permanent Pokéstops, magical places where users can grab vital items for the game, like food for your Pokémon. (You see, your captured creatures are trapped in a virtual prison of your own design. Best not to focus too closely on this part of the beloved Pokémon mythology.)
The reason I'm bringing this up — the reason there's a Pokémon post on this page at all — is this unique game feature. For players to use these Pokéstops,  they must actually visit them.
And that is the wondrous, possibly accidental glory of Pokémon GO — it's become the best neighborhood and historical landmarks app on the market.
For instance, here was the sight that greeted me yesterday out in front of Trinity Church at Broadway and Wall Street. As tourists were buzzing by and service was just getting out at one of New York's most famous religious spaces, I was observing the landscape reduced to this: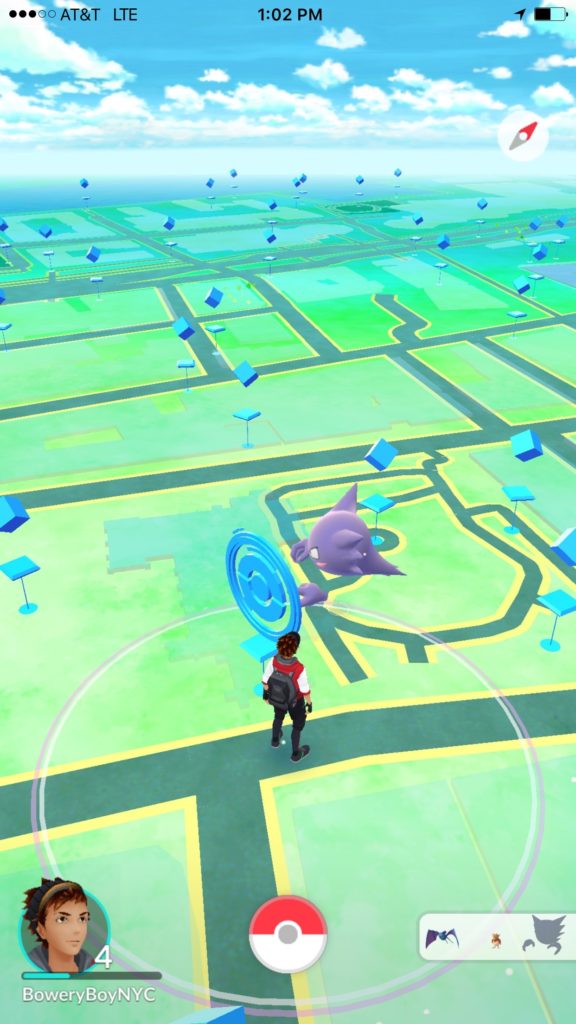 There were several blue squares contained within Trinity Church graveyard. A player could check out those squares from afar but had to actually walk into Trinity and get close to them to seek their rewards.  Even in death, Founding Father and Broadway superstar Alexander Hamilton was providing his countrymen with guidance as one square was hovering over his grave, as though an otherworldly embodiment of his greatness: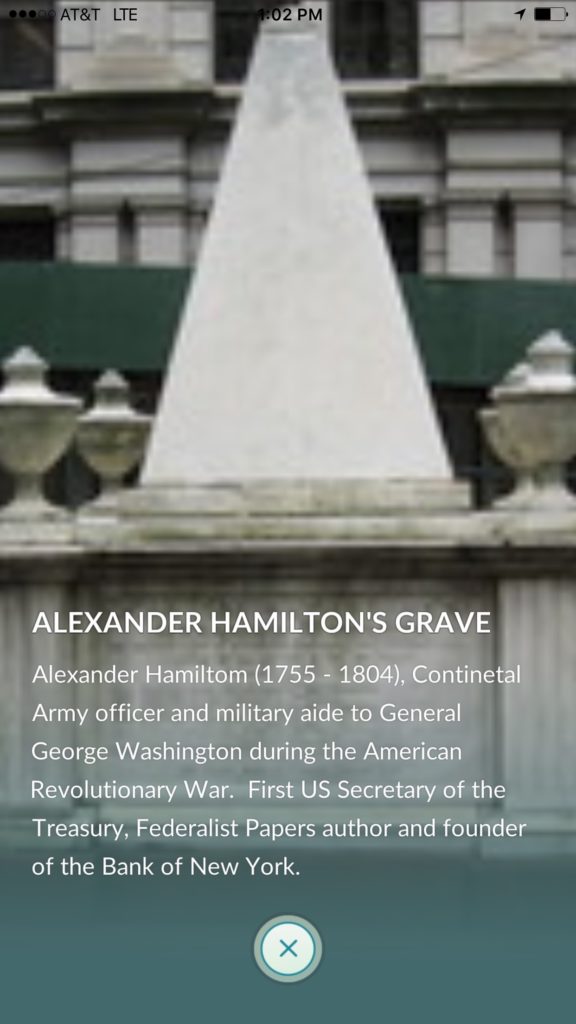 At many sites, a short history is provided with each blue square. Sure, Hamilton is a very popular figure at the moment, so naturally some explanation might be presented here. But how many games primarily geared towards children would have a short history of the building across the street — the Equitable Building?
Back in Trinity, a player could stroll the cemetery and check out other blue square and — it is sincerely hoped — the rest of the history of this intriguing place. But as one who lives in the physical realm AND the virtual spirit realm, you have work to do. For within the graveyard is another Pokémon to catch — the arguably inappropriate Haunter, a play on Ghostbusters' Slimer and, perhaps, Richard Churcher, the six year old who died in 1681 and whose tombstone is the church's oldest.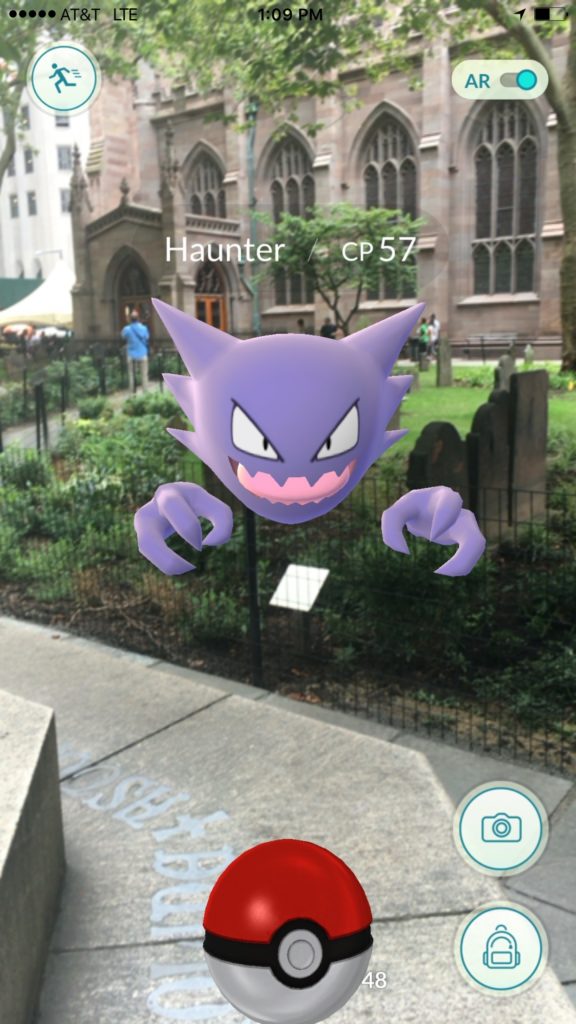 The game provides silly juxtapositions that only history and New York lovers will really appreciate. For instance, it looks like there's some Squirtle on the menu at old Delmonico's Restaurant: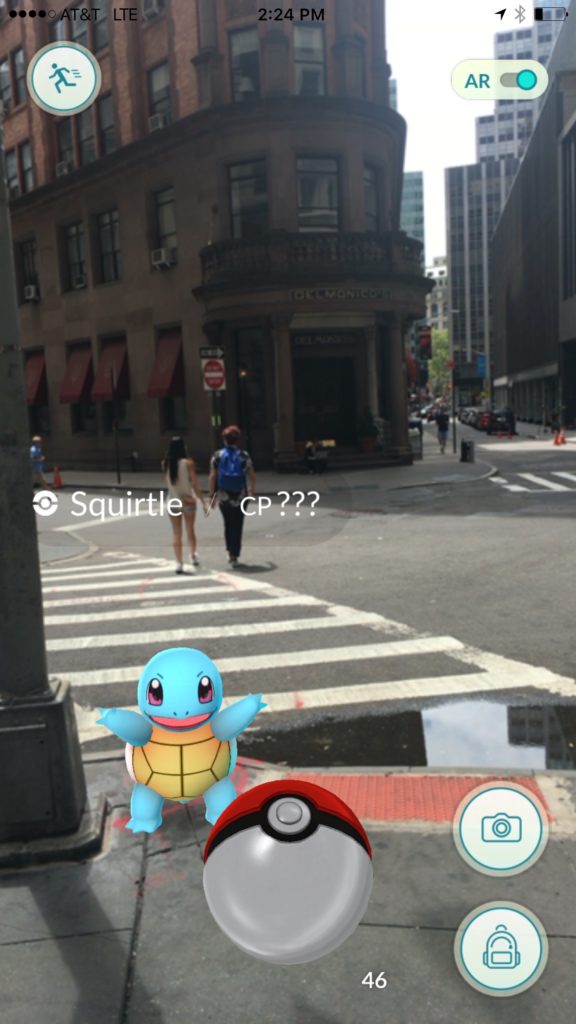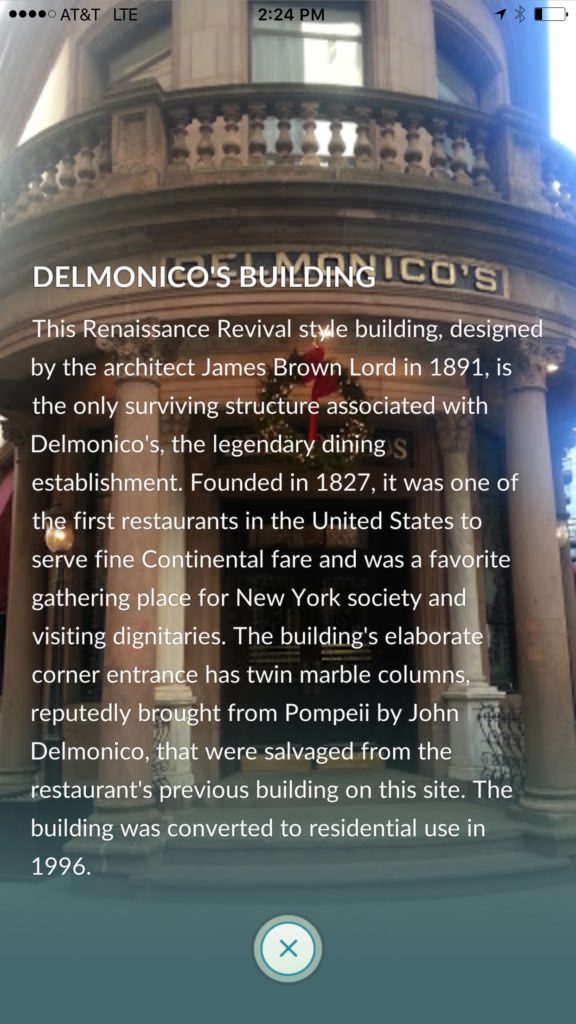 At this point, you may be wondering — doesn't this all seem sort of dangerous? People wandering the streets, staring at their phones, swiping rapidly to capture a nonexistent entity ghoulishly hovering upon a sidewalk that actual people are walking? Indeed there are many potential hazards to this game that many people have already identified.
But here's where I found Pokémon Go an especially valuable tool for exploring New York City. For one, simply stop playing the game! Who cares about capturing Pikachu or Chortlefoot or Poofybee or whatever? Just use the app as a device for finding intriguing places in your neighborhood. Not only is this less stressful — after all, who wants to be tasked with catching monsters on your day off? — but it's free. (The app has paid features for those who want to go deep into the game's universe.)
The Pokéstops aren't merely historical landmarks but beloved neighborhood places as well. For instance, using the app while strolling around Brooklyn elicited many sites and quirky attractions I'd never really noticed before:
On Baltic Street: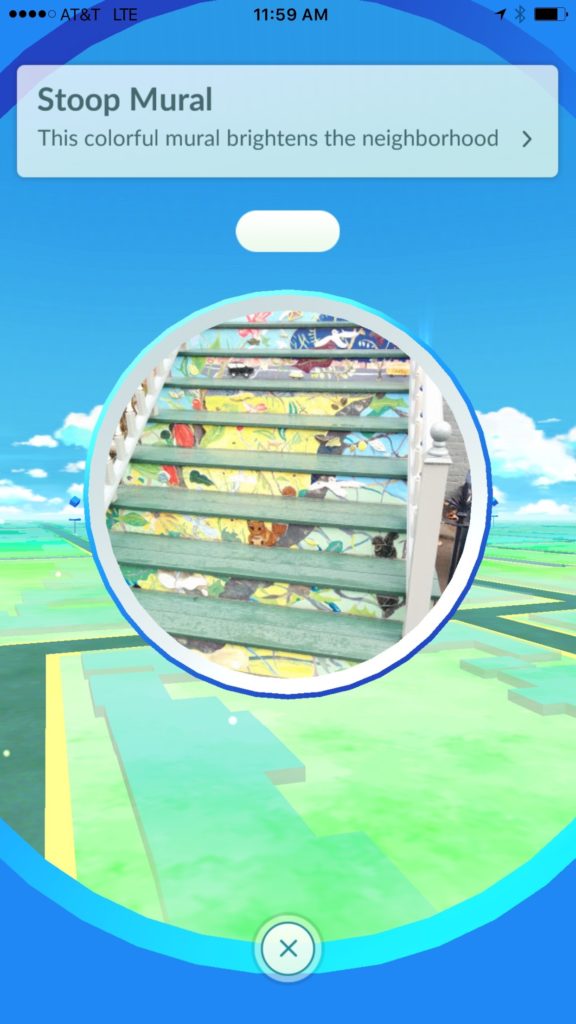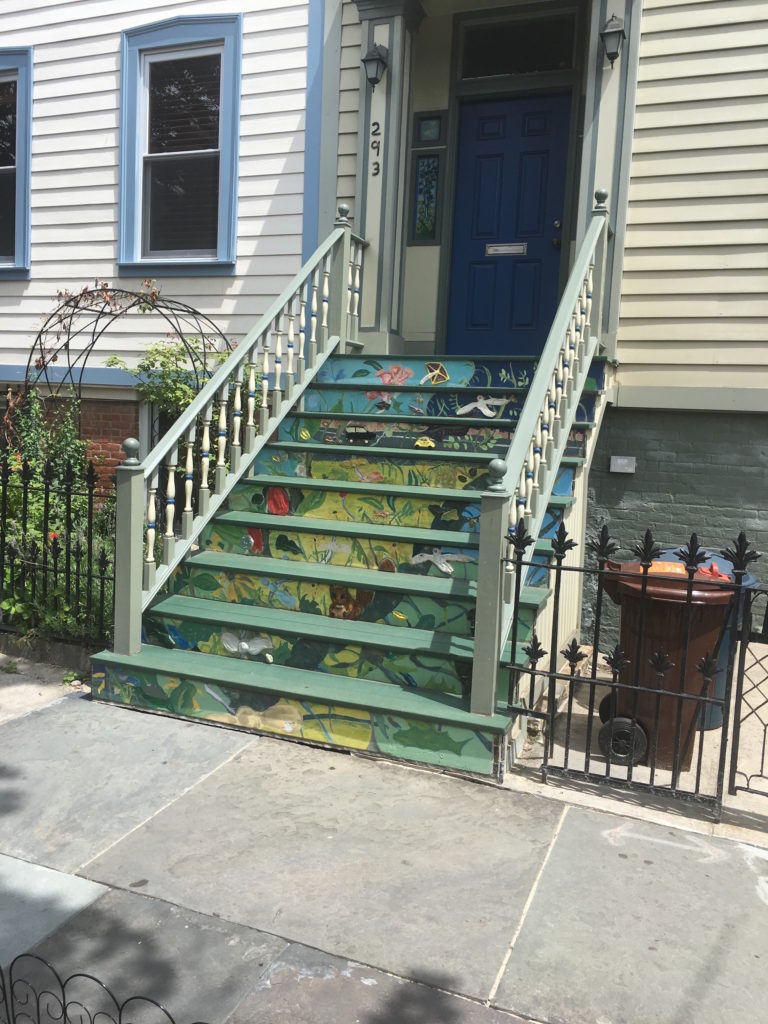 Near Borough Hall: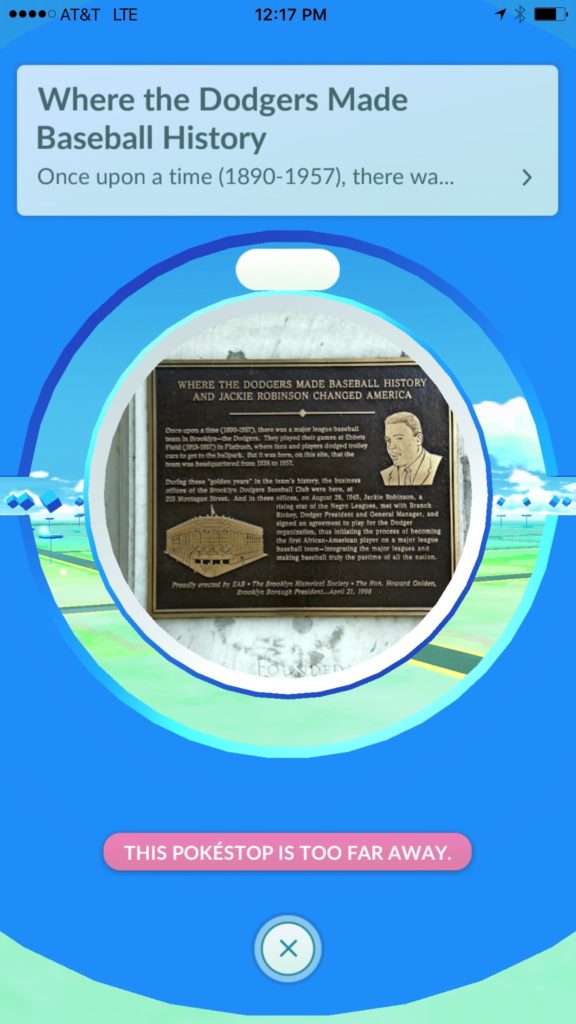 On Flatbush Avenue: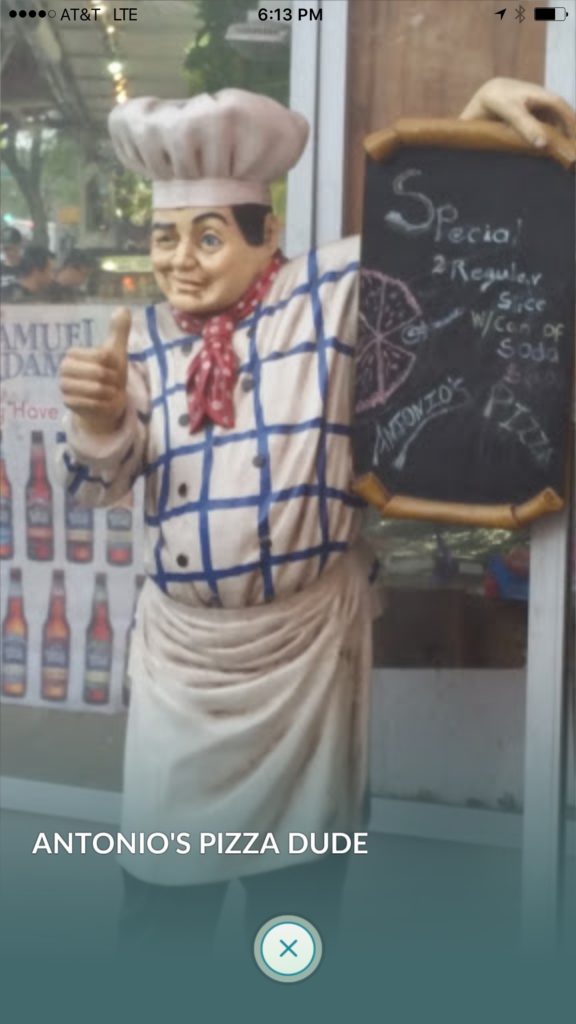 How did an international game developer identify such specific and locally beloved places for a fantasy game?  Niantic basically took the information from a prior game called Ingress which was created from user submissions.
And that's what makes this app a particular pleasure for use in a big city, where neighborhoods might have had dozens of users populating Niantic's databases. (I'd be very curious to see how enjoyable this experience is in a rural area.) Not all the landmarks have historical descriptions attached to them, but almost all were at least identified by a regular visitor to that place, perhaps even a neighbor.
How else to explain such curious oddities as these (from Wall Street and Cadman Plaza, respectively)?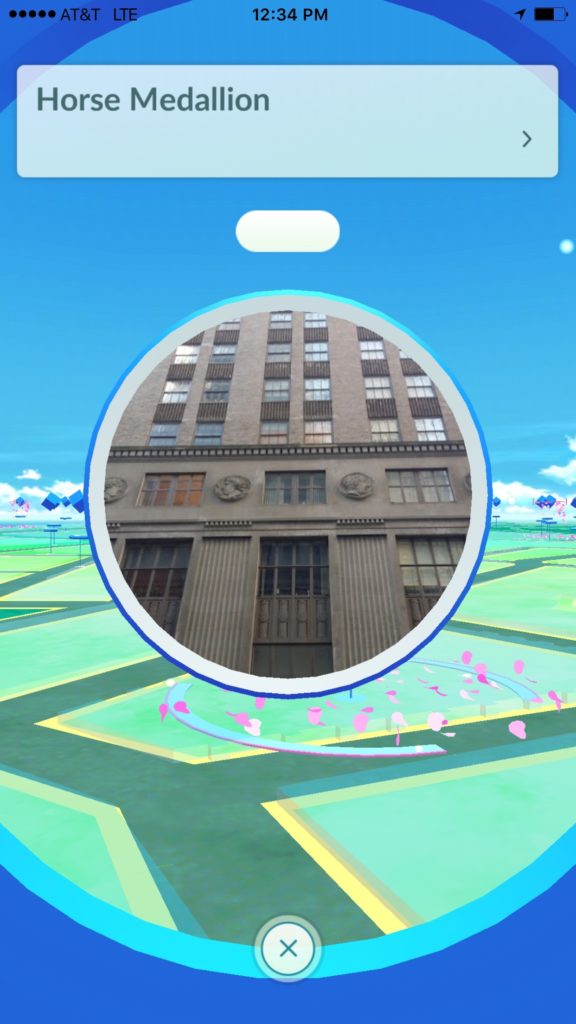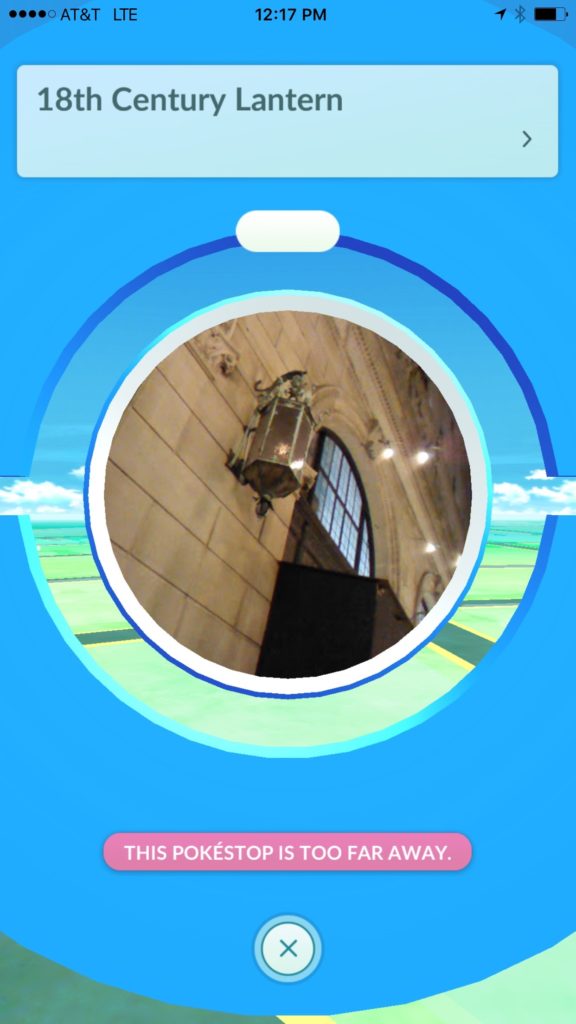 Of course, naysayers might immediately point out that the landmarks are only being used for game purposes and users aren't expected to really interact in any meaningful way. And should we really be encouraging MORE walking and phone gazing? But even if most people just skitter away after collecting their virtual items, a few people may stop and pay attention. At very least, ignoring the gaming aspect entirely and using the app merely for its locations makes for a great scavenger hunt with your friends.
It's like the Points of Interest section in our book Adventures In Old New York, but without random cuddly monsters populating the streets. I could see it awaken a renewed interest in neighborhood geography. Just yesterday, I saw both a father and son using it to locate one particular Pokéstop which also happened to be Brooklyn's oldest synagogue.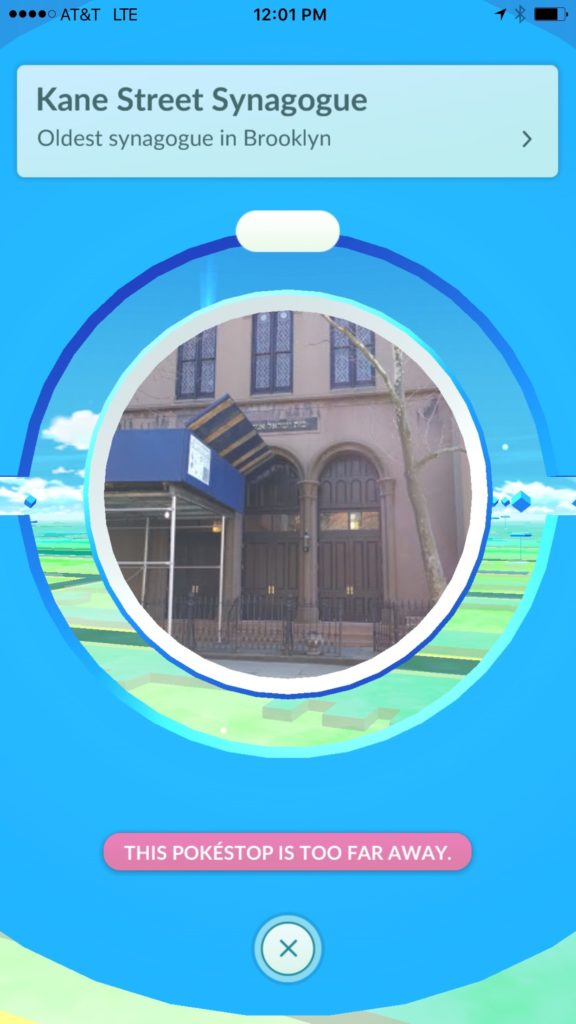 (You can actually check out all the blue squares from the comfort of your couch, but they can only be used for gameplay if you're near, thus the message in pink above.)