Bryant Park is a rather remarkable physical space. During the winter it becomes a skating rink and outdoor market, while in the summer, its lawn host hundreds of movie buffs every Monday for the park's popular outdoor film festival. Its neighbor — the main branch of the New York Public Library — keeps millions of volumes within rooms below the park. And once, long ago, Americans came to this spot to witness the technological marvels of the age.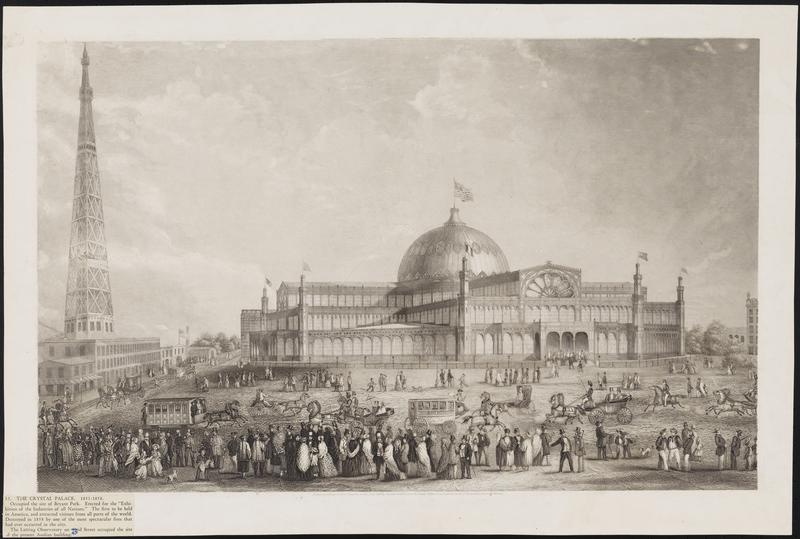 The Exhibition of the Industry of All Nations was the first major industrial fair in the United States, showcasing the rising manufacturing prowess of the young country. It was housed in a jewel box of an exhibition center, the extraordinary Crystal Palace, a wonder of glass and steel, modeled after a similar structure in London. When fire eventually took the building in 1858, New York City lost its most valued tourist attraction.
A new show at the Bard Graduate Center Gallery (18 West 86th Street,  just steps from Central Park) reanimates a bit of the Crystal Palace Exhibition, bringing the wonder of visiting this wondrous place to life with displays of original artifacts and an absolutely sensational interactive component.
The gallery features a selection of items both displayed at the fair and used to promote it. Americans were so enthralled by the exhibition that they decorated their homes with promotional items include one example featured in the gallery of an ornate parlor clock affixed with an image of the Crystal Palace. High end tchotchkes, indeed!
The fair displayed fine art and experimental technologies alongside examples of American craftsmanship.  Featured in the gallery are samples of American-made items from the 1850s proudly shown at the fair — porcelain, glassware, furniture, pottery and sculpture.
You're perhaps used to seeing such items in a museum; the things you're seeing here, however, weren't originally displayed for their historical worth. At the opening of the Crystal Palace in 1853, they were literally the embodiment of a growing country.
And here, in this intimate space, there are little delights behind tiny thick curtains — daguerreotypes and photographic salt prints from the fair itself, so delicate that they must be protected from even the gallery's gentle light.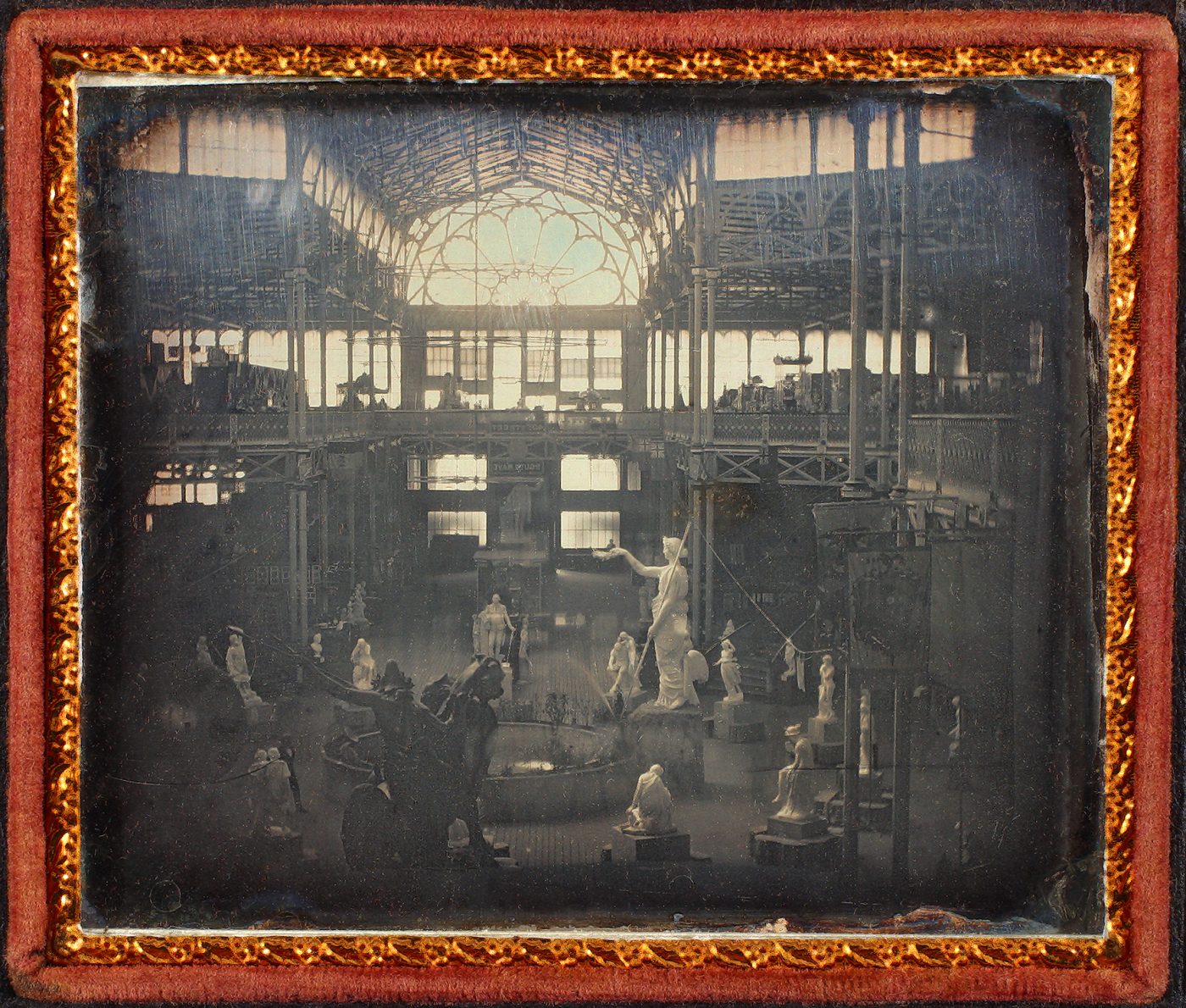 As always with Bard's historical exhibitions, they accompany their physical displays with rich, detailed interactive displays and online material.  Take a stroll through the Crystal Palace along a meticulously labeled panorama or click through a replica of a tourist guide suggesting things to do around the city. 
In fact, I would highly suggest getting lost in their digital resources before heading over to see the physical objects. (You'll be able to play around with them at interactive displays at the exhibit as well.) There are also some engaging audio 'walking tours' from three different perspectives of people visiting the fair.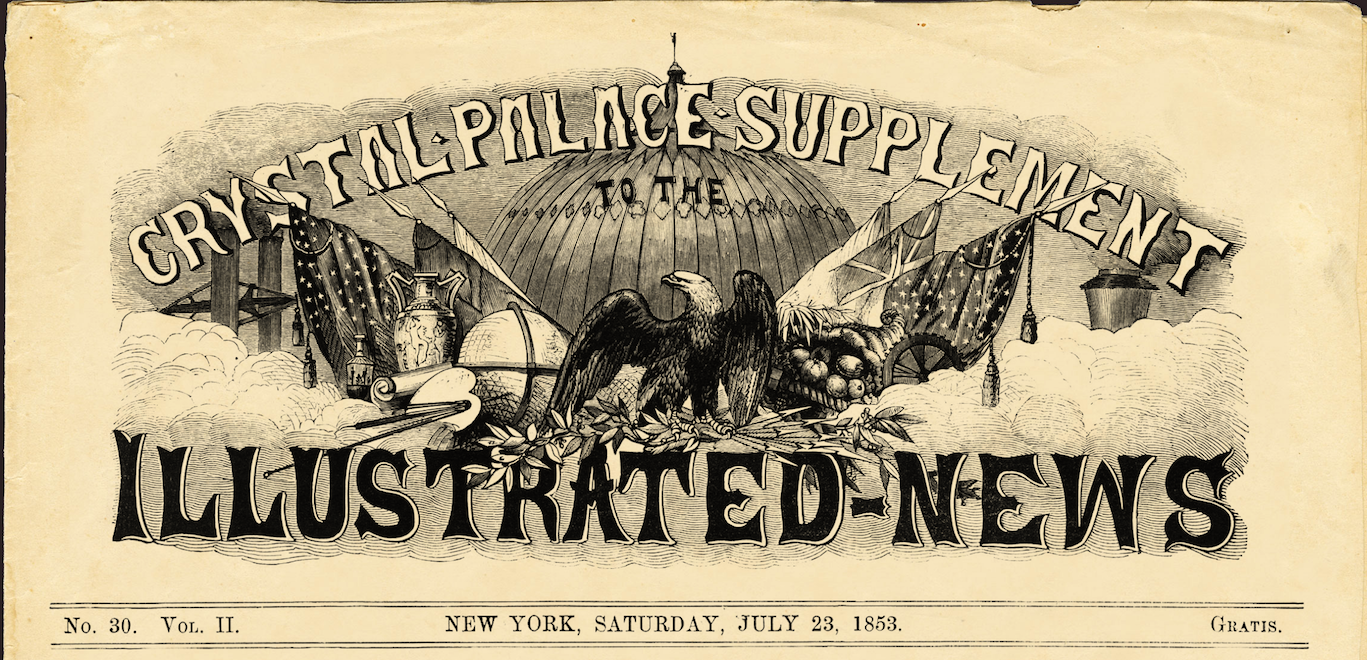 (Personally, I would also recommend listening to our podcast on the Crystal Palace which we recorded exactly two years ago. Putting it all together with the gallery show will the closest thing to boarding a time machine!)