It just got a bit easier to access the glorious history of the Brooklyn waterfront.
Don't get me wrong; I love the development of Brooklyn Bridge Park and its clever incorporation of industrial infrastructure into public spaces — the piers, the warehouses, the cobblestone streets. (I don't love this so much but whatever.) But things feel so inexorably new and modern that one might have trouble understanding the area's historical context.
The Brooklyn Historical Society has come to save the day. This spring they've opened up a new gallery in the revamped late 19th century Empire Stores, the formerly solemn brick warehouse facing into the harbor.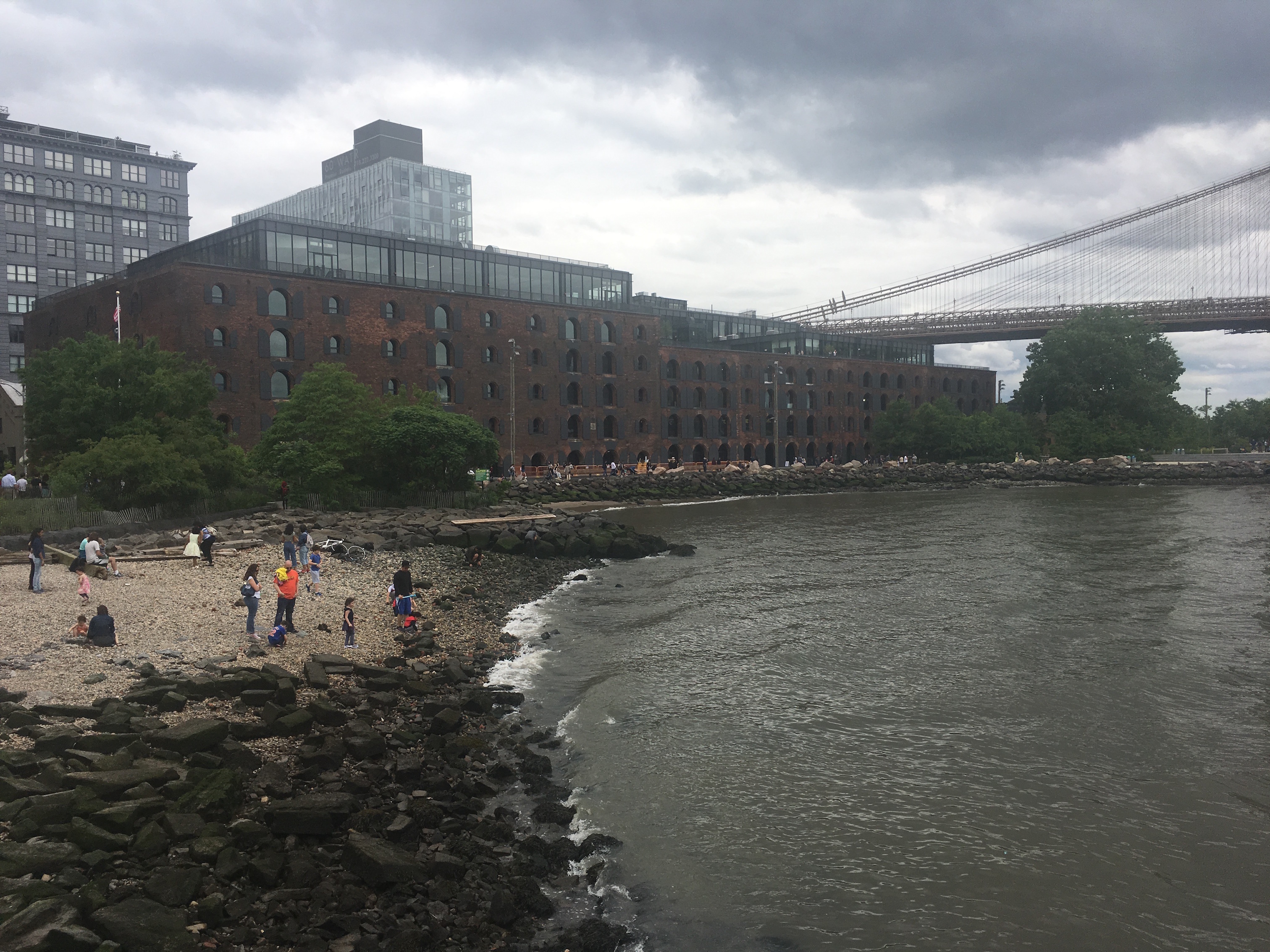 In another neighborhood, this warehouse might have been destroyed long ago or else hastily revamped into luxury condos, sharing the fate of other structures within the neighborhood of DUMBO.
In many ways the Empire Stores warehouse is the very essence of the downtown Brooklyn industrial district. The building once held coffee beans, sugar, nuts and other products from all over the world. Its curved door and window openings and iron shutters are a reminder of Brooklyn importance within 19th and 20th century global commerce.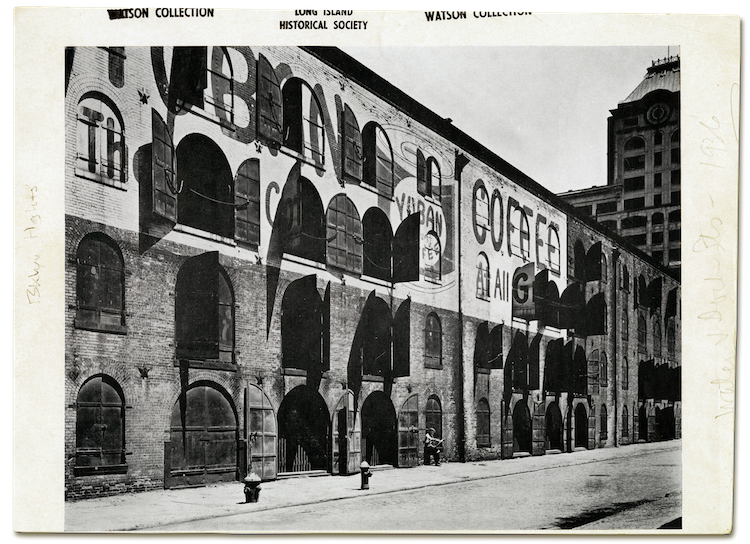 Today Empire Stores has been refitted for modern Brooklyn industry — those seeking sleek, state-of-the-art office environments — with plenty of spaces for the general public to enjoy. But the new second floor gallery of the Brooklyn Historical Society is (perhaps clearly) my favorite component, a permanent space where the history of the Brooklyn waterfront can be celebrated.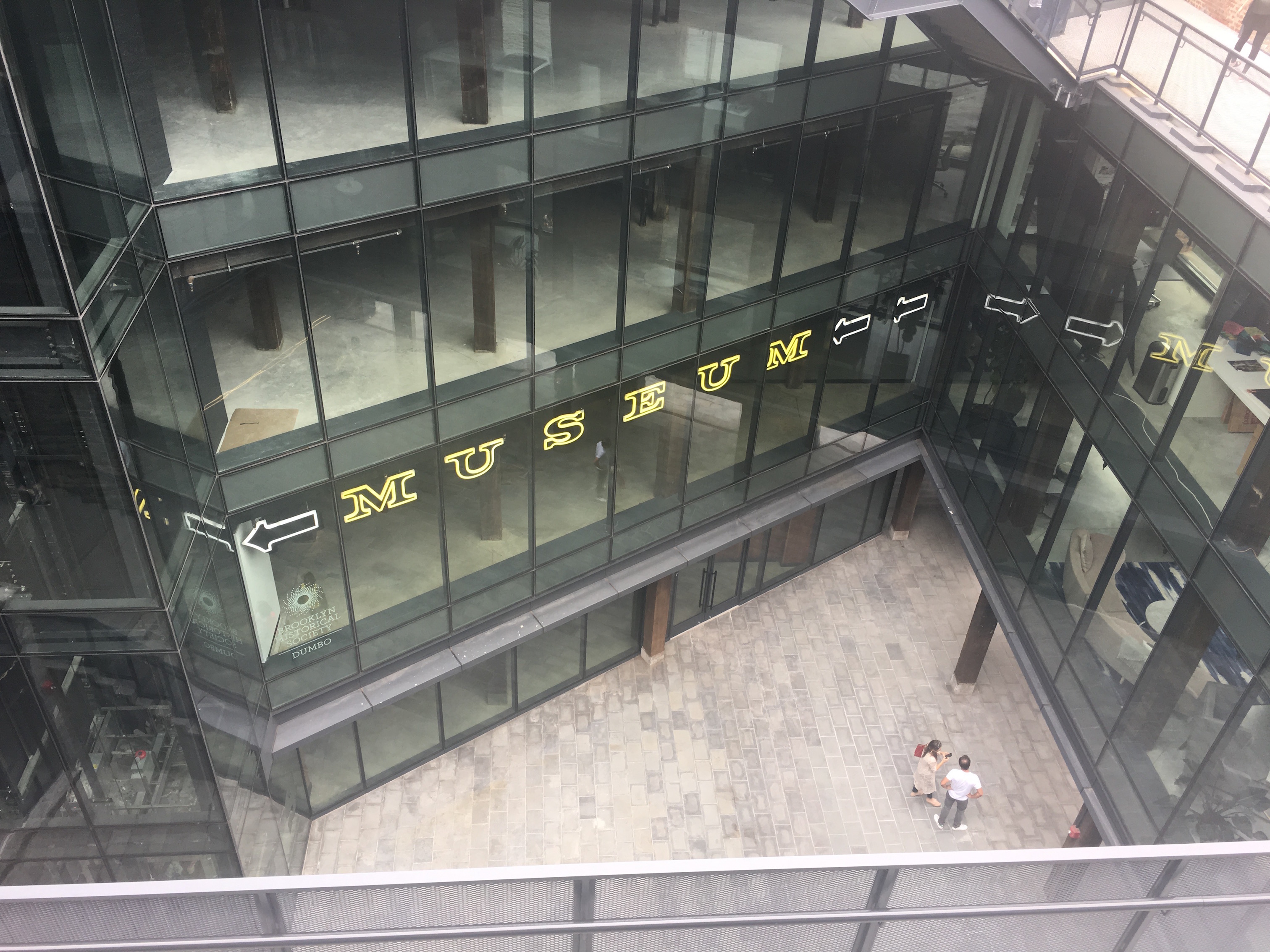 Currently on view is an photo exhibition Shifting Perspectives: Photographs of Brooklyn's Waterfront, serving as almost a forward to a great project on the history of Brooklyn, displaying images of the waterfront, both past and present.
Waterfront properties in modern New York have completely different values than they did in the past. One need look only to the images in this exhibition, then visit the Empire Stores rooftop to gaze across the water at the rising glass condos of the Manhattan waterfront, to recognize that.
In images by Berenice Abbott and Rudy Burckhardt one sees a rugged, often unforgiving face to the industrial waterfront, the value of its views and its appeals to a family market virtually unknown.  A New Yorker's enjoyment of waterfront vistas was relegated to pleasure centers like Coney Island.
In captivating modern images like Jeff Chien-Hsing Liao's look at the Gowanus Canal, we see the aftermath of decades of industrial use. And in others, like Mitch Epstein's dreamlike Clouds #94, the harbor's industrial life endures, albeit losing its foothold to the unstoppable natural world.
Shifting Perspectives: Photographs of Brooklyn's Waterfront is on display until September 10, 2017

The Brooklyn Historical Society DUMBO is located at 55 Water St.
Starting on June 30, the gallery will be open until 9pm on Fridays. Visit their website for more information.