George Metesky was just your average working joe with a unique and understandable beef against his former employer Con Edison. He was injured on the job, eventually fired and denied workers compensation for what appear to be purely bureaucratic reasons.
But any sympathies one might find for Metesky, however, are quickly abandoned.
In retaliation, he began a meticulously sustained crime spree in New York City within its most famous and most bustling landmarks.
For sixteen years (from 1940 until his arrest in January 1957), this disturbed man placed explosive devices throughout the city, a chilling swath of discord meant to send a message while endangering the lives of thousands of New Yorkers. Grand Central, Penn Station, the New York Public Library and a variety of theaters (including Radio City Music Hall) were all targeted by the man who the press would eventually label 'the Mad Bomber'.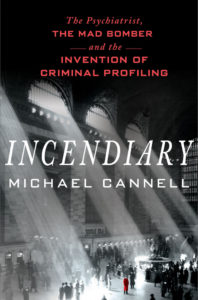 INCENDIARY
The Psychiatrist, The Mad  Bomber and the Invention of Criminal Profiling
By Michael Cannell
Minotaur Books/Macmillan Publishers
In Incendiary, the brisk new page-turner by Michael Cannell, these disturbing events and the race to capture Metesky are given a bold, true-crime retelling, an immersive non-fiction thriller with cinematic pacing.
Metesky operated a bit like a comic-book villain, sending letters to the New York Journal-American, taunting the police, all the while setting devices in places where they would receive the most attention. But, strangely enough, the 'Mad Bomber' never meant to seriously take lives; indeed, of the dozens of explosive devices set off over the city, nobody was actually killed. (But there were a number of serious injuries.)
Given the nature of Metesky's crime spree, investigators were able to use ground-breaking criminal profiling methods. A disturbed individual like Metesky almost demanded such an investigation, his psyche on full display in his newspaper letters.
Key to his eventual capture was psychiatrist James Brussel who worked closely with the police in constructing a profile of Metesky that was extraordinarily detailed — and mostly accurate.
Even down to outfit he wore when he eventually confronted the police on a cold evening in January of 1957.
"I know why you fellows are here. You think I'm the Mad Bomber."
Metesky conducted his frightening crimes with an alarming theatricality — indeed, Brussel's criminal profiling methods would inspire millions of hours of evening television — which is why Cannell's gripping procedural feels immediate and particularly terrifying.  This is the stuff of modern nightmares.
At top: A portion of one of Metesky's letter. Below: the Mad Bomber in jail