PODCAST The words of "The New Colossus," written 135 years ago by Jewish poet Emma Lazarus in tribute to the Statue of Liberty, have never been more relevant — or as hotly debated — as they are today.
What do they mean to you? "Give me your tired, your poor/Your huddled masses yearning to breathe free/The wretched refuse of your teeming shore."
In this episode, Tom and Greg look at the backstory of these verses — considered sacred by many — and the woman who created them.
Emma Lazarus was an exceptional writer and a unique personality who embraced her Jewish heritage even while befriending some of the greatest writers of the 19th century. When the French decided to bestow the gift of Liberty Enlightening the World to the United States, many Americans were uninterested in donating money to its installation in New York Harbor. Lazarus was convinced to write a poem about the statue but she decided to infuse her own meaning into it.
This icon of republican government — and friendship between France and America — would soon come to mean safe harbor and welcome to millions of new immigrants coming to America. But are Lazarus' words still relevant in the 21st century?
Listen Now: Emma Lazarus Podcast
___________________________________________________________
The Bowery Boys: New York City History podcast is brought to you …. by you!
We are now producing a new Bowery Boys podcast every other week. We're also looking to improve the show in other ways and expand in other ways as well — through publishing, social media, live events and other forms of media. But we can only do this with your help!
We are now a member of Patreon, a patronage platform where you can support your favorite content creators for as little as a $1 a month.
Please visit our page on Patreon and watch a short video of us recording the show and talking about our expansion plans. If you'd like to help out, there are five different pledge levels (and with clever names too — Mannahatta, New Amsterdam, Five Points, Gilded Age, Jazz Age and Empire State). Check them out and consider being a sponsor.
We greatly appreciate our listeners and readers and thank you for joining us on this journey so far.
____________________________________________________________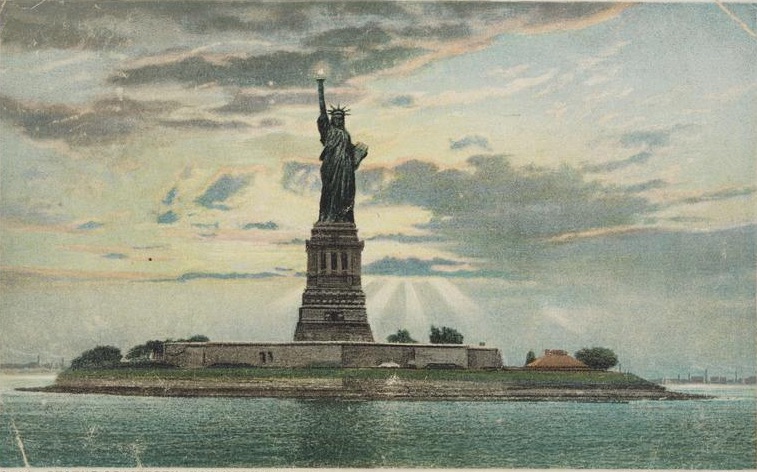 A group of fifty Jewish children, en route to Philadelphia in 1939, were placed into foster homes.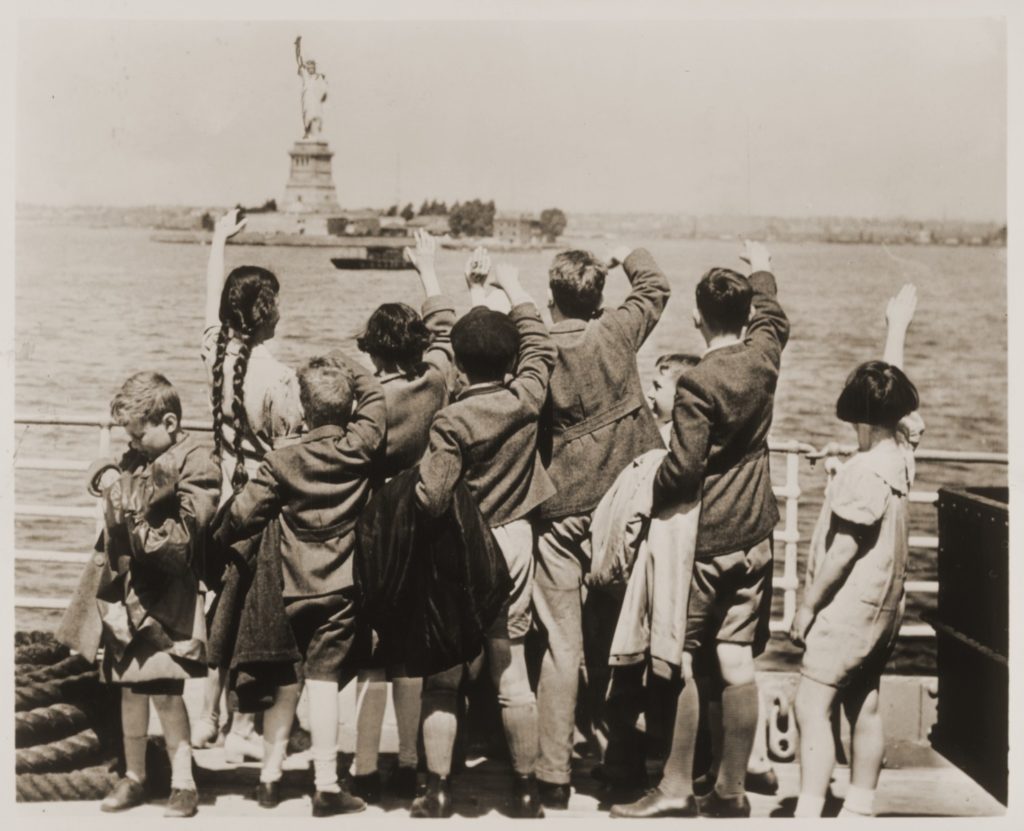 Emma Lazarus (1849-1887), a woman of exceptional writing skills who eventually embraced her Jewish heritage and worked to bridge the divide between settled Americans and newly arriving immigrants in need of assistance.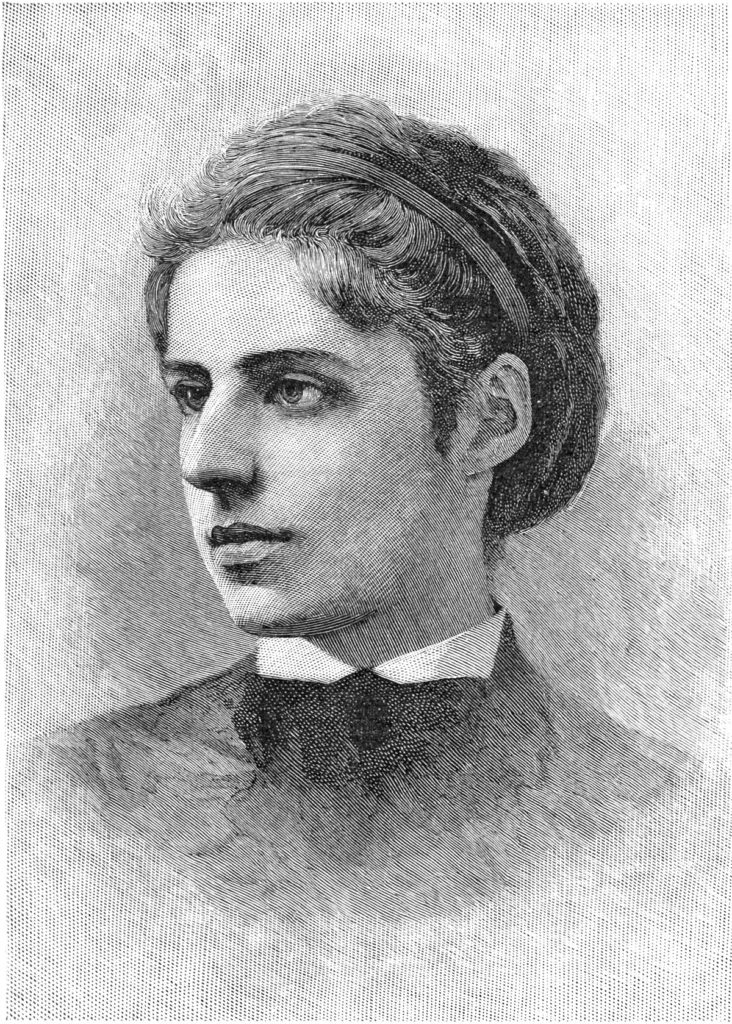 New Yorkers first saw a small portion of Lady Liberty — her arm and torch, displayed in Madison Square Park in an effort to raise money for her installation in New York Harbor.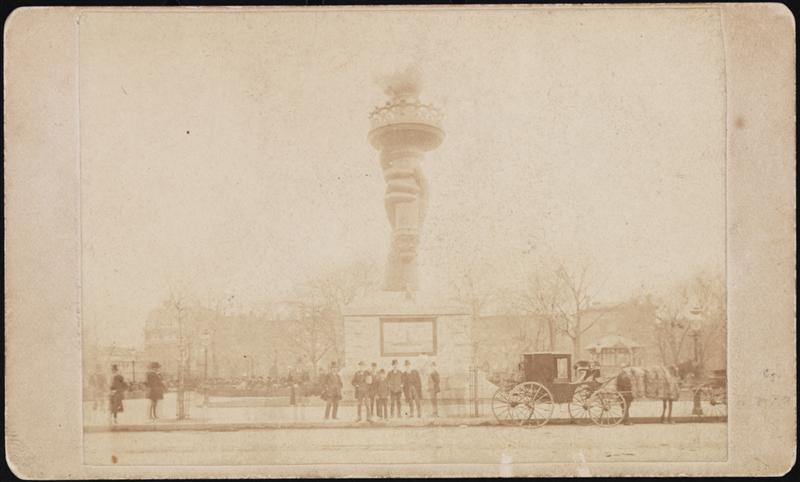 Liberty in 1890, prepared to welcome millions of new immigrants in the harbor. She's actually copper at this time, not green.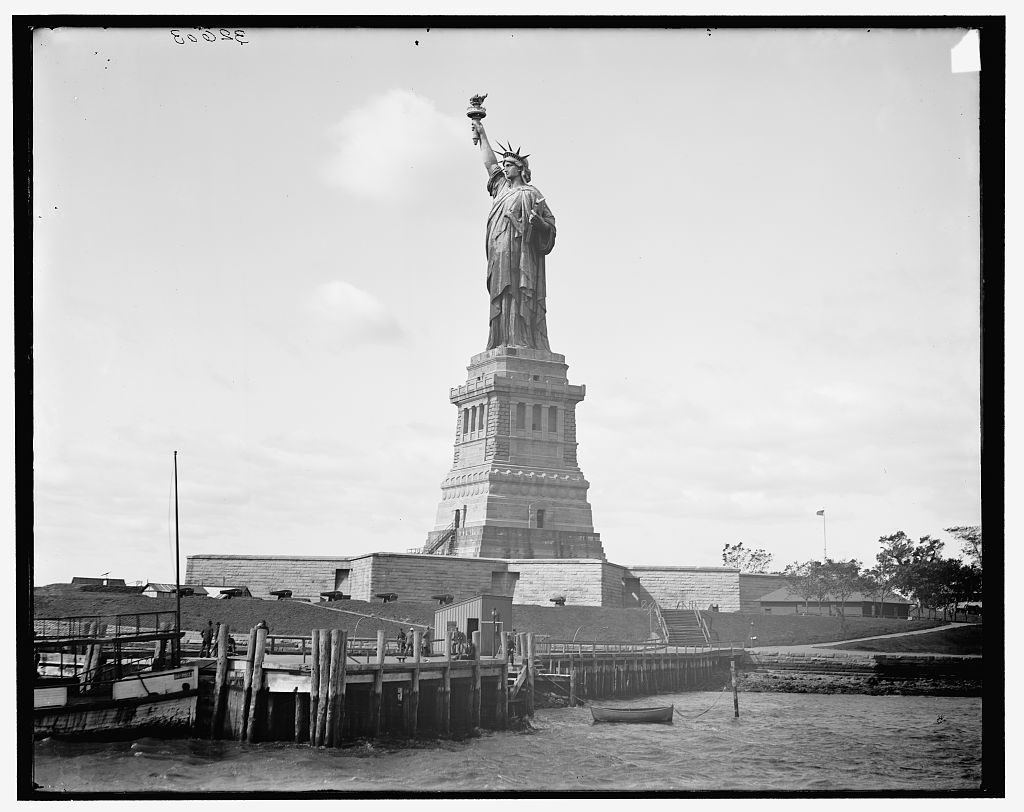 From a 1946 newspaper: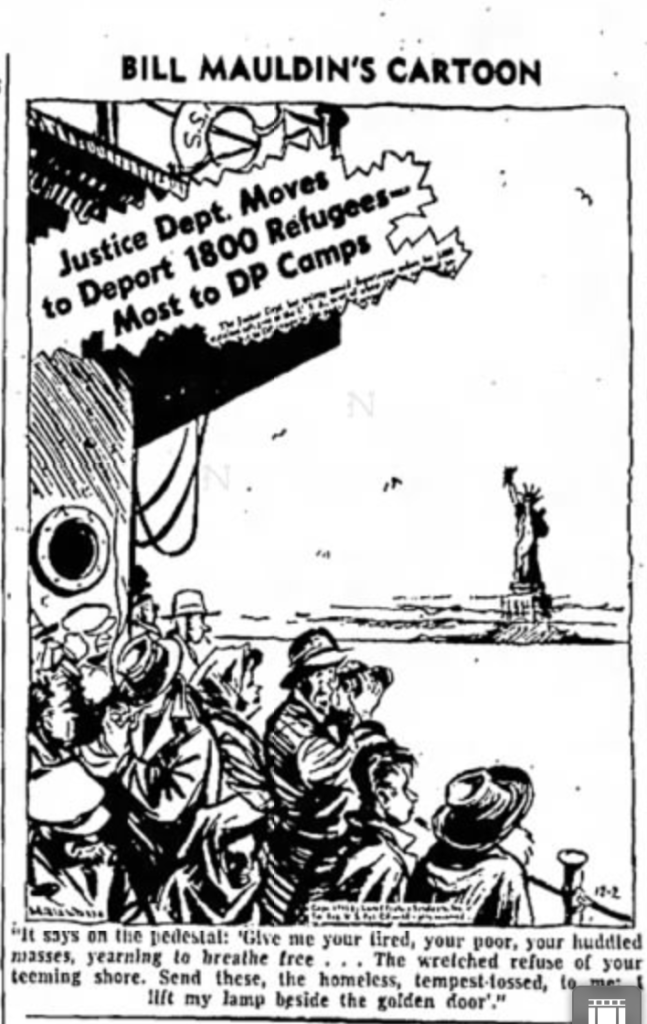 From our recent trip to the statue: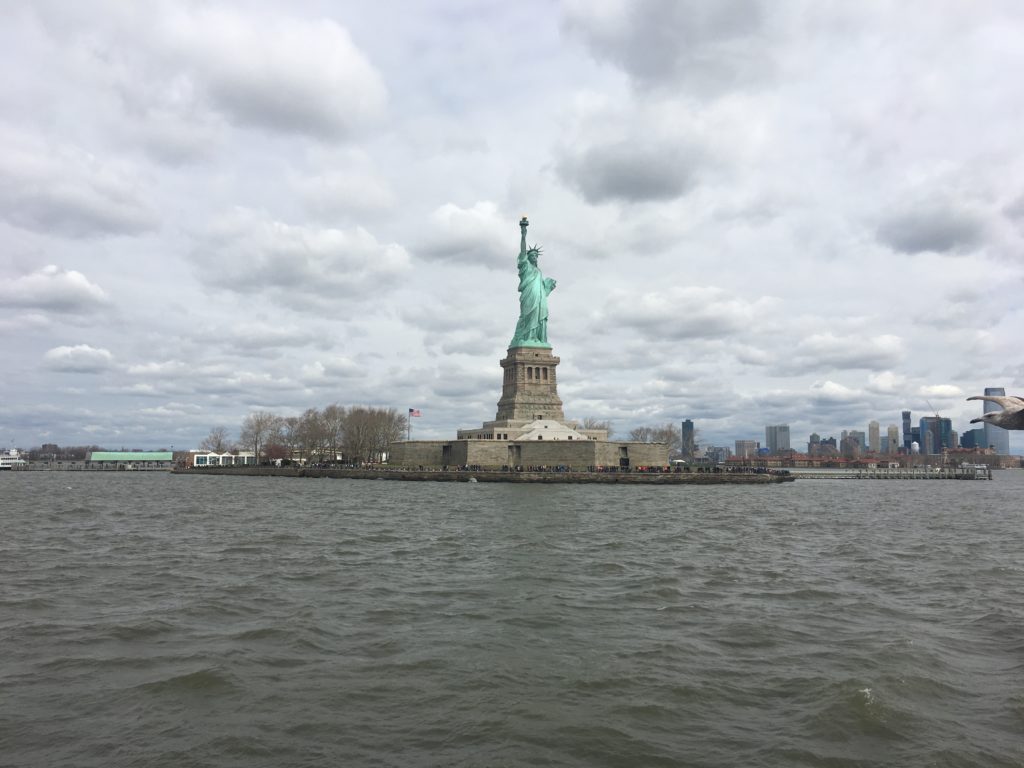 A waxen replica of Bartholdi in the gift shop: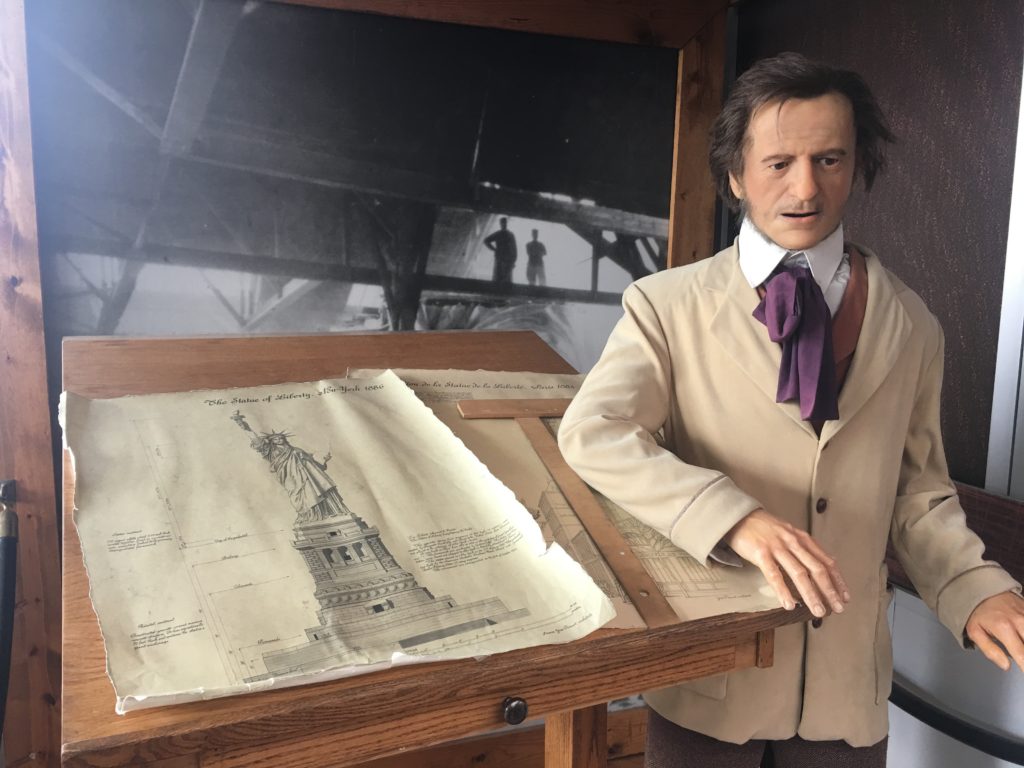 The words of Emma Lazarus, at gift shop checkout: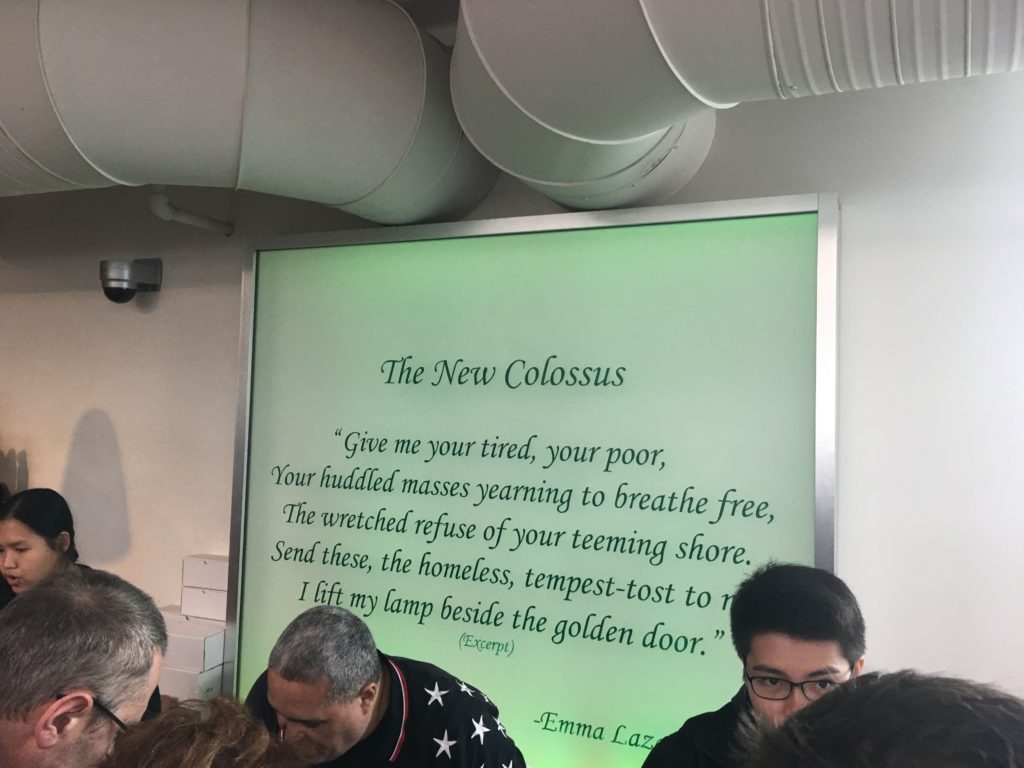 A statue of Lazarus herself, in the shadow of Lady Liberty: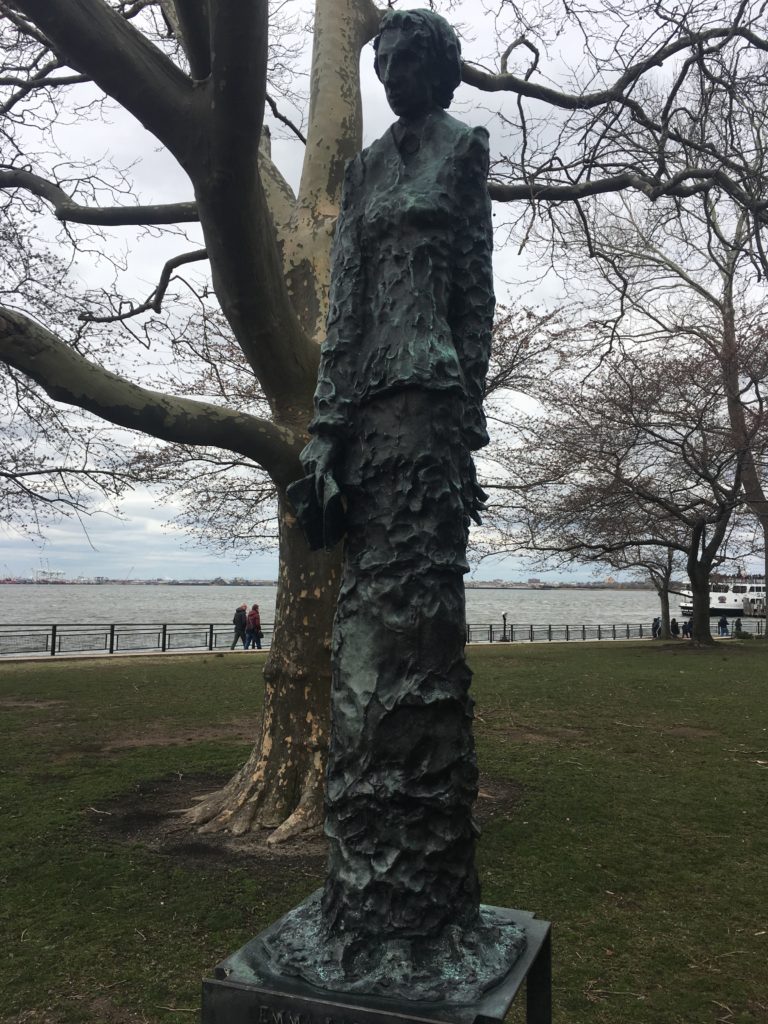 The statue's original torch, which leaked and had to be replaced: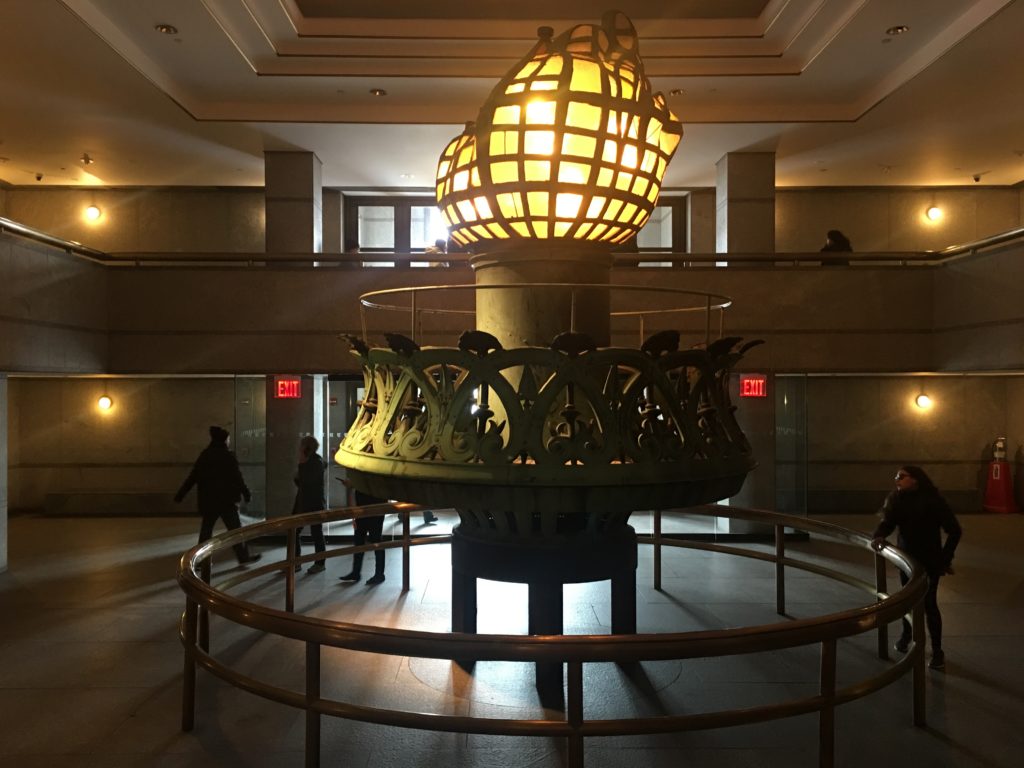 Tom enjoying the museum audio tour: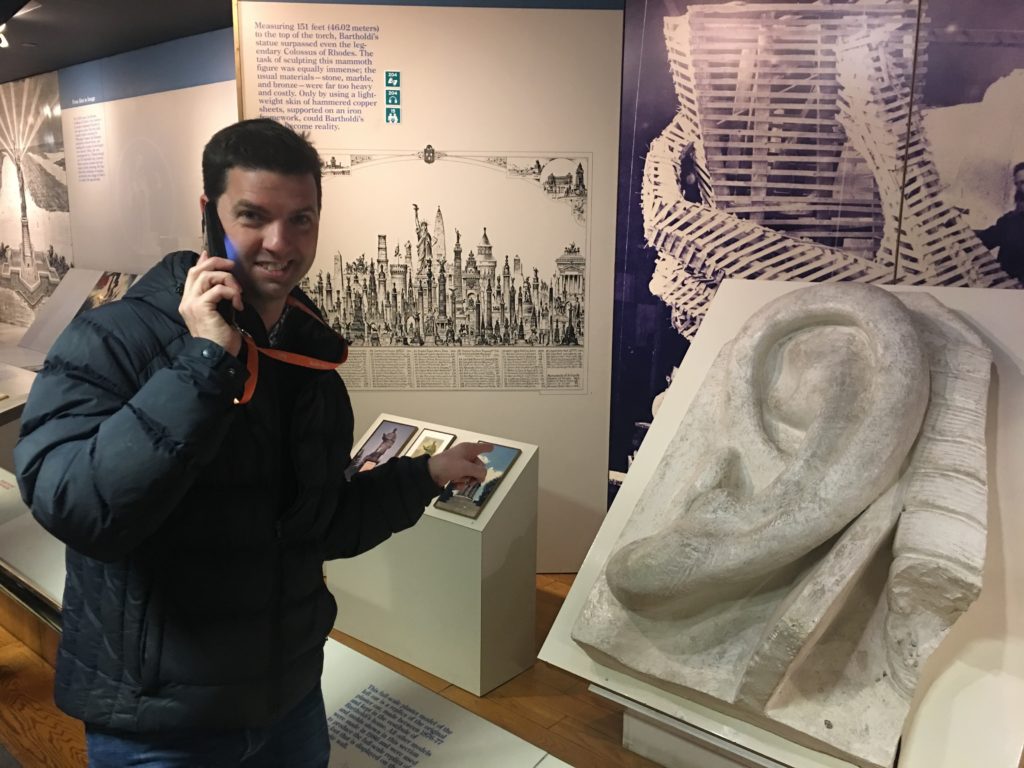 The original Emma Lazarus plaque which once sat just inside the pedestal. Today its home is in the Statue of Liberty museum: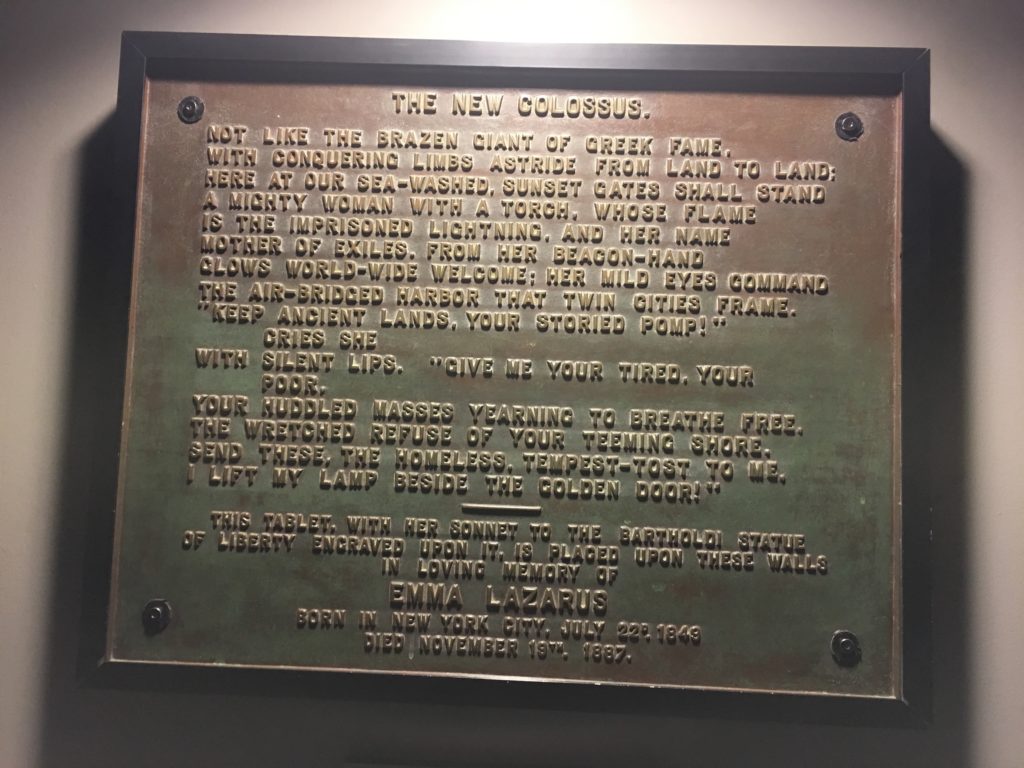 At the American Jewish Historical Society, a peak into Lazarus' handwritten journal, piecing together some of her favorite poems. She placed "The New Colossus" in the very front: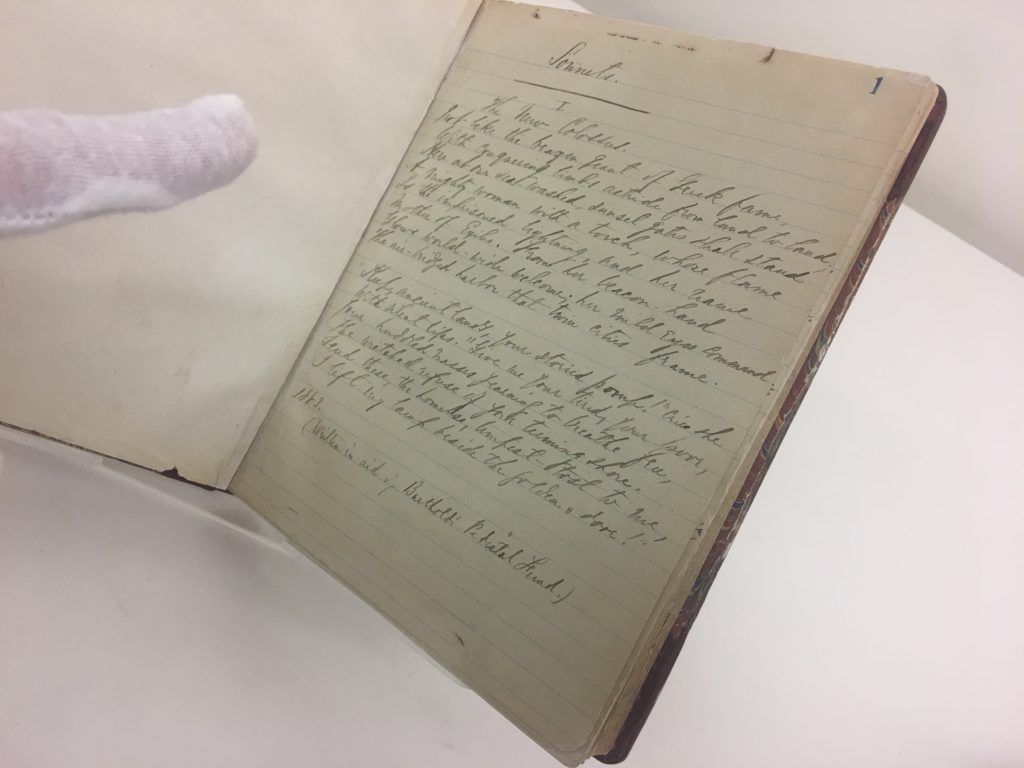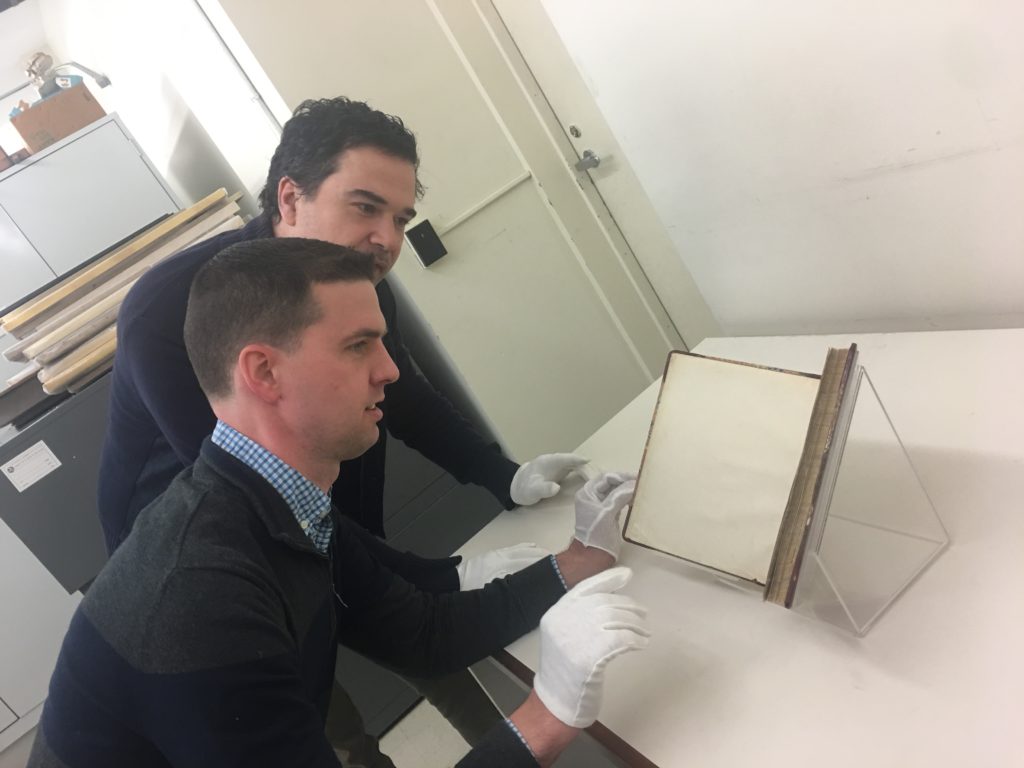 Emma's Greenwich Village home on West 10th Street: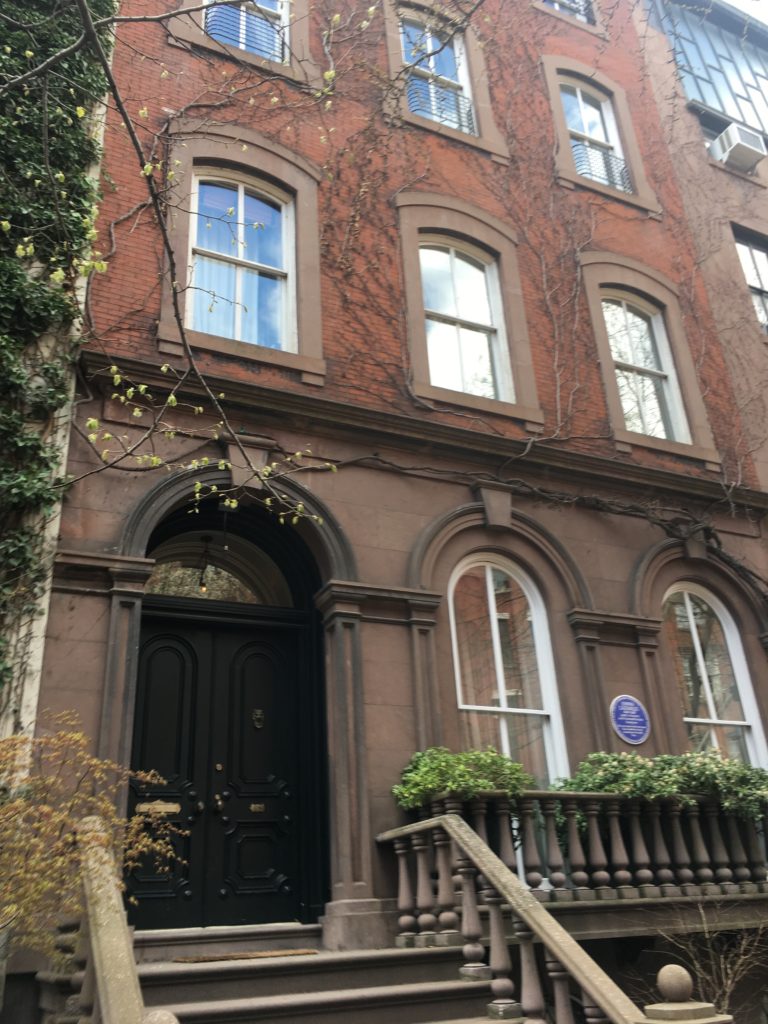 EXHIBITIONS
American Jewish Historical Society — Our BIG thanks to Annie Polland, executive director at AJHS, for showing us some of the astonishing artifacts in their collection. Visit their rotating exhibition of objects from their collection and check out their list of programs and events.
FURTHER READING
Enlightening the World: The Creation of the Statue of Liberty by Yasmin Sabina Khan
Liberty's Torch: The Great Adventure to Build the Statue of Liberty by Elizabeth Mitchell
Emma Lazarus by Esther Schor
Emma Lazarus in Her World: Life and Letters by Bette Roth Young
FURTHER LISTENING
After listening to our show Mother of Exiles, check out these podcasts from our back catalog with similar themes: