PODCAST The history of the Cathedral of St. John the Divine and a tour of its unique artistic treasures
The Bowery Boys have finally made it to one of the most enigmatic and miraculous houses of worship in America – the Cathedral of St John the Divine. This Episcopal cathedral has a story like no other and a collection of eccentric artifacts and allegorical sculpture – both ancient and contemporary – that continues to marvel and confound.
Located in Morningside Heights in Upper Manhattan, St. John the Divine – named for the Apostle and author of the Book of Revelations — is no ordinary cathedral (if such a thing exists). Every corner seems to vibrate on a different frequency from other Christian churches.
Many ideas have gone into creating St. John the Divine's unique personality – a quirky mix of architectural styles, some outside-the-box ideas about community outreach, its embrace of the unconventional. But one particularly striking detail sets it apart from the rest: the Cathedral remains unfinished.
FEATURING: Franklin Delano Roosevelt, Keith Haring, Duke Ellington, Martin Luther King Jr. and the high-wire antics of Philippe Petit
ALSO: Tom and Greg explore the Cathedral — from the crypt to the rooftop – with tour guide Bill Schneberger.
Listen Now: Cathedral of St. John the Divine Podcast
To download this episode and subscribe to our show for free, visit iTunes or other podcasting services or get it straight from our satellite site.
You can also listen to the show on Overcast, Google Music and Stitcher streaming radio.
Or listen to it straight from here:
______________________________________________________
The Bowery Boys: New York City History podcast is brought to you …. by you!
We are now producing a new Bowery Boys podcast every other week. We're also looking to improve the show in other ways and expand in other ways as well — through publishing, social media, live events and other forms of media. But we can only do this with your help!
We are now a member of Patreon, a patronage platform where you can support your favorite content creators for as little as a $1 a month.
Please visit our page on Patreon and watch a short video of us recording the show and talking about our expansion plans. If you'd like to help out, there are five different pledge levels (and with clever names too — Mannahatta, New Amsterdam, Five Points, Gilded Age, Jazz Age and Empire State). Check them out and consider being a sponsor.
We greatly appreciate our listeners and readers and thank you for joining us on this journey so far.
_______________________________________________________
A postcard from 1902 with only a gigantic arch built. The nearby campus of Columbia University was only a few years old by this time.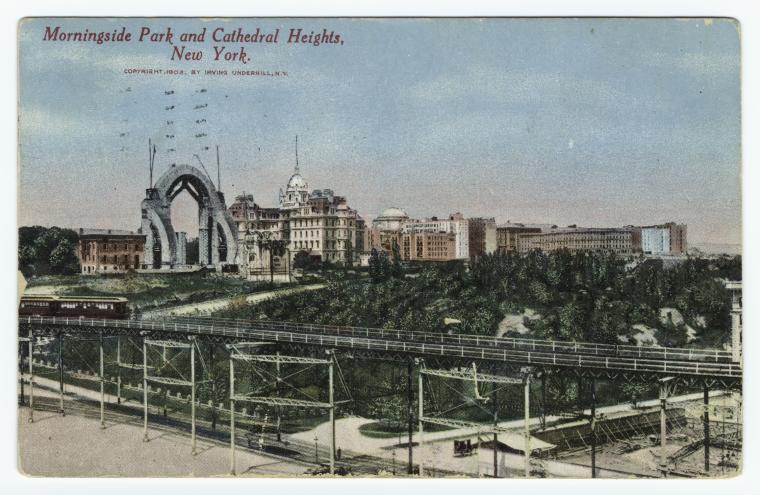 A postcard from 1910. Little did they know that it still would not be finished over a century afterwards.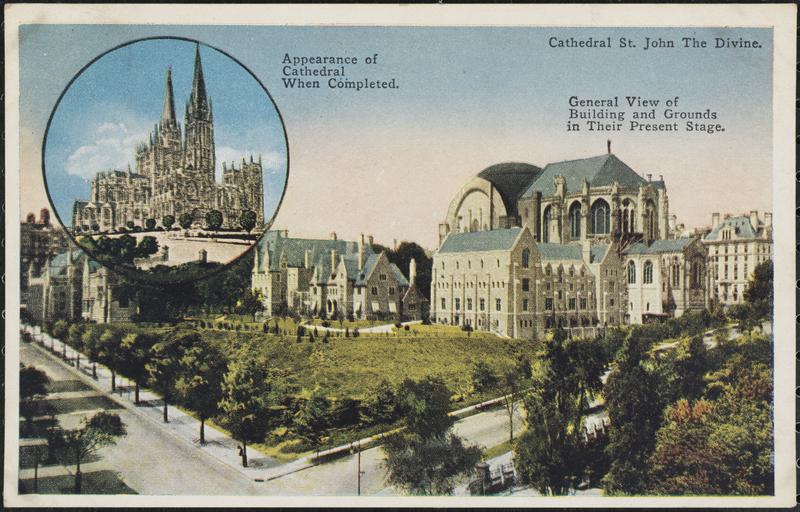 What the church actually looked like in 1910.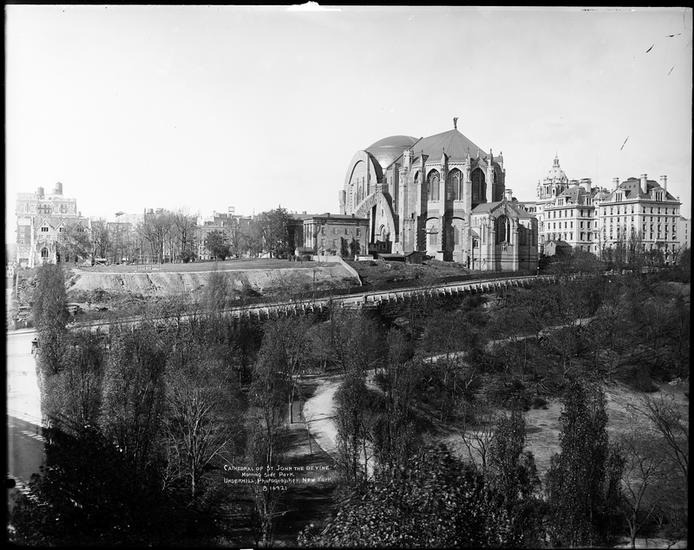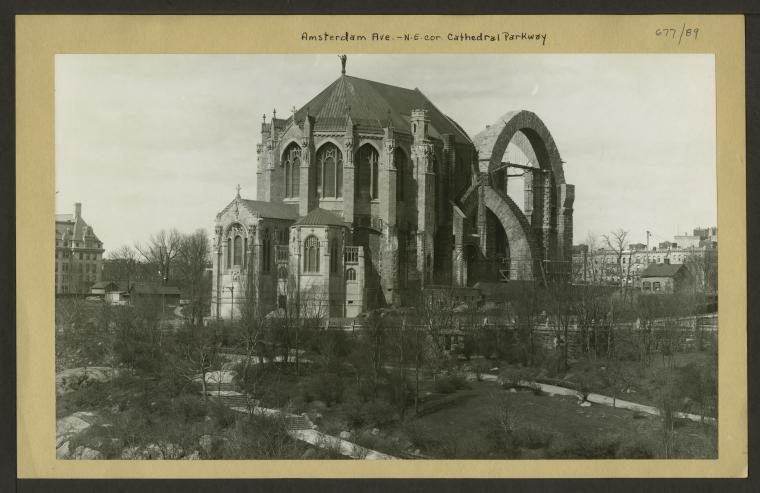 Bringing the columns into the future nave of the church, 1904.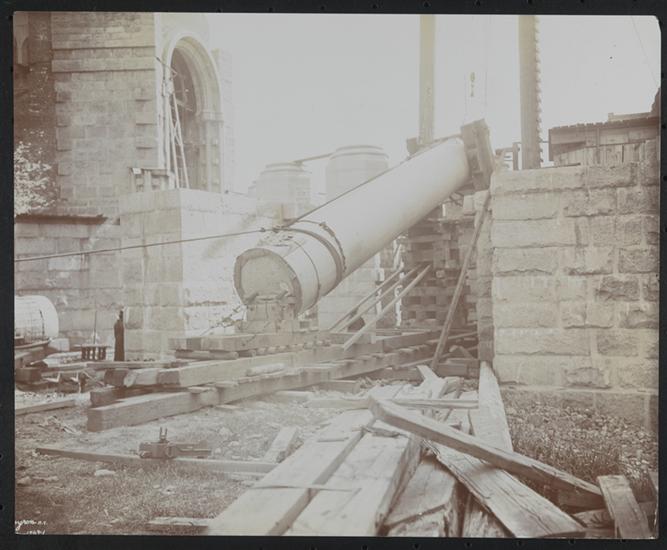 The first services were actually held in the crypt. Note the beautiful Guastavino tiling on the ceiling.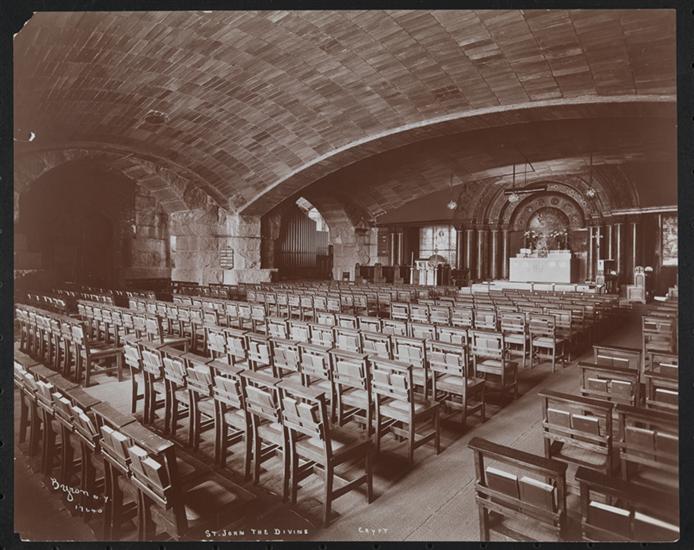 Considerably more work has been done by 1934 as shown in this photograph.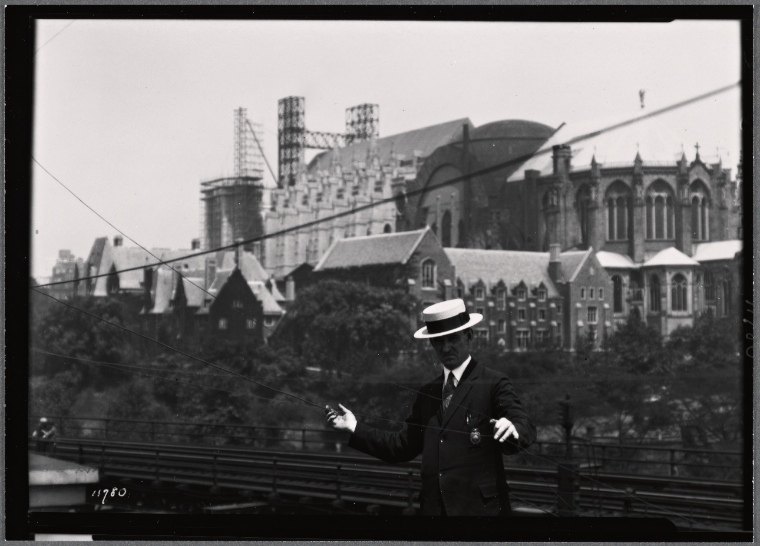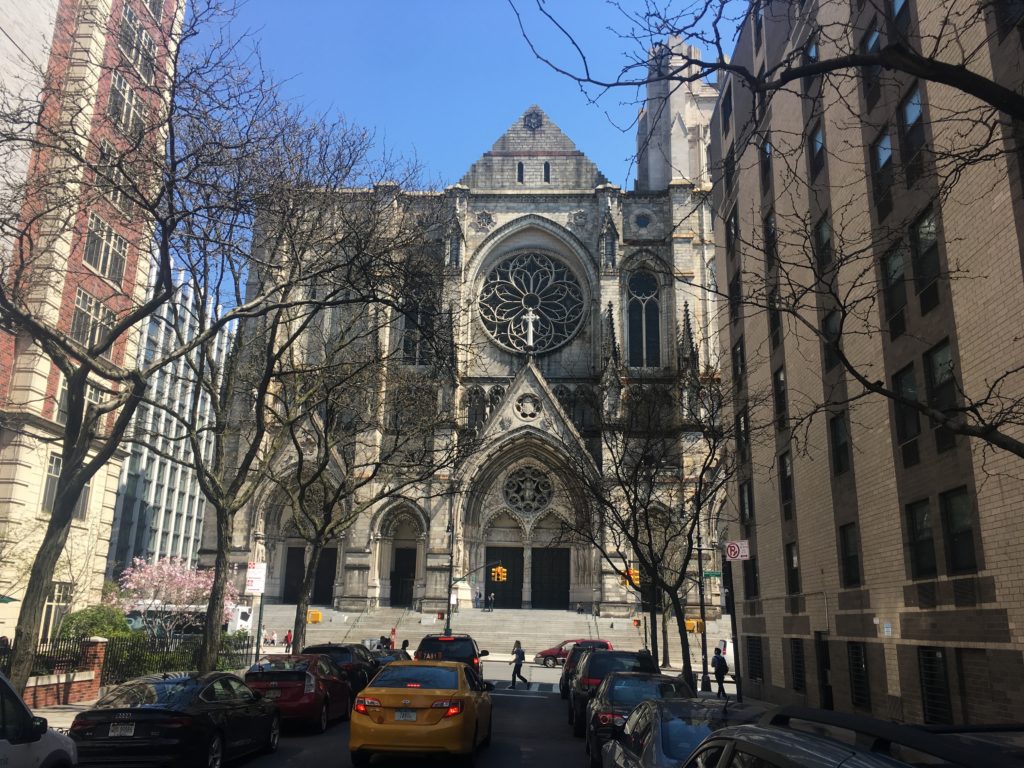 The western end of the cathedral as seen from the children's garden at the foot of the REALLY weird Peace Fountain by sculptor Greg Wyatt.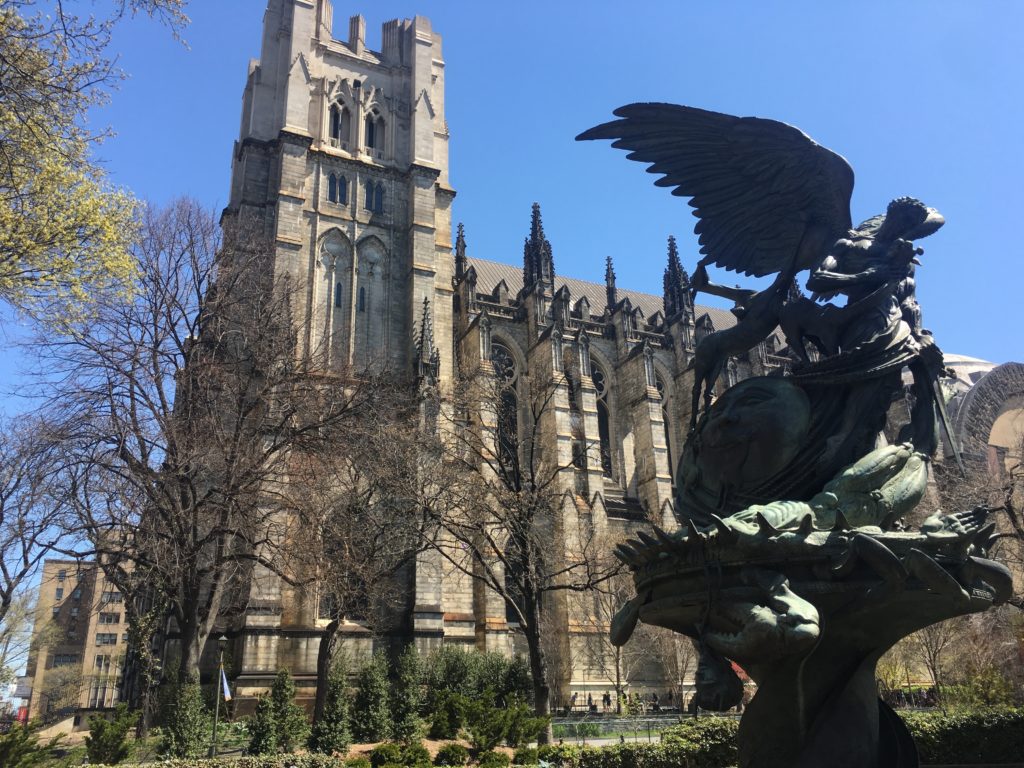 From the western entrance of the church, a collection of curious, strange and even unsettling carvings: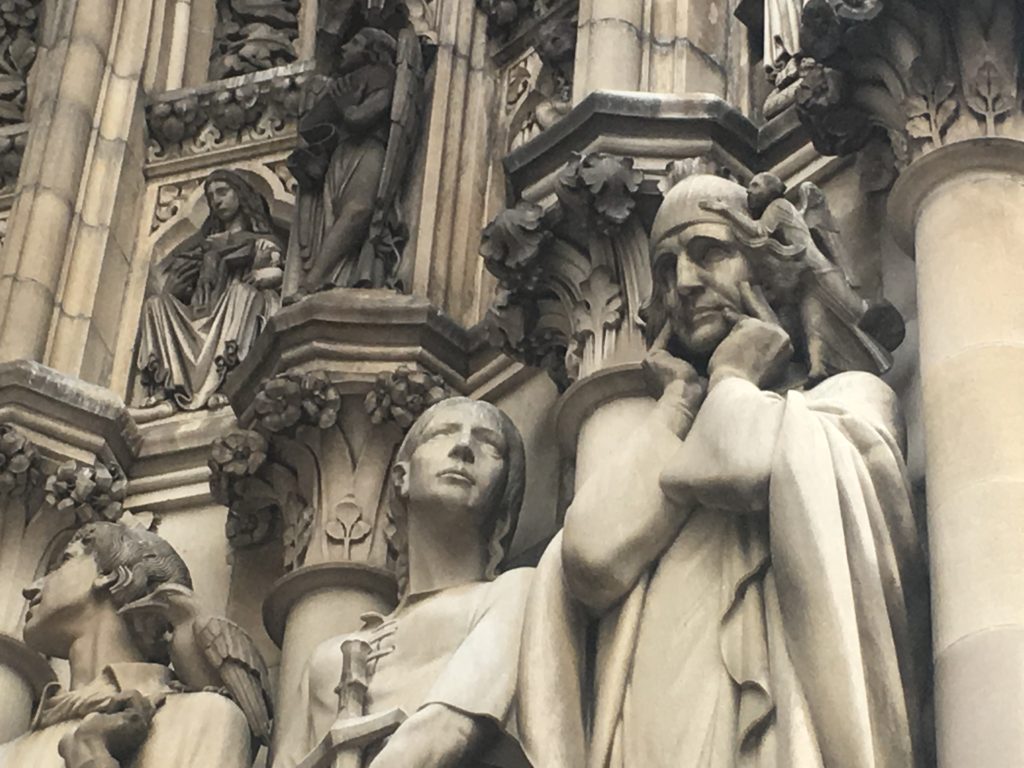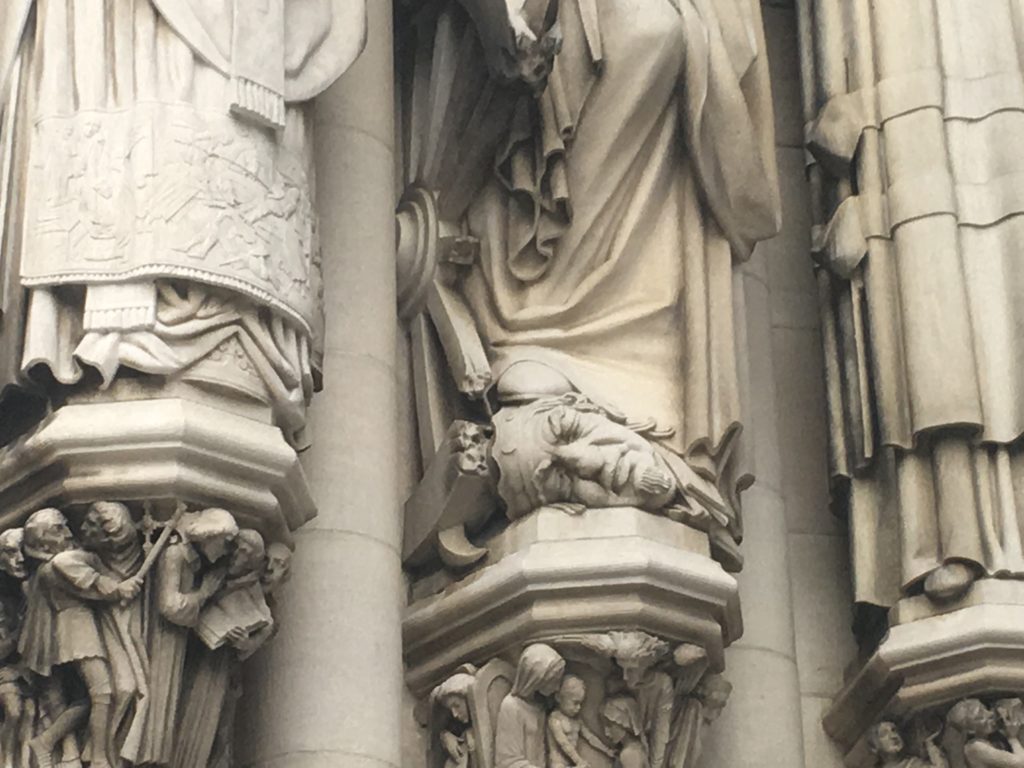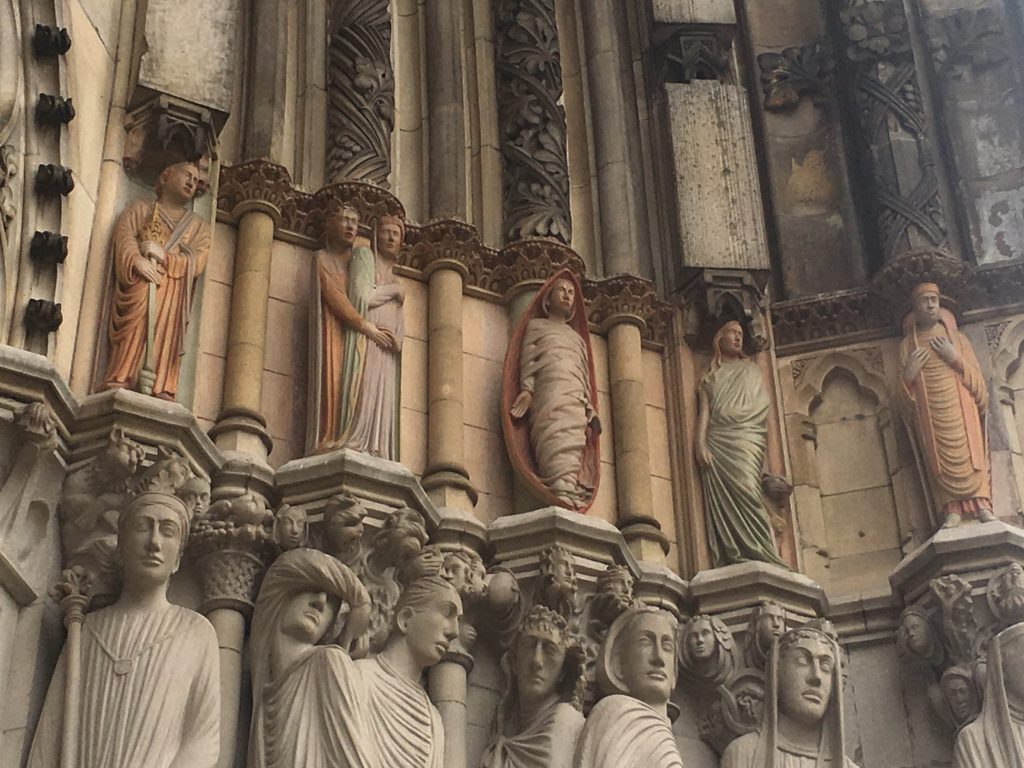 Befitting John's authorship of the Book of Revelations, a grim depiction of the Apocalypse (and carved well before the events of September 11).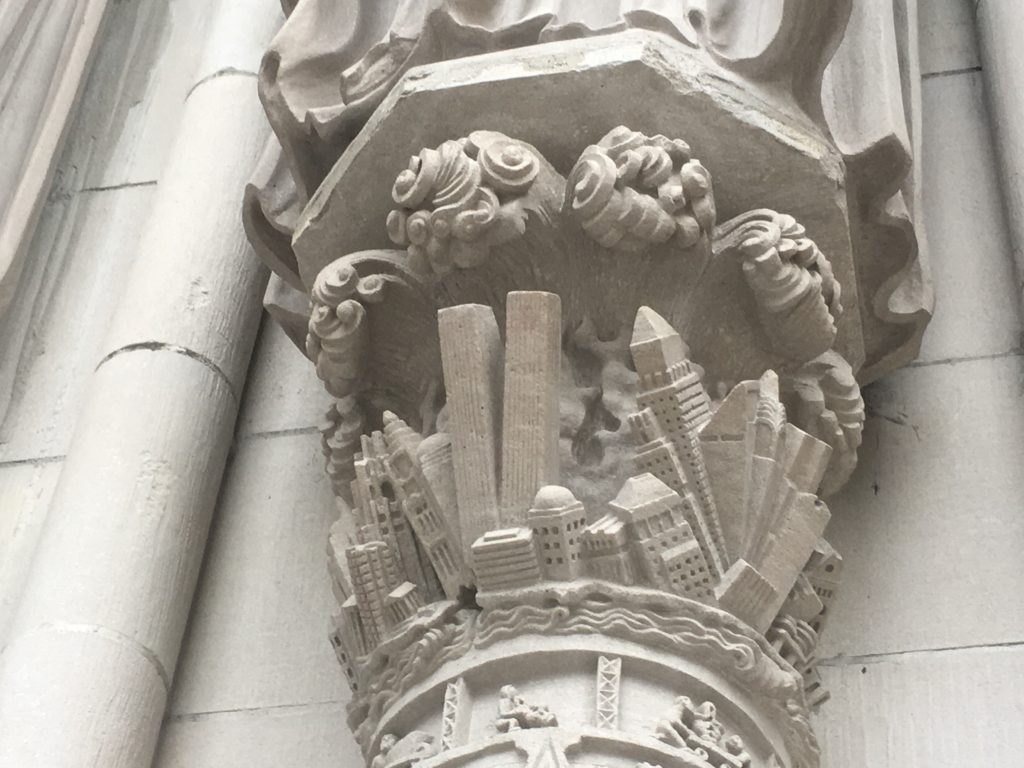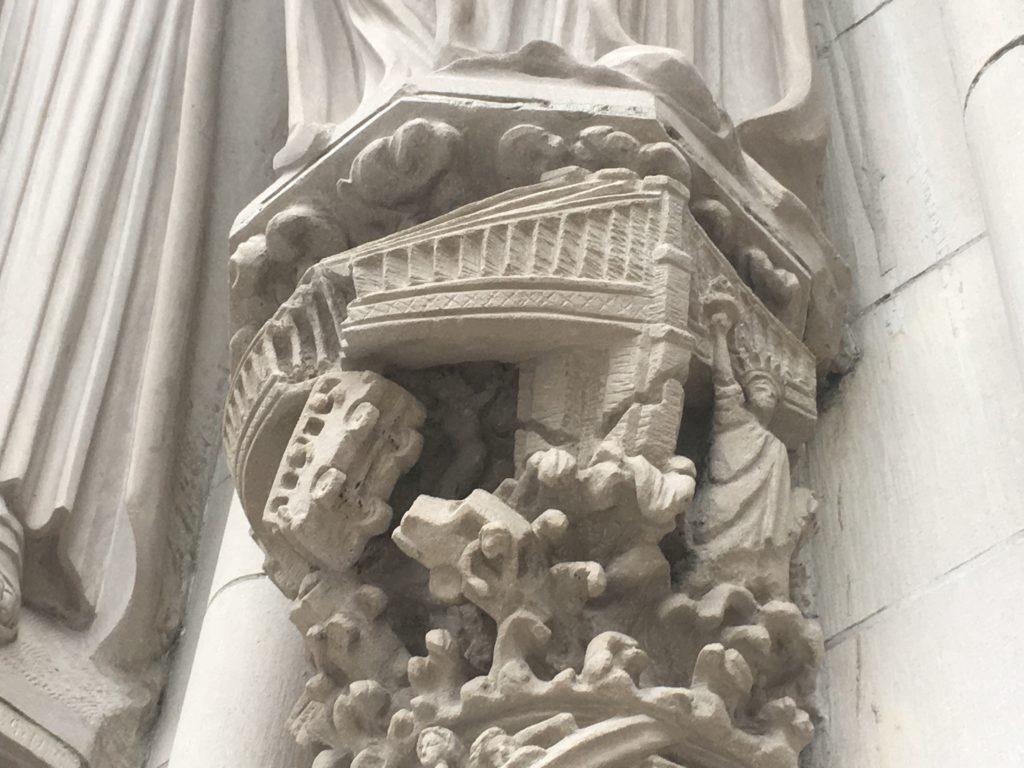 The southern archway had yet to be populated with statues.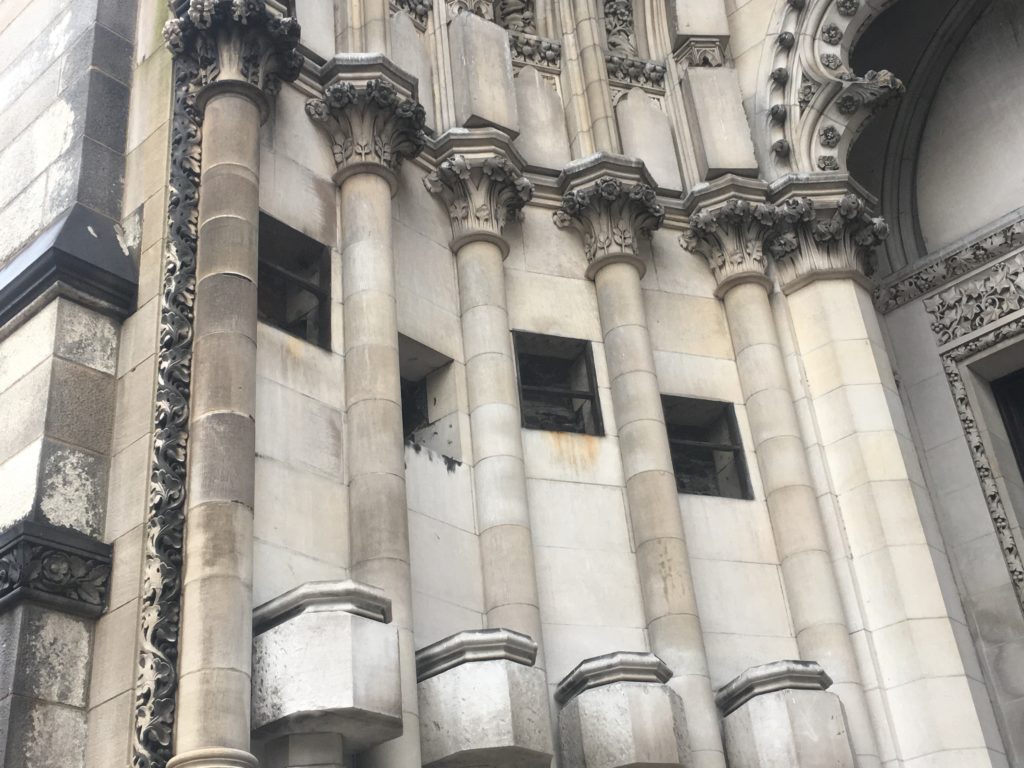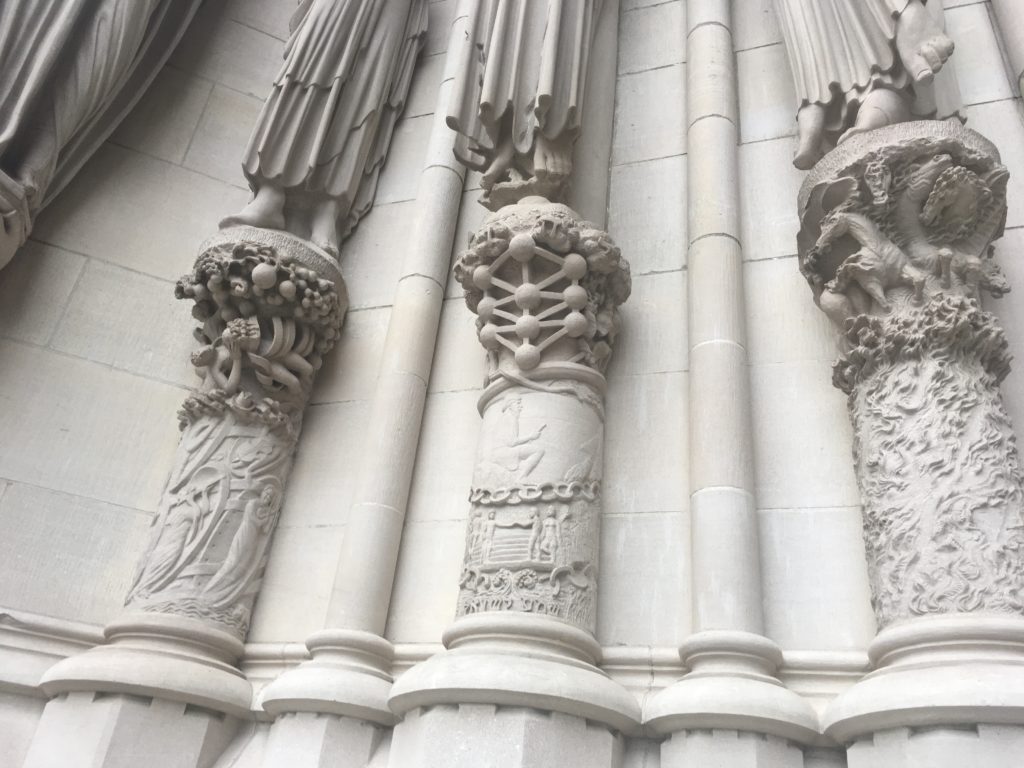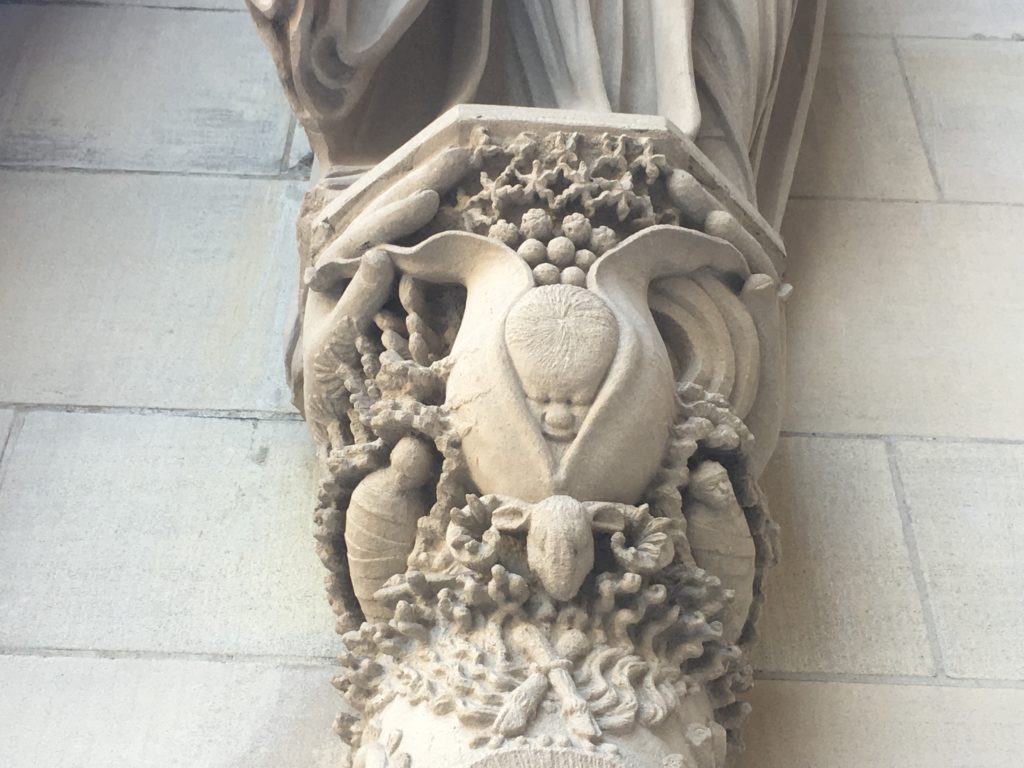 From its northern side, an excellent view of the diverse styles in their unfinished state.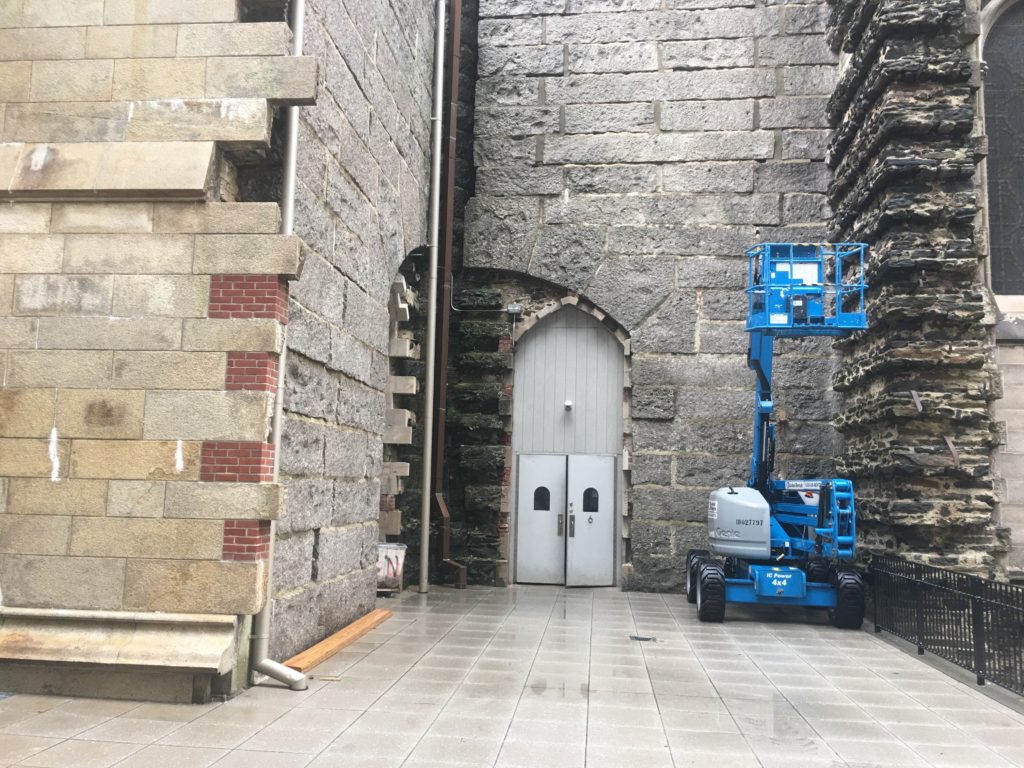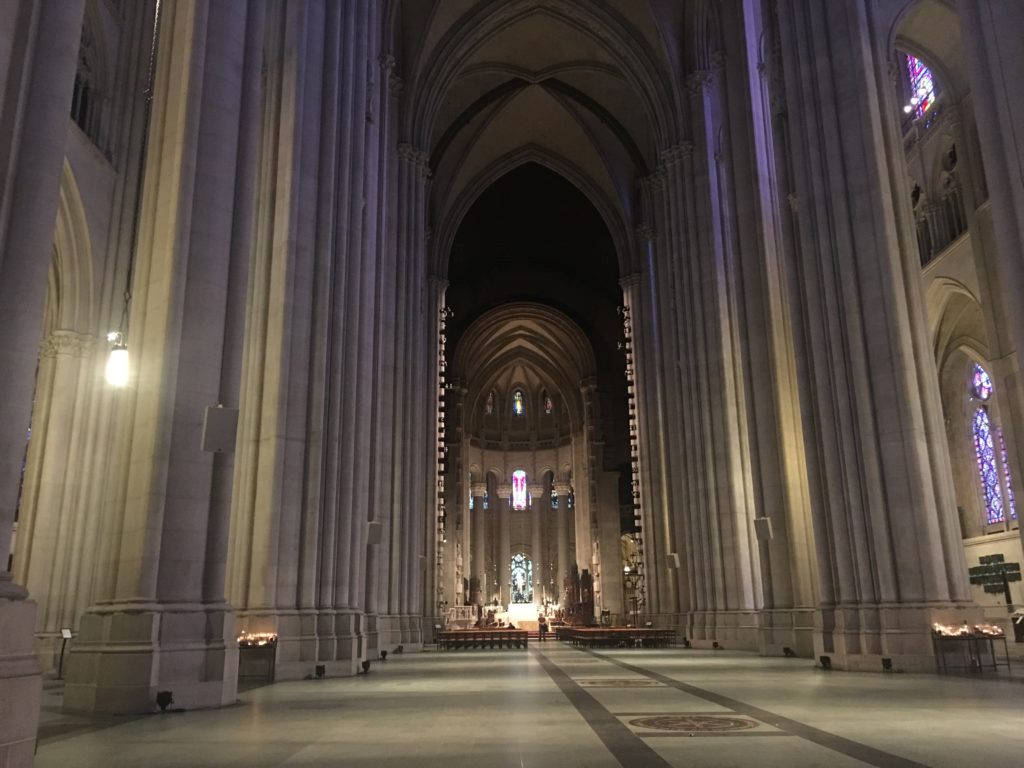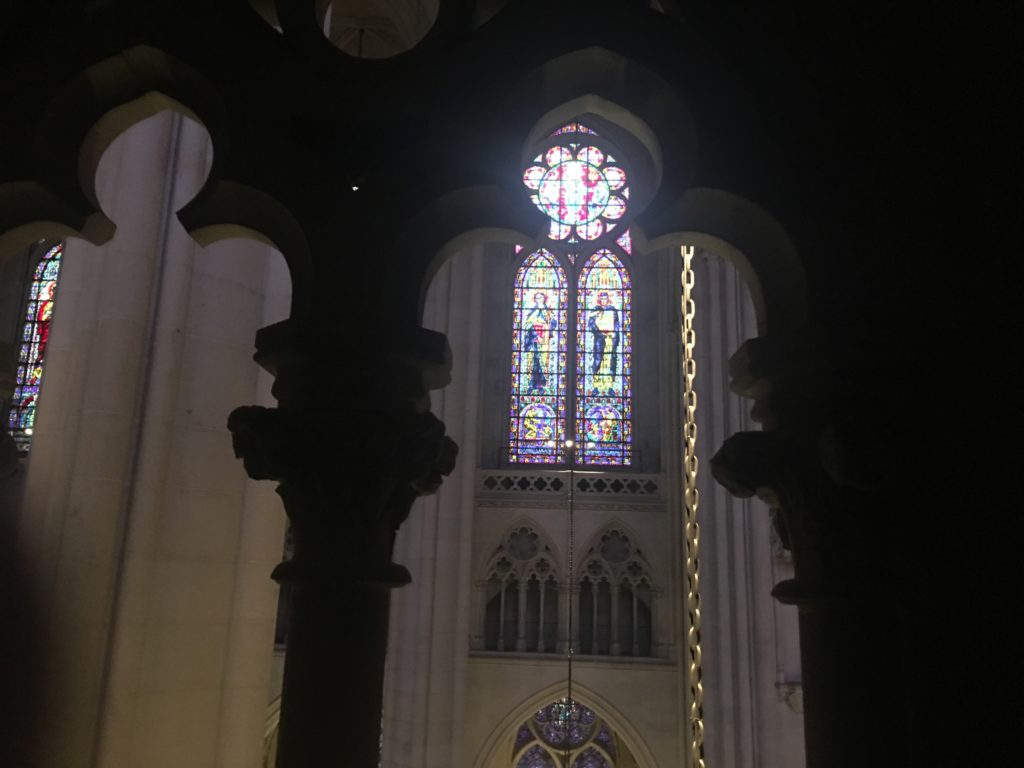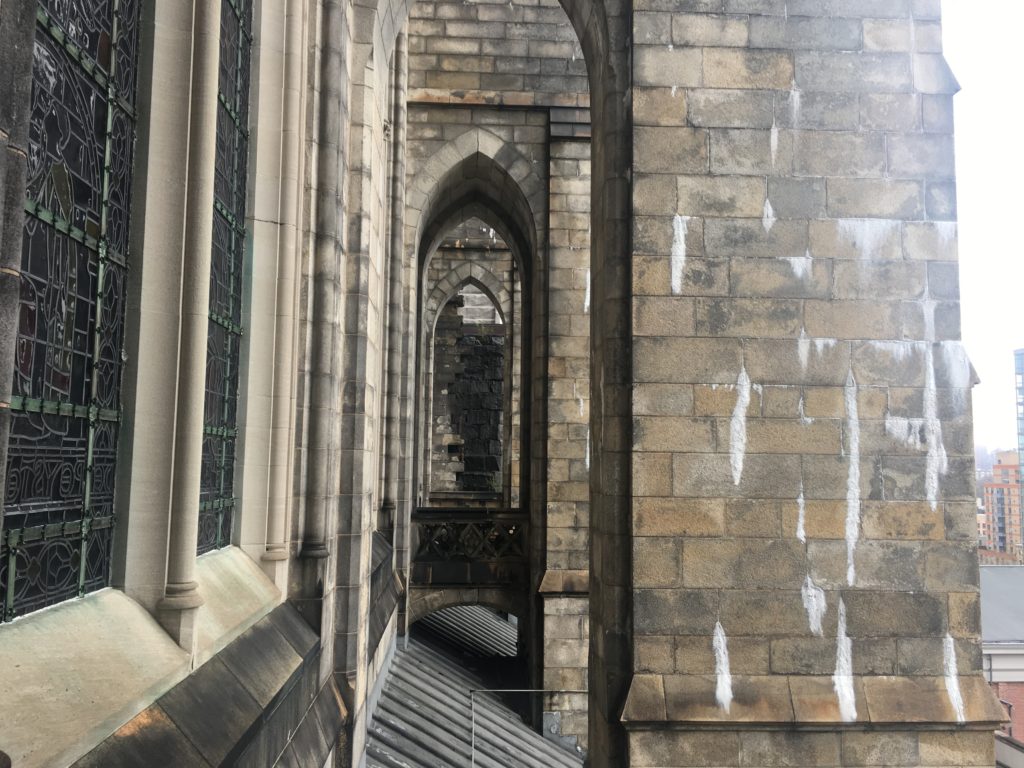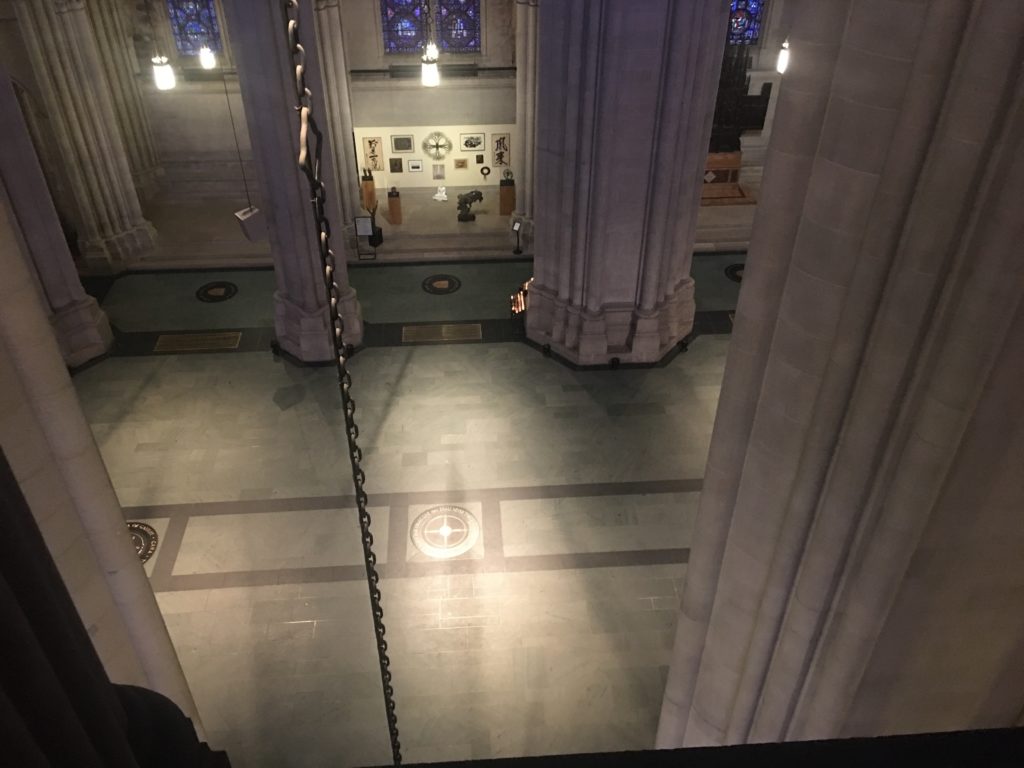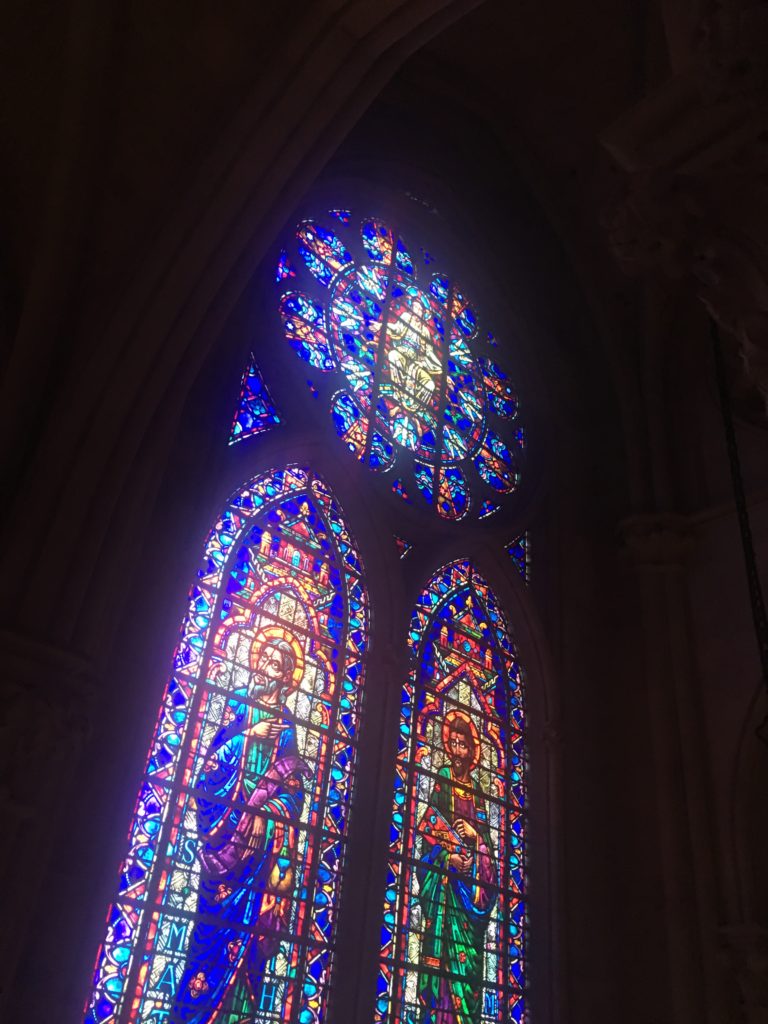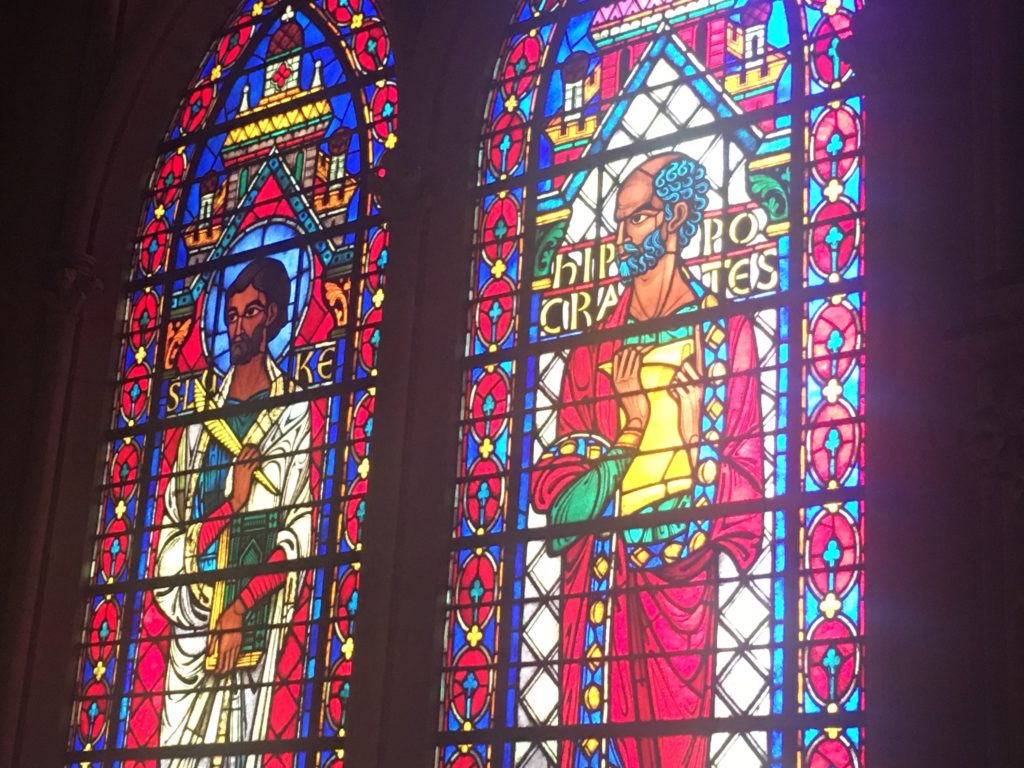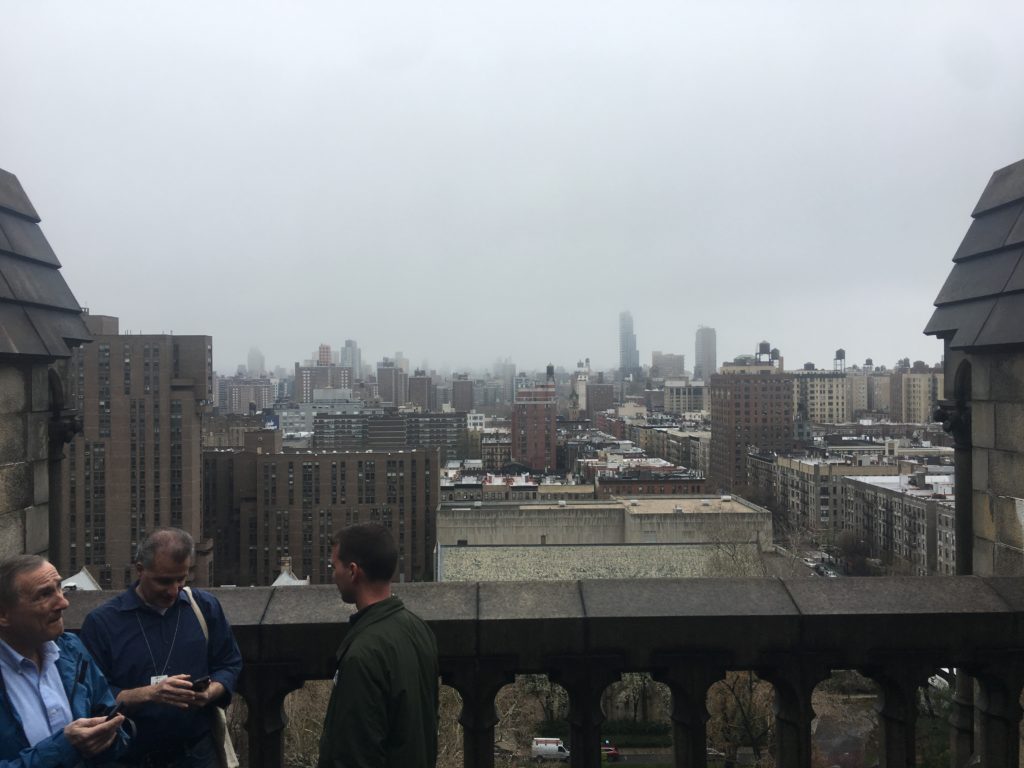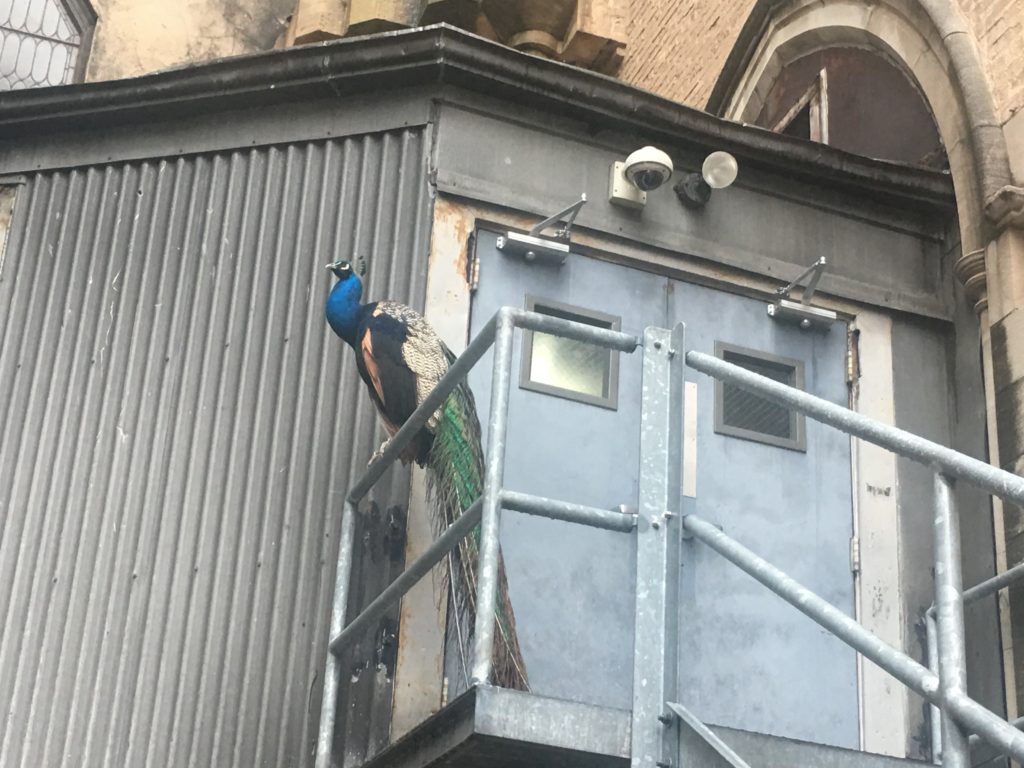 Don't forget to look and listen for the peacocks which roam the cathedral grounds.
From the triforium, our tour guide Bill Schneberger points out a very bizarre detail, recently revealed. In a sea of flower decorations, one stone carver made the face of a boy. (Video is not great but trust us! It's there.)Video Player00:0000:14
This video actually shows the very, very top of the church — the ceiling which is enclosed in a separate space, protected from the elements.Video Player00:0000:10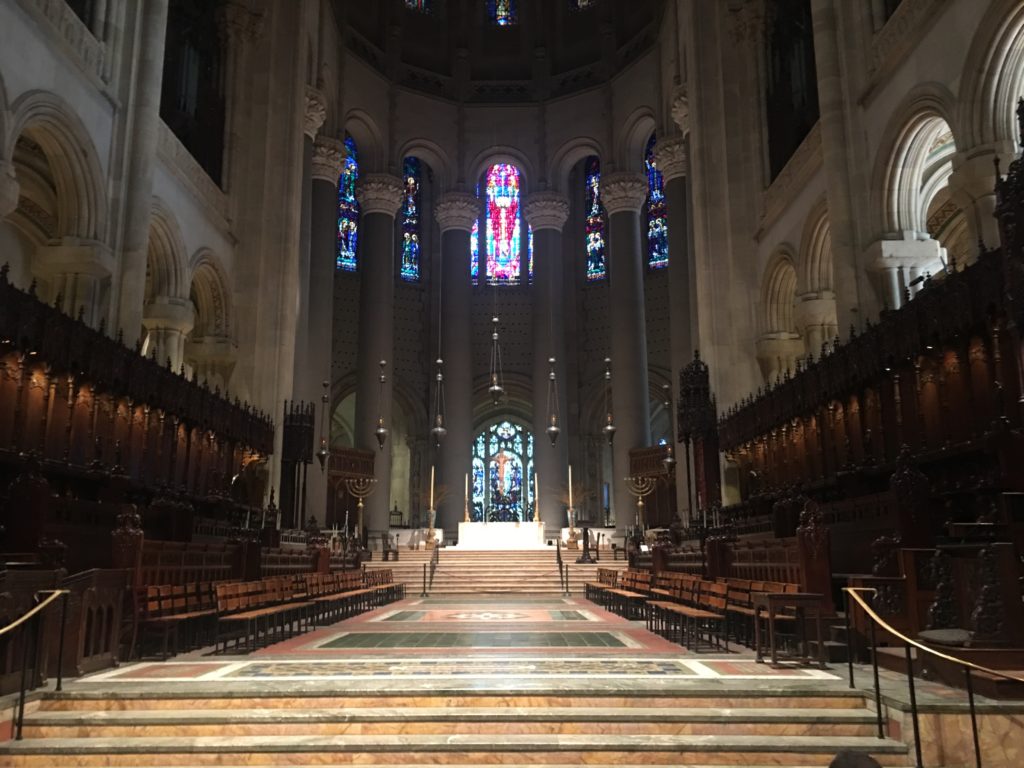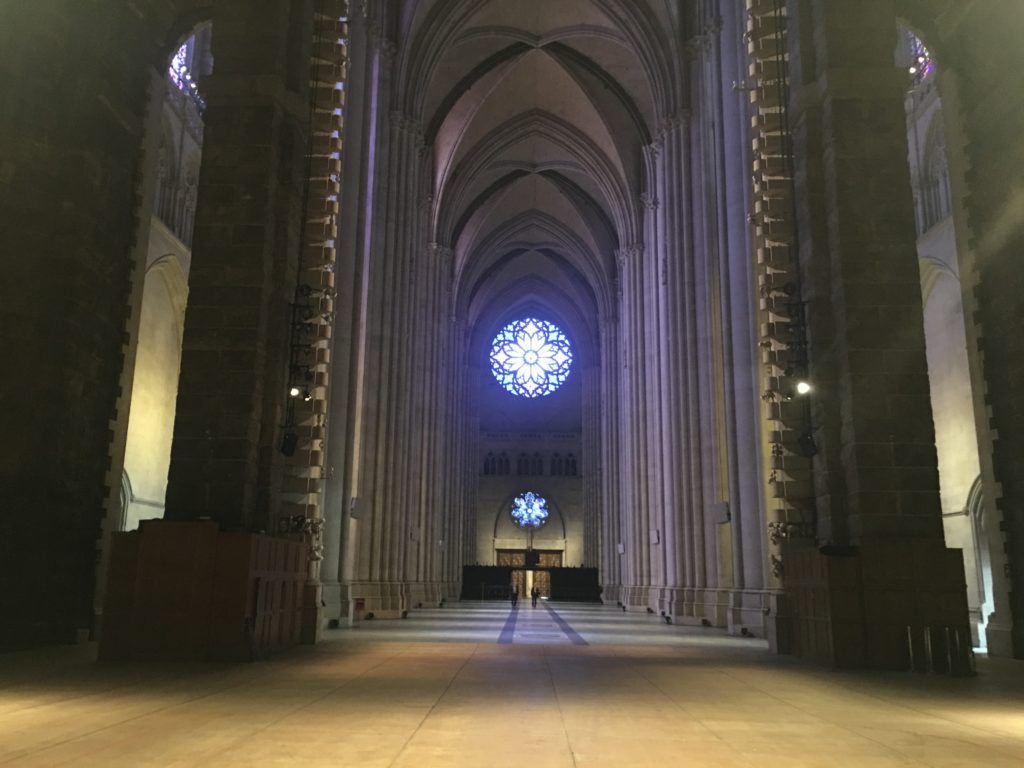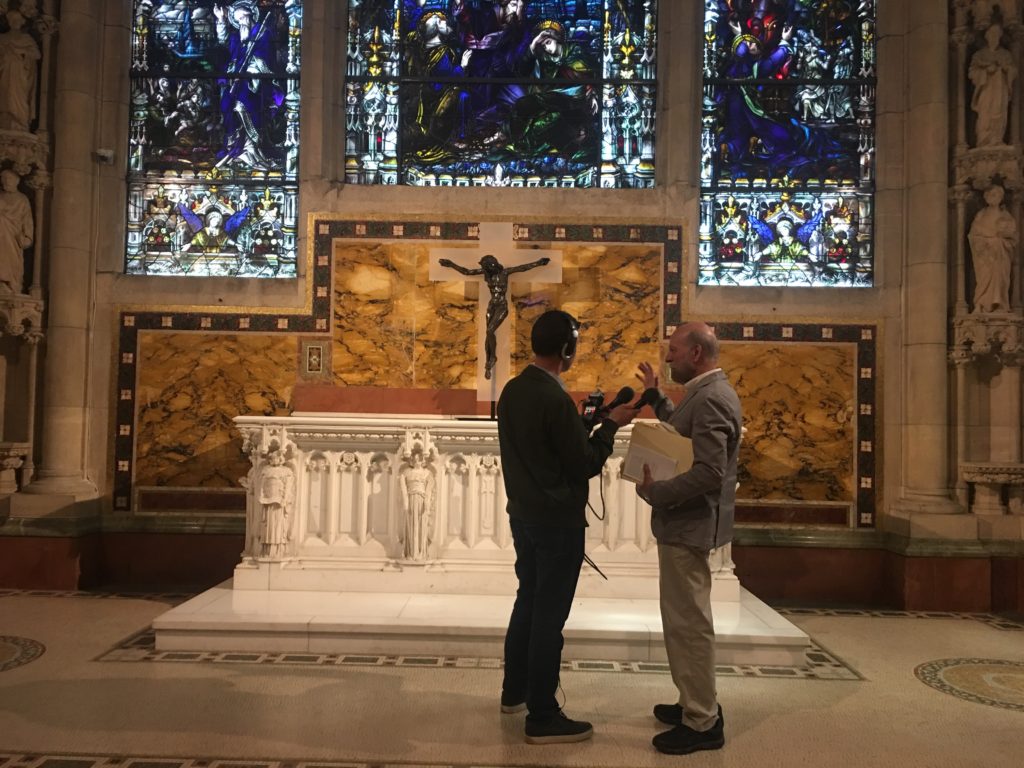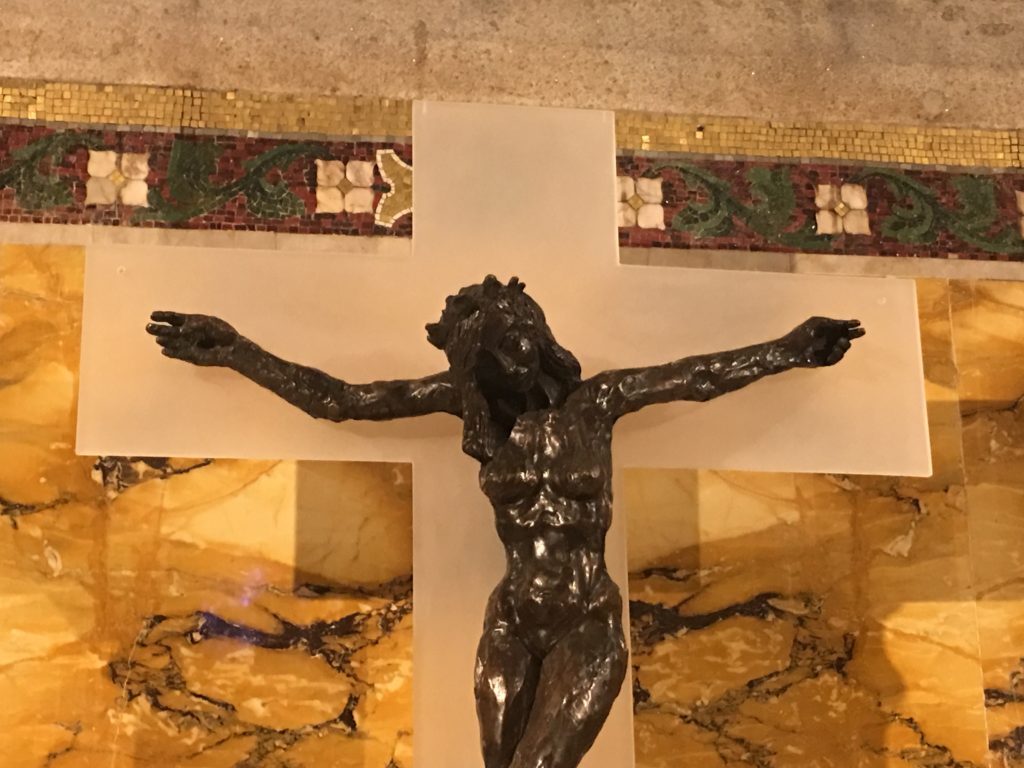 The Keith Haring triptych in contrast to the extraordinary patterned stained-glass window.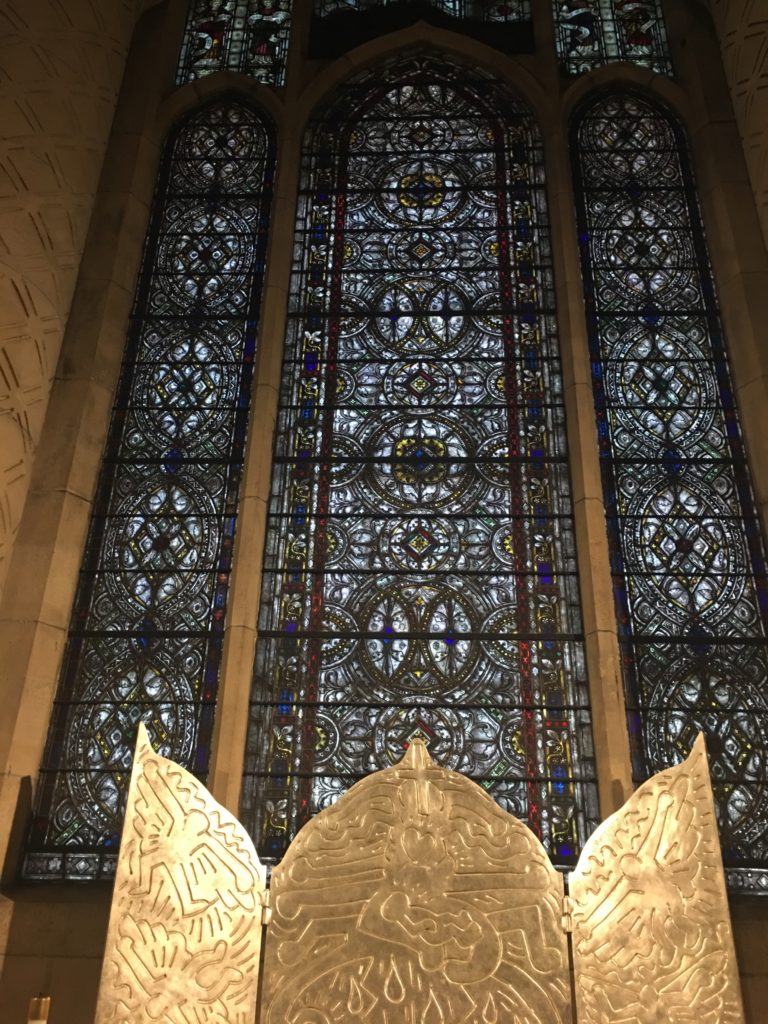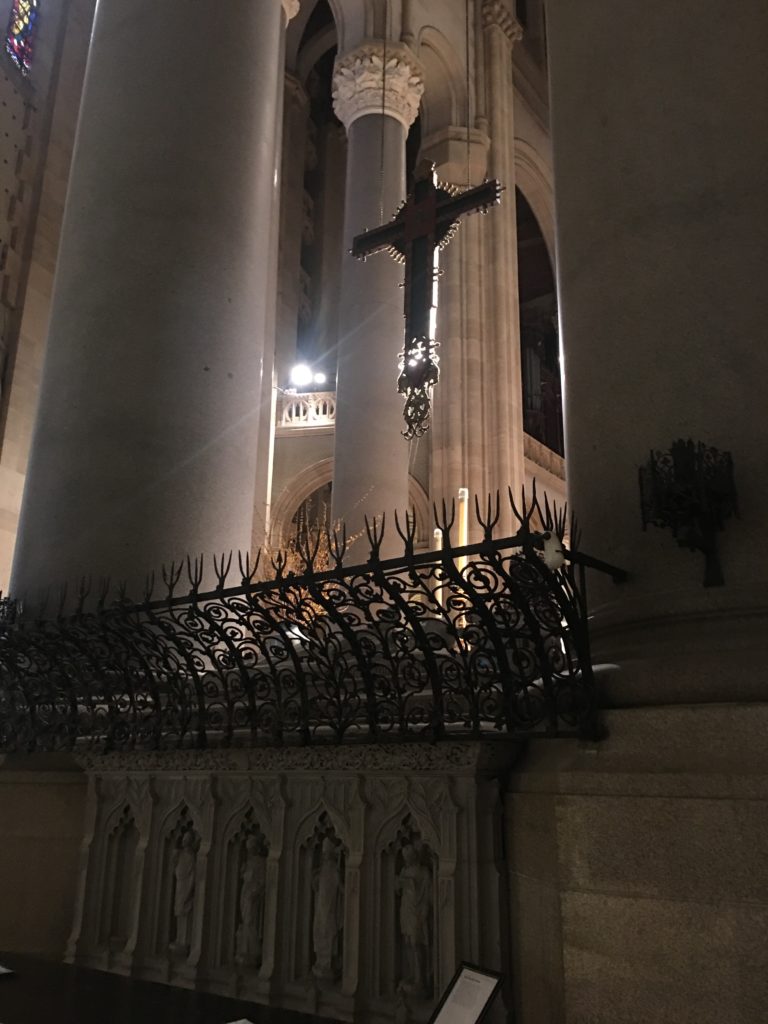 Video Player00:0000:41
And finally, we're pleased to announce that we will emceeing a very special event at the Cathedral later this month — a party for its 125th birthday!
More details here and check this website in the coming days for even more information
The Cathedral Church of Saint John the Divine
invites you to
The 37th Annual Spirit of the City Gala
Celebrating 125 years of this historic landmark!
With a special tribute to José V. Torres and his leadership in the Cathedral's education programs for children
on Wednesday, May 23rd
Dinner & Party Tickets
An exquisite buffet dinner featuring international foods in the chapels followed by drinks and live music at 6 pm
$1000 Regents Ticket
Includes annual membership in the Cathedral's Society of Regents, invitations to Cathedral events, and recognition in the evening's program.
$500 Supporting Ticket
Includes recognition in the evening's program and invitations to Cathedral events.
After-Party Tickets
Featuring signature cocktails by Highland Park Whiskey along with beer, wine, and desserts and a performance by The Duke Ellington Legacy Band followed by a DJ
Doors open at 7:30 pm
$150 after April 30th
To reserve your ticket online, please click here.
Those who support the Bowery Boys on Patreon will receive a discount code later next week, so check your messages!
Proceeds from the evening benefit the Cathedral.