Ada Louise Huxtable, born 100 years ago today, redefined the field of architecture writing, first for the New York Times and then for the Wall Street Journal until her death in 2013.
We really can't do a podcast an any building in the 20th century without first checking in with Ada to see what she has to say on the matter.
Her writing is elegant, persnickety, direct and affectionate to architectural aesthetic as a whole, and New York City in specific.
Here's what she's said over the years regarding a few Manhattan projects:
On her favorites:
"I like old buildings that are intriguing and quite wonderful but don't make the history books. What you discover is there's a little group of people that have been admiring them quietly by themselves all along." [Metropolis Magazine]
On Rockefeller Center:
"If you look at Rockefeller Center in detail, it's a very elegant plan: higher and lower levels that lead you from one to the other, streets cut through to keep the human scale. You always feel you're going around a corner, not around a wind-swept plaza, into some other area that has an inviting activity.
First of all, Rockefeller Center was privately planned. It was planned for profit; it was a hard-nosed thing, and of course during the Depression it had to be rejiggered completely because it lost its anchor tenant, the Metropolitan Opera.
But while Rockefeller insisted on a certain return of profit, he did hire the best architects and let them alone, and they combined Beaux-Arts and modernist principles into a really complex, humanistic urban plan." [New York Times]
"This was an example of how you had to balance good against bad, past against future, reuse against what would happen to the building. The preservationists proved not only incapable of discussing it, but went into paranoia mode. I think the whole movement seems to be doing that.
Of course it was a complex issue but they should have been able to sort it out. And then to compare — you always get one crazy directing these things who has the quality of leadership — [Edward Durell] Stone's poor little lollipop building to the loss of Penn Station! They were really doing this!" [Metropolis Magazine]
On 1001 Fifth Ave:
"The 'honest,' or tongue-in-cheek, gesture of stopping the moldings short of the sides of the building may be amusing for those in the know, but their use just seems unresolved. It does not help that the moldings look like sliced-off Tootsie Rolls." [Her 1985 book, Architecture Anyone?]
On the original plan for Moynihan Station:
"It is hard to believe that teams with this much financial heft and assembled star power could come up with something so awesomely bad." [New Penn Station]
On Trump International Hotel and Tower:
"The reasoning here seems to be that if a ship-shaped glass structure is a success in Hartford (the Phoenix Mutual Life Insurance Building by Wallace Harrison) and circular apartment towers made history in Chicago (Marina City by Bertrand Goldberg), New York can go two cities one better by building both, one on top of the other." [ New York City Architecture]
On the Jacob K. Javits Federal Office Building:
"One of the most monumentally mediocre Federal buildings in history" [New York Architecture]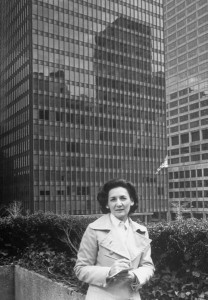 On the Pan Am Building:

"The Pan Am is a colossal collection of minimums. Its exterior and public spaces used a minimum of good materials of minimum acceptable quality executed with a minimum of imagination (always an expensive commodity), or distinction (which comes high) or finesse (which costs more). Pan Am is gigantically second-rate….a lesson in how to be mediocre without really trying. A monumental deal does not make it monumental. [from the Pan Am Building and the Shattering of the Modernist Dream]
On the South Street Seaport:
"I know what a fiasco that South Street Seaport plan turned out. I remember when they actually tore down the most important part of the seaport, Peck Slip, which had the oldest and most wonderful buildings. And those were demolished to make way for some Con Edison industrial addition.
Then they decided the heart of the seaport was Schermerhorn Row. Then they brought in the Rouse corporation to tie the place together with a shopping center. And Rouse said you have to have so many contiguous feet of shopping or it doesn't work. So that meant that things had to be moved, torn down, adjusted, and look what we ended up with. I am exceptionally grateful for every inch that got saved. My basic preservation philosophy is: Change it but don't destroy it." [New York Times]
On the original World Trade Center:
"Port Authority has built the ultimate Disneyland fairytale blockbuster….the world's daintiest architecture for the world's biggest buildings."
On the elimination of elements from the re-designed Freedom Tower:
"Because the entitlements of loss and grief are the third rail of the rebuilding effort, no one has challenged the subversion of the aims and intent of the plan. The parts that speak of hope and the future have not been able to survive the pressure for a singleminded commitment to the tragic past.
"Even at Ground Zero, not all the bereaved share the sentiments of the most politically active survivors. Some quietly want to get on with their lives, and there are those who would like to see a more constructive renewal as an antidote to grief." [Wall Street Journal]
On Grand Central Terminal:
"To sit at the one small restaurant on the west balcony is to long for more. Rising into those vast heights is the buzz of all the voices of travelers and transients mingling in the upper air. Shafts of sunlight pierce long shadows, spotlighting the moving figures on the floor. The soft, susurring sound transforms activity and motion into a shared experience; it contains the timeless promise of the city's, and the world's, pleasures and adventures. This is the essence of urbanity." [New York Times, November 28, 1994]
On the most beautiful architectural view in Manhattan in 1968:
"For a demonstration of New York at its physical best, go to Broadway between Cedar and Liberty Streets and face east. This small segment of New York compares in effect and elegance with any celebrated Renaissance plaza or Baroque vista" [New York Sun]