William Poole, born 200 years ago today in New Jersey, was one of the most infamous villains in New York City history.
As a young man, he operated as a butcher at Washington Market (in the area of today's Tribeca neighborhood) and that legitimate occupation lent him his nickname earned by his more disreputable activities — Bill the Butcher.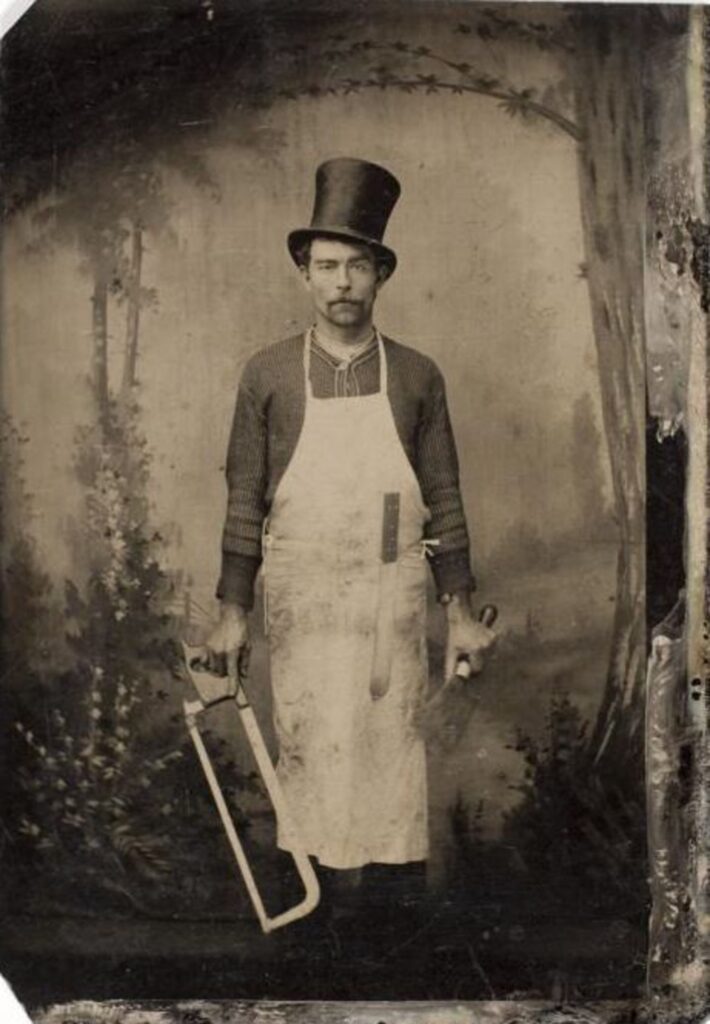 Poole was a thug, a thief and a celebrity, leader of a Christopher Street gang which morphed and coalesced with others to become one of the most terrifying group of criminals in New York — the Bowery Boys.
We kn0w details of his life not only from classics like Gangs of New York but because of the unique nature between gangs and city politics in the mid 19th century. Street gangs were often aligned with political and social beliefs about the changing city — particularly the ships of newly arriving immigrants from Ireland.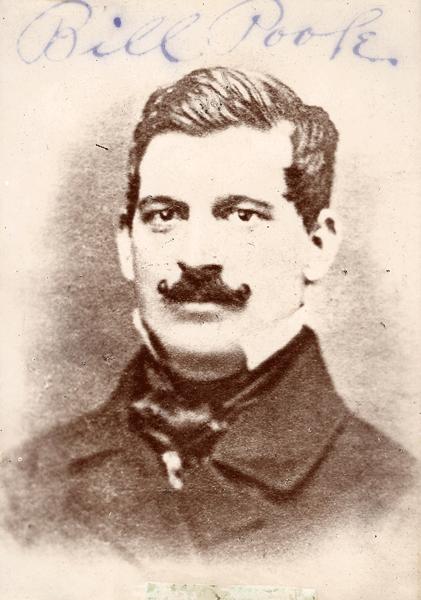 The Bowery Boys were an instrument of the Know Nothings, a nativist movement which violently rejected the Irish newcomers. Their attacks on immigrants on the streets of Five Points were so severe that Irish gangs soon formed in retaliation, collectively referred to in the press as the Dead Rabbits.
This street level violence echoed the loftier nativist debates happening at City Hall and in the penny press. But Poole was no dignified man. His habits of proving himself a real 'native American' were distinctly chaotic and bloodthirsty.
Just one example from the New York Daily Herald, January 16, 1846: "William Poole and Smith Ackerman were amusing themselves by putting two dogs to fight in Christopher Street, creating a most disgraceful riot." When a man stepped in to stop the dog fight, Poole and Ackerman gauged out his eye.
The journalist Herbert Asbury was so fascinated by Poole that in his classic Gangs of New York, he devotes an entire chapter to the man's brutal murder in 1855.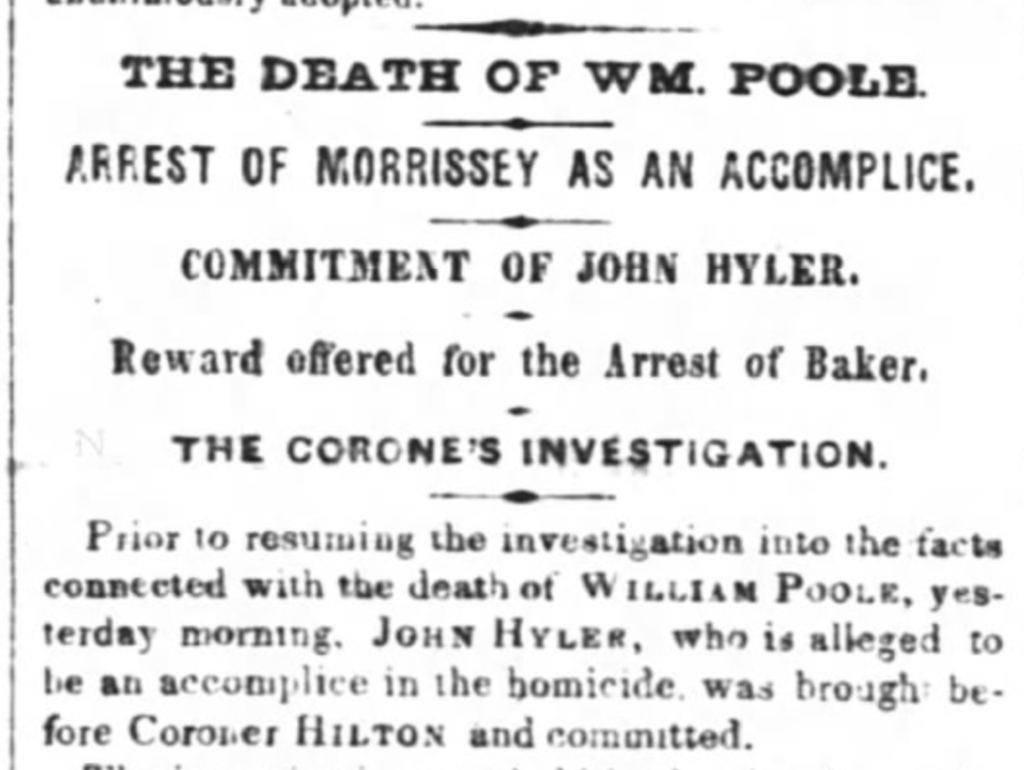 Poole was shot through the heart at Stanwix Hall (579 Broadway) by Tammany Hall sluggers Lewis Baker on behalf of Poole's rival John Morrissey.
"Despite his wounds," writes Asbury:
"Poole lived for fourteen days after the shooting, to the vast amazement of his doctors, who declared vehemently that it was unnatural for a man to linger so long with a bullet in his heart.
But at last, while other Native American gladiators watched anxiously by his bedside and relayed bulletins to a sorrowful crowd in the street, Bill the Butcher died, gasping with his last breath: 'Good-bye, boys, I die a true American!'"
He was buried at Green-Wood Cemetery in a funeral befitting a decorated war hero with thousands of mourners and over 150 carriages in a long, mournful procession.
The words 'I die a true American!' were actually emblazoned upon the side of the hearse carrying his flag-draped coffin.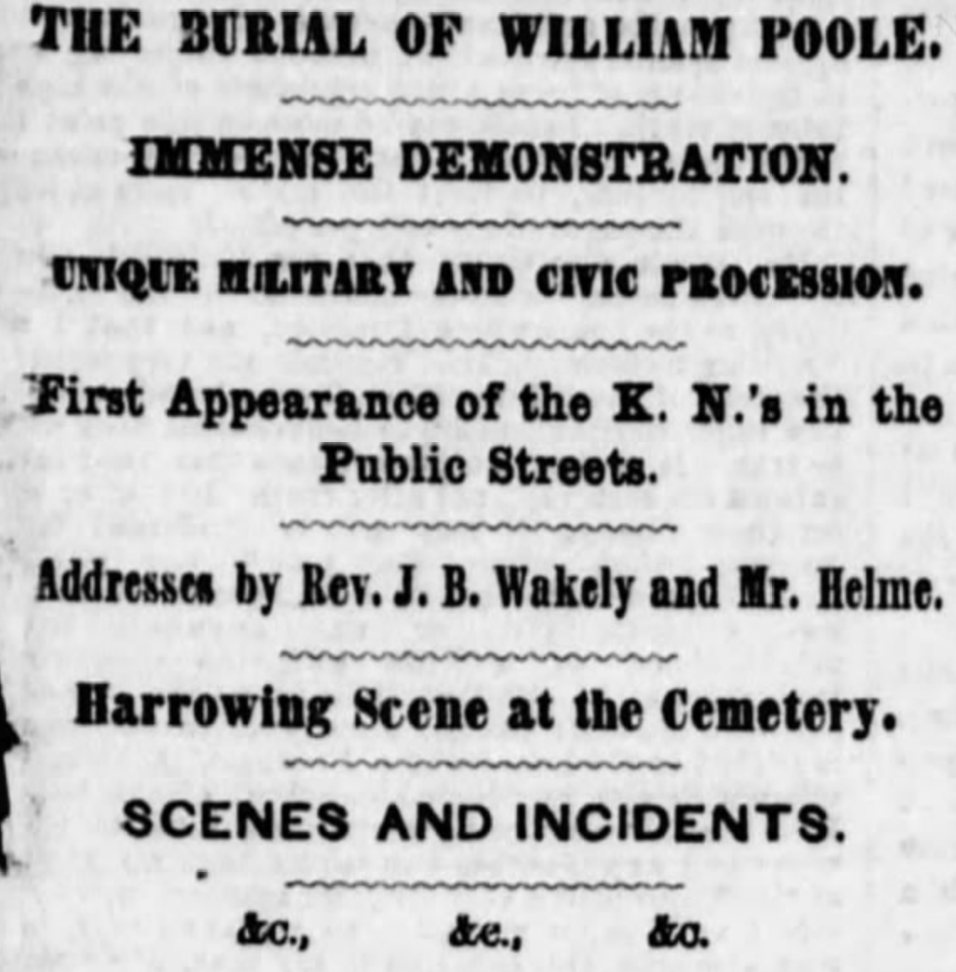 In the 2002 film Gangs of New York, directed by Martin Scorsese, a version of William Poole (named William Cutting) is depicted with genuine grit and horror by Daniel Day Lewis.
While the film is entirely fictional — liberally taking from various tales from Asbury's book — Lewis' Bill the Butcher has a grotesque and villainous quality that the real William Poole would have loved.
For more information, check out our podcast on the movie Gangs of New York: