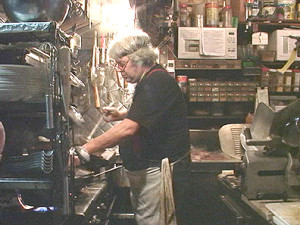 If the Soup Nazi and Kenny Shopsin were to cage fight, who would leave the ring victorious? My money's on Kenny.
While the Seinfeld-minted icon Soup Nazi — er, make that The Original Soup Man — turns his grizzled, stubborn formula of delicious soups into a city-wide franchise, the far more eccentric owner of Shopsin's refuses such sell-out theatrics. (That is, if mass production and inclusive service can be considered selling out.)
The perfectly-New York institution Shopsin's, formerly propped at 63 Bedford St. was a staple of the West Village neighborhood dining scene since the late 1960s, with kooky decor and arcane rules (no parties of five, no phones, no copying what the last person ordered), and almost all the dishes made by Kenny himself, with occasional help from his family.
The original menu is a beauty to behold, a work of folk art and culinary Da Vinci Code rolled into one. Even into the location's final years, Shopsin's kept its hippie quirkiness intact, a spectacular reminder of 70s Greenwich Village and entrepreneurship before the days of Starbucks.
Despite the strangeness — or perhaps because of it — the eatery became 'Drew Barrymore's favorite restaurant' and drew other devoted diners who slavishly adhered to Kenny's peculiar rules. Calvin Trillin wrote a memorable article on the diner in 2002 for the New Yorker, and last year, Kenny (shockingly) allowed a documentary to be filmed about the place, I Like Killing Flies.
The restaurant was moved up the street to 54 Carmine St. a few years ago and sadly closed last year.
Never fear, a classic American restaurant may be gone, but you can still get his legendary french toast, pancakes and a slew of other classics from a 'reduced menu' at the new Shopsin's stand at the Essex Street Market. Just remember to turn off your cellphone, or you might hear a few curse words from the kitchen. No, seriously.