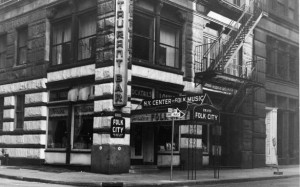 ABOVE: Gerde's in its original location, circa 1960
To get you in the mood for the weekend, every Friday we'll be celebrating 'FRIDAY NIGHT FEVER', featuring an old New York nightlife haunt, from the dance halls of 19th Century Bowery, to the massive warehouse spaces of the mid-90s. Past entries can be found HERE.
Few streets in Greenwich Village have more history than West 4th Street, which runs along the south side of Washington Square and became a lifeline to New York's art and bohemian culture. The teahouse Mad Hatter at 150 W. 4th was an influential artist destination, later becoming the lesbian bar Pony Stable Inn, where Allan Ginsberg first met close friend and fellow beat poet Gregory Corso. (It's now the ever reliable Washington Square Diner. I heartily endorse their grilled cheese.)
The Whitney Studio Club sprang up at 147 W. 4th in 1910, presenting Edward Hopper's first exhibit of his works, and later became the bohemian hangout Ristorante Volare. The Washington Square Methodist Church, a lovely Romanesque church built in 1860, on 135 W. 4th gave refuge to draft dodgers in the 60s and was appropriately called 'Peace Church'.
And we can't forget the notorious Golden Swan Café, a 19th century saloon formerly on the corner of W. 4th and Sixth Avenue, which Eugene O'Neil immortalized in 'The Iceman Cometh'.
But for music lovers, no place on this tiny street is more revered than the former location (now gone) of Gerde's Folk City.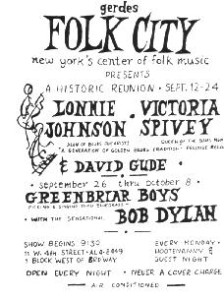 You won't find the strange but fabulous Todd Haynes film 'I'm Not There' anywhere near West Fourth Street — it was filmed in Canada! — but this is the street where Bob Dylan, the artist, was born. The mousey Minnesota born musician arrived in 1961 and quickly caught the attentions of Village habitues. Although he performed in various places up and down the street — including the NYU Loeb Student Center (once at 61 W. 4th) — Gerde's was his best known haunt.
Owner Mike Porco took over Gerde's restaurant in 1952 and refashioned it as a coffeehouse with Monday night 'hootenannys', amateur nights for local musicians. However, when you're in Greenwich Village, the talent pool at Gerde's would be filled with future stars — Judy Collins, Arlo Guthrie, Tom Paxton. And of course, Dylan, who approached Porco and began performing in April of 1961, on a ticket that night with John Lee Hooker.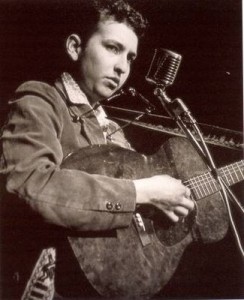 He threw the clientele for a loop. Dylan Roots quotes Happy Traum as saying, "I remember watching him, thinking 'This boy's unbelievable, he's going to become another Woody Guthrie.' I also thought that he would not become known outside of Greenwich Village."
He would become quite known, however, thanks to a performance at Gerde's in September that was reviewed by the New York Times critic Robert Sheldon. Dylan wasn't even headlining that night; he opened that night for a bluegrass outfit the Greenbriar Boys. By October, Dylan had a record deal with Columbia Records. Sheldon, by the way, would go on to write 'No Direction Home', a biography on Dylan that would be made into Martin Scorcese film.
Gerde's would move in 1970 to 130 West 3rd Street. Its now the home of the Village Underground, another great Village music venue.
I would suggest going on an ultimate Dylan excursion through the Village, even if you're not really into Dylan. Go check out 'I'm Not There' at the Film Forum, then walk up to Fourth Street to the other addresses associated with Dylan. On top of the previously mentioned Gerde's and Loeb Student Center, his former apartment is in 161 W. 4th and he snarfed down bagels at 168 w. 4th. New Pony has an entire map of Dylan-themed locations in downtown Manhattan!
I think we can conclude what Bob's 'Positively Fourth Street' was about.
Below: from R. Stevie Moore, a billboard from latterday Gerde's (1984) listing some of the headliners that month: